PROTIP: Press 'i' to view the image gallery, 'v' to view the video gallery, or 'r' to view a random entry.
This submission is currently being researched & evaluated!
You can help confirm this entry by contributing facts, media, and other evidence of notability and mutation.
About
"Royals" is a 2013 pop song performed by New Zealand singer-songwriter Lorde and the first single from her first EP The Love Club.
Origin
The song was initially released on May 12th, 2013 as part of her debut EP The Love Club and re-included on her debut studio album Pure Heroine released on October 20th, 2013. The music videos for "Royals," directed by Joel Kefali and edited separately as U.S. and international versions, were first released via Lorde's official YouTube channel[3] on May 12th, 2013, followed by the release of the U.S. version via the singer's VEVO channel on June 19th, 2013.
As of January 2014, the song remains at number seven on the Billboard Hot 100 chart where it has been for 28 months.[2] As for the music video, the U.S. version has been viewed more than 160.2 million times, while the extended version has been viewed more than 40.6 million times.
Spread
On the day after the YouTube debut of the music video, Buzzfeed[4] picked up on Lore's new release and dubbed Lorde "Music's Coolest Teen."
On October 2nd, popular a cappella group Pentatonic uploaded a cover of "Royals" to their YouTube channel, which brought in over 24.2 million views as of January 2014.
Other notable a cappella covers include The Florida State University AcaBelles' version uploaded on November 6th, as well as another cover by sister choir group Cimorelli uploaded on September 20th, which have brought in over 7.1 million views and 4.9 million views respectively, as of January 2014.
By early December 2013, the song had come under criticisms of over-saturation from BuzzFeed[1] in a piece titled "For Everyone Who Wants 'Royals' To Die," which highlighted a series of tweets bashing "Royals" as an overplayed and inescapable song.
Related Memes
We'll Never Be Royals
Tumblr users began editing screen shots of characters in movies and TV shows who sought a crown but did not succeed in winning one with the lyrics, "We'll never be royals…royals." Popular examples include Daenerys Targaryen from Game of Thrones and the Baron and Baroness von Troken from The Princess Diaries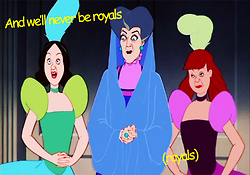 Notable Examples
External References
Facebook Comments