PROTIP: Press 'i' to view the image gallery, 'v' to view the video gallery, or 'r' to view a random entry.
About
Attractive Convict is an advice animal based on a mugshot of a young woman with captions word playing on her beauty and criminal background, in a similar vein to the advice animal character Ridiculously Photogenic Guy. Prior to becoming an advice animal, the photograph was featured in "sexy mugshot" compilation posts on various websites.
Origin
On July 25th, 2010, Florida resident Meagan Renea McCullough was arrested for driving under the influence. Her mugshot (shown below, left) and arrest information were subsequently uploaded to the arrest record database Arrests.org.[3] On August 9th, 2012, the photograph was included in a compilation of mugshots featuring attractive women on the men's interest blog The Chive[4] (shown below, right).
On August 13th, the pictures were posted on the Japanese news website Daily News Agency.[7] On August 16th, a "sexy mugshots" gallery was submitted to the /r/pics[6] subreddit, which contained the McCullough picture. On August 26th, the Japanese pop culture blog RocketNews[8] reported that the photographs had been posted on the popular imageboard 2chan. On April 3rd, 2013, Redditor vestra submitted McCullough's mugshot with the caption "Wanted / In 50 states" (shown below) to the /r/AdviceAnimals subreddit.[1] Within 48 hours, the post received over 8,800 up votes and 550 comments.
Spread
As of early April 2013, the "Attractive Convict" Quickmeme page hosts more than 280 instances of the series.
The same day, Redditor squirrelbo1 submitted an image macro with the caption "Can I have her / cell number" (shown below, left) to the /r/AdviceAnimals subreddit.[5] Within 24 hours, the post gained more than 18,000 up votes and 700 comments. Also on April 3rd, 2013, Redditor Skepstar posted an image macro with the caption "I guess it's true / looks do kill" to the /r/AdviceAnimals subreddit,[9] accumulating upwards of 5,900 up votes and 175 comments. On April 4th, the viral content site BuzzFeed[2] published a compilation of notable examples from the series.
McCullough's Response
On April 5th, McCullough, who now goes by her maiden name Meagan Simmons, began tweeting about the photo after receiving a flurry of inquiries about her mugshot, stating that she was puzzled by the hype surrounding the mugshot[12] and that "people should get over it."[11] The same day, she told the Daily Mail[13] that she had received dozens of unsavory messages and has blocked many people on her social media accounts to avoid harassment. When asked about her thoughts on the mugshot, Simmons responded that she didn't think it was a very good photo since it was taken after she had been crying, but it nevertheless served as a "wake up call" that motivated her to change her life by becoming a medical assistant and focusing on raising her four children.
Lawsuit
In late February 2014, Simmons filed a lawsuit against InstantCheckmate.com, an online background check service, for using her mugshot in advertisements without compensation or permission. In the suit, Simmons alleges that the website used her mug shot photo in online advertisements, which has "disturbed her peace of mind, invaded her privacy and caused her anguish," and seeks monetary damages and an injunction to prevent further use of her image.
When asked why Simmons decided to take legal action so long after her initial exposure, her attorney Matthew Crist told the Tampa Bay Times[14] that the distinction is "that InstantCheckmate.com is using her image for obvious financial gain," whereas "other pictures floating around her more for fun and enjoyment."
Notable Examples
As of early April 2013, the "Attractive Convict" Quickmeme[10] page hosts at least 230 instances of the series.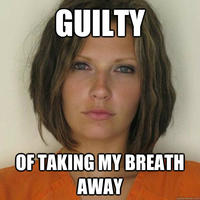 Search Interest
External References
Recent Videos
There are no videos currently available.
Facebook Comments