PROTIP: Press 'i' to view the image gallery, 'v' to view the video gallery, or 'r' to view a random entry.
This submission is currently being researched & evaluated!
You can help confirm this entry by contributing facts, media, and other evidence of notability and mutation.
About
Check "Yes" or "No" is an expression used in jest as a post-script to a question to press for an answer from an individual during an online conversation. While the phrase is most commonly associated with handwritten love confessions exchanged among school children, it has seen a number of funny variations and parodies on sites like Tumblr and Pinterest.
Origin
Common among elementary school children, the check yes or no note dates back to the 19th century[4] when the yes or no question would be posed on humorous, joking calling cards (shown below) young men would give to young women to inquire whether they could walk them home.

Spread
On February 7th, 2007, Tennessee newspaper The Decatur Daily[2] published an article titled "Do you know how to write a love letter?" which recounted the author's first childhood love letter, which read:
"I think you're pretty. Will you marry me? Check yes or no."
On June 1st, 2013, The Knot[5] featured a proposal story that featured a man giving his future wife a note that read, "Will you marry me? Check yes or no."

On November 5th, 2013, Redditor reasonable-doubt uploaded a photo of a check yes or no note to the subreddit r/funny.[3] Titled "Found in a box of elementary school projects," the note asks if the recipient will be his girlfriend, and features her reply that she's taken now but most likely won't be in two months. As of May 2014, the photo has gained over 3,000 points and over 44,000 upvotes.

As of May 2014, there are over 73,000 fan art submissions tagged "check yes or no." A common trend among the DeviantArt submissions is to address the note to Juliet from Romeo, referencing the two young lovers in Shakespeare's play Romeo and Juliet, and more recently, the 2007 We the Kings pop-rock song "Check Yes Juliet."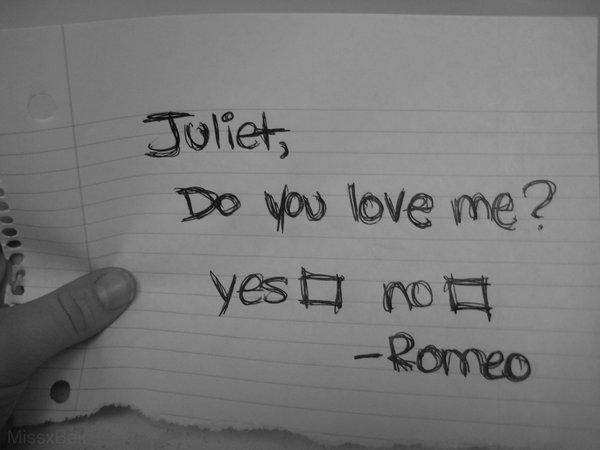 Notable Examples






Search Interest
External References
Recent Videos
There are no videos currently available.
Facebook Comments