PROTIP: Press 'i' to view the image gallery, 'v' to view the video gallery, or 'r' to view a random entry.
This submission is currently being researched & evaluated!
You can help confirm this entry by contributing facts, media, and other evidence of notability and mutation.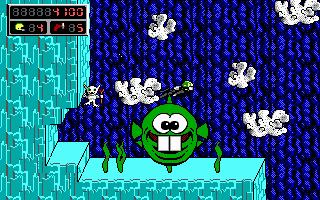 About
The Dopefish is a character that appeared for the first time in the video game "Commander Keen: Secret of the Oracle" in the year 1991. He became a video game industry inside joke and has many appearances in other games in the form of cameos and easter eggs.
Origin
Dopefish was one of 24 potential characters that id Software's Tom Hall designed for the fourth Commander Keen episode: "Goodbye, Galaxy!". The drawings were approved and the character got implemented into the final game.



Tom Hall's original sketches of the Dopefish.
The species is described by the in game help text as the "The second-dumbest creature in the universe, this creature's thought patterns go "swim swim hungry, swim swim hungry." They'll eat anything alive and moving near them, though they prefer heroes..".
The Dopefish is a large green fish with small fins, big eyes and enormous buck teeth. He appears in the underwater level "The Well of Wishes", where one of his signature moves is belching, while facing the viewer directly.
Appearances in other games
In progress…
Facebook Comments