PROTIP: Press 'i' to view the image gallery, 'v' to view the video gallery, or 'r' to view a random entry.
This submission is currently being researched & evaluated!
You can help confirm this entry by contributing facts, media, and other evidence of notability and mutation.
Work In Progress

About
No Church in the Wild is a music video by artists Kanye West and Jay-Z. Online, the first few lines of the song (sung by Frank Ocean) 'human beings in a mob, what's a mob to a king, what's a king to a God, what's a God to a nonbeliever, who don't believe in anything' has been used both unironically and ironically on various fandom photosets.
Origin
In 2011, Kanye West and Jay-Z collaborated on the song "No Church In The Wild" for their album "Watch The Throne". The song featured Frank Ocean and The-Dream
Spread
Shortly after the track was dropped, photosets taking images from the music video were posted on tumblr [1]. The lyrics would then be taken and posted atop images from other media, including television, film, and literature.
An article on Buzzfeed compiled several of these parodies over the past two years [2]
Notable Examples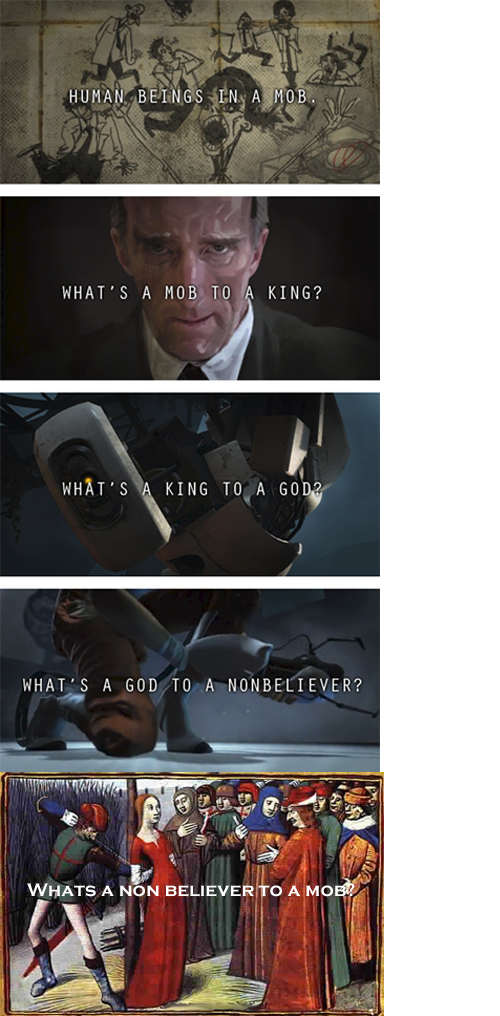 Search Interest
External Links
[1]tumblr – tagged:No Church In The Wild
[2]buzzfeed – Jay-Z And Kanye West's "No Church In The Wild" Is Like A Metaphor For Everything
Recent Videos
There are no videos currently available.
Facebook Comments