This submission is currently being researched & evaluated!
You can help confirm this entry by contributing facts, media, and other evidence of notability and mutation.
About
Jay Z (formerly stylized as Jay-Z) is the stage name used by Shawn Carter, an American hip hop artist and businessperson most well known for his prolific music career spanning over three decades and financial success through a series of business ventures in fashion and music industries. With more than 100 million record sales and an estimated net worth of $500 million, Jay Z is often cited as one of the world's best-selling artists and most successful figures in the hip hop industry.
History
Early Years
Carter discovered his interest hip hop music during his high school years in the mid-1980s, most notably at George Westinghouse Career and Technical Education High School, where he honed his rapping skills by freestyling with classmates and future rappers The Notorious B.I.G. and Busta Rhymes. According to Carter, he became involved in selling crack cocaine around this time, but as he continued to develop his ambition of becoming a hip hop artist, he began devoting most of his time collaborating with various local rappers under the name "Jazzy" with the guidance of his musical mentor and rapper, Jaz-O.
Music Career
After making numerous guest appearances on other artists' tracks between the late 1980s and early 1990s, Carter released his debut single "In My Lifetime" under his new stage name "Jay-Z" on July 25th, 1995. That same year, Carter co-founded the independent record label Roc-A-Fella Records with his associates Damon Dash and Kareem "Biggs" Burke. In 1996, Jay Z released his debut album Reasonable Doubt, which reached #23 on the Billboard 200 and placed him on the map as an up-and-coming artist in hip hop music. Over the course of the next decade, Jay Z released eight studio albums, many of which became certified platinum, most notably his sixth album The Blueprint and eighth album The Black Album.
Feud with Nas
In 2001, Jay Z made the headlines in the entertainment news after getting involved in a notorious feud with fellow emerging rapper Nas, during which the two artists exchanged a series of diss tracks aimed at each others. The dispute eventually came to an end after prominent record producer Mark Pitts intervened as the mitigator.
Elevator Fight with Solange Knowles
On May 12th, 2014, celebrity gossip site TMZ released an elevator surveillance video clip from New York City's Standard Hotel that apparently shows Solange Knowles, an American singer-songwriter and Jay Z's sister-in-law, slapping and punching him while on their way to a Met Gala after-party on May 5th. The scandalous scuffle led to much speculation about the state of Beyonce and Jay-Z's marriage, as well as the nature of their relationship with Solange.
Beyoncé's "Lemonade"
On April 23rd, 2016, Beyoncé released her sixth studio album and the second "visual album" titled Lemonade via Tidal, which was accompanied by the premiere of an hour-long music video special on HBO. Upon its release, the album instantly earned critical acclaim for its innovative methods of storytelling and high production value, as well as fan speculations about its autobiographical allusions to the marriage between the artist and her husband, Jay-Z.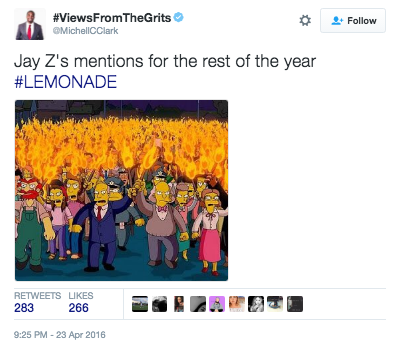 Online Presence
In April 2011, Jay Z launched an official blog and lifestyle news magazine titled Life + Times, which covers a variety of interests from music and fashion to technology and sports and doubles as the artist's official website. The content on the site is produced and curated by Jay Z in collaboration with a small staff. In addition to _Life + Times, Jay Z maintains an official Facebook page[4] and an official Twitter account[5], which have garnered nearly 21 million likes and 3.23 million followers, respectively, as of April 2016.
Tidal
Tidal is a subscription-only online music streaming service launched by Jay Z that offers a curated selection of high-fidelity, lossless audio tracks and high definition music videos. Upon its launch in late March 2015, the service garnered much attention from the music and tech news world due to its co-ownership by a number of high-profile recording artists, including Beyoncé, Prince, Rihanna, Kanye West, Nicki Minaj, Daft Punk, Jack White, Madonna and Deadmau5, among others. However, the service has been also met by criticism and negative feedback on the social media for its pricing system and selective promotion of mainstream artists.
Fandom
The Black Album
The Black Album is the eighth studio album by Jay Z that was released on November 4th, 2003. The album, which was marketed as the rapper's final album before retiring from music and produced by several well-known acts like Kanye West, The Neptunes, Timbaland and Rick Rubin, debuted at #1 on the Billboard 200 and received universal acclaim from the critics.
The Grey Album
The Grey Album is a 2004 mashup album based on an acapella remix of Jay Z's The Black Album and various samples from The Beatles' eponymous album (commonly known as _The White Album) mixed by American musician and producer Danger Mouse. Upon its limited release via select outlets on the Internet, the mashup album quickly spread and gained a cult following through words of mouth on hip hop blogs, discussion forums and file-sharing platforms, which eventually sparked a copyright dispute with the Beatles copyright holder and British music record label EMI.
"Niggas In Paris"
"Niggas In Paris" is a 2011 rap song by Kanye West and Jay-Z from their collaboration album Watch The Throne. Upon its release, several excerpts of the song's lyrics spawned a series of image macros and numerous catchphrases including "Ball So Hard" and "That Shit Cray" among others.
"No Church In the Wild"
"No Church in the Wild" is a 2011 rap song by Kanye West and Jay-Z. Online, the first few lines of the song sung by Frank Ocean (human beings in a mob, what's a mob to a king, what's a king to a God, what's a God to a nonbeliever, who don't believe in anything) has been used both unironically and ironically on various fandom photosets.
Related Memes
"I Got 99 Problems But a Bitch Ain't One"
"I've Got 99 Problems But a Bitch Ain't One" is a popular catchphrase taken from Jay-Z's 2004 rap single "99 Problems" which has been parodied several times online and used in various image macros.



Jay-Z Diving
Jay-Z Diving is a photoshop meme featuring an exploitable cutout of Jay-Z awkwardly jumping into the ocean from a luxury rental boat off the coast in Stromboli, Italy. Since the publication of the paparazzi photographs in early September 2013, it has been superimposed into many other celebrity photographs for comedic effect.



Search Interest
External References