About
Tumblr is a microblogging social network site founded by David Karp and Marco Arment. The interface allows users to post still images, animated GIFs, videos, links, quotes and other text. Members of the site can follow other Tumblr pages that can be viewed on their dashboard, and can "reblog" or "heart" other user's posts.
History
The site was founded in 2007 and was originally funded by Karp's personal earnings as a software consultant for the parenting site UrbanBaby.[1] According to an article by The New York Observer[11] from January 15th, 2008, the name was inspired by the word "tumblelog", a term for micro-blogging that Karp discovered when he was 19. In the Observer interview, Karp acknowledged that they were targeting a young demographic:
"Right now, we're going after artists," said Mr. Karp. "Before that we were thinking students and young people, but it's much easier to target an adult who wants to express themselves online. Artists and producers have YouTube, and musicians are relegated to MySpace. They're the worst platforms." Tumblr, says Mr. Karp, is a natural fit.
10 Billionth Post
On September 9th, 2011, the 10 billionth Tumblr post was made. It was celebrated with a script raining confetti on a user's dashboard.

Yahoo Acquisition
On May 16th, 2013, the tech news site AllThingsD reported that Yahoo! may be seeking to acquire Tumblr for as high as $1 billion, citing multiple anonymous sources that are close to the situation. By early afternoon on May 19th, AllThingsD, The Wall Street Journal,[18] Forbes,[34] TechCrunch,[35] Fast Company,[36] PC World,[37] NY Times,[38] Digital Trends[39] and many other tech-related news blogs reported that the boards of both companies had approved Yahoo's acquisition of Tumblr for $1.1 billion, which was confirmed by the official announcement on May 20th.
Verizon Tenure
After Verizon purchased Yahoo in June 2017, Tumblr went under the the ownership of Verizon.[52] Under Verizon, Tumblr placed a ban on adult content which caused an immediate drop in Verizon's stock price.

On May 2nd, 2019, The Wall Street Journal[53] reported that Verizon was looking to sell Tumblr. While Verizon has yet to comment on the matter as of May 3rd, 2019, Buzzfeed[54] reported that Pornhub was "extremely interested" in acquiring Tumblr. Pornhub had previously joked on Twitter that they welcomed Tumblr's adult content makers after Tumblr banned adult content. On Tumblr, users reacted with a mix of confusion and excitement about the rumor. User bob-newby-superhero wrote "Can I get a Hell yeah For our new overlords PORNHUB," gaining over 1,400 notes (shown below, left). User weirdmageddon wrote that the move was concerning, as "there are minors on this site and pornhub steals from sex workers," gaining over 500 notes.


Automattic Purchase
On August 12th, 2019, The Wall Street Journal[55] reported that Wordpress owners Automattic had purchased Tumblr from Verizon for $3 million, a loss of nearly a billion dollars when compared to the $1.1 billion Yahoo purchased Tumblr for in 2013.
Automattic chief executive Matt Mullenweg said the site would continue uphold its content moderation policy and that the site would remain largely unchanged. He said, "It's just fun. We're not going to change any of that."
Many online criticized and commented on the sale price (examples below).


Features
Tumblr dashboard serves both as a publishing platform and an aggregate reader.
Posts can be reblogged and liked by followers directly from the dashboard menu.
Tumblr blogs can be linked with custom domain names.
The blogger can reply with a post on their blog for everyone to see.
"Ask" feature allows readers to directly ask bloggers questions.
"Submit" feature allows readers to submit content to other Tumblr blogs with the blogger's approval.
Userbase
As of January 2012, [22] Tumblr has 120 million users and 15 billion pageviews every month. Almost half of the visitors (45%) are from the United States. Additionally, Karp revealed[23] that for every creator of original content on Tumblr, there are nine "curators" whose main focus is reblogging content.
Adult Content
Shortly after Yahoo's acquisition in May 2013, web analytics firm SimilarGroup released an analysis of adult-only content on Tumblr based on data collected from May 2012 to April 2013. According to TechCrunch's summary of the report, porn blogs account for 11.4 percent of Tumblr's 200,000 most-visited websites and 16.6 percent of Tumblr's traffic. It also found that external porn sites generate 22.37 percent of inbound referral traffic to the network, in comparison to 8.02 percent of Tumblr's outbound traffic attributed to adult websites.


Deletion From App Store
On November 16th, 2018, Tumblr users noticed that the service was no longer available for iOS on the App store.[43] Tumblr stated it was working to resolve an issue with the app. While no official word was given as to what happened, a tweet by @bluechoochoo[44] led credence to the idea that the deletion was caused by the uncensored adult content on Tumblr. This was the angle taken by several publications when reporting on the deletion.[45][46] Furthermore, a tweet from Tumblr on November 15th stated that removing inappropriate content was one of its "top priorities."[47]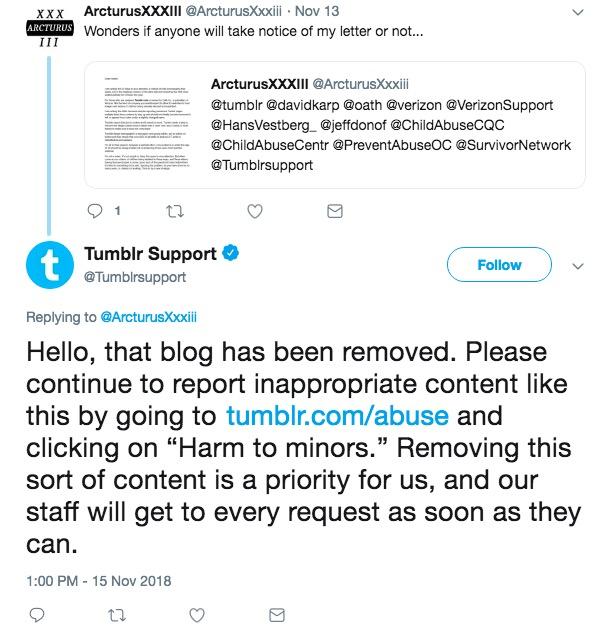 Additionally, Furry artists reported seeing accounts known for posting pornographic furry art and other NSFW blogs were deleted (examples shown below, left). On the platform, users joked that they had been complaining about the site's porn bot epidemic for years so the deletion wasn't a surprise. For example, user solarsyrup posted a Surprised Pikachu joke to illustrate the point, gaining over 50,000 notes (shown below, right).


Adult Content Ban
On December 3rd, 2018, Tumblr updated its "Adult content" guidelines page, announcing that sexually explicit content and most nudity (with some exceptions) would be permanently banned from the platform starting December 17th. Illustrations and artwork with nudity would be allowed, thought art showing sexual acts would not be permitted. Additionally, images of breastfeeding images, after-birth and "health-related situations" would be allowed on the site.

That day, the Tumblr Staff[51] blog published a statement about the new guidelines by Tumblr CEO Jeff D'Onofrio titled "A better, more positive Tumblr." Meanwhile, Twitter user @the_ttrop posted a screenshot of a Verizon stock chart, showing a sharp decline in value after the adult content ban announcement (shown below).

Italian Study
On December 24th, 2016, Italian researchers Mauro Coletto, Luca Maria Aiello, Claudio Lucchese and Fabrizio Silvestri released a study titled "Pornography consumption in social media,"[33] which found that nearly half of all Tumblr users see pornographic content on their dashboards. The study found that less than 1% of the site's userbase published pornographic content, 22% actively consumed the adult-themed material and an additional 28% unintentionally exposed themselves to sexually explicit media.

Content Highlights
Inspirational Photo Quotes
Inspirational Photo Quotes are a type of image macros featuring snippets of lyrics and inspirational quote in block letter format, oftentimes on the topic of romance or relationship, set to various photographs of people or landscape that are thought-provoking or sentimental in nature. Due to its overwhelming presence on Tumblr, photo quotes have become a subject of criticism and parodies on internet humor sites.
GIFs
GIFs: Animated GIFs are commonly found in various Tumblr pages. Notable GIF related pages include James Van Der Memes[16], GIF Party[17] and Lul Internet.[18] A style of animated GIF called "cinemagraphs" were popularized on the "From Me to You" Tumblr by Kevin Burg and Jamie Beck.
Selfies
GPOY: An acronym for "Gratuitous Picture of Yourself," gpoy dates back to 2008 when the tag "GPOYW" was used as a reason for Tumblrs to post a picture of themselves on Wednesdays.[20] By 2009, the "W" had been dropped[21] as users were posting GPOYs any day of the week.


Single Topic Blogs
Single Topic Blogs (Fuck Yeah X) : These Tumblr blogs focus on a specific topic and use the phrasal template "Fuck Yeah X" for a title. The trend was originated by writer Ned Hepburn with his "Fuck Yeah Sharks"[2] blog started on October 25th, 2008. For an interview with Hepburn on the origins of the blog, click here.
Ask Blogs
Ask X Blogs: Ask X blogs are made to appear as if they are maintained by fictional characters, and other users ask questions for the characters to answer. A number of these blogs[3] use illustrated cartoons to respond to queries. Some notable examples include Ask Gamzee [12], Ask Kyubey[13] and Ask Dr. Whooves.[14]
Confession Blogs
Confession Blogs: These typically involve confessions related to a fandom of some kind, such as Harry Potter[5] and Yu-Gi-Oh.[15] Posts typically include images where the confession is placed on a black bar that covers the eyes of a character from the fandom. A precursor to this may have been "Fuck Yeah Comic Secrets"[6], a similar style single topic blog.

Related Memes
"I Like Your Shoelaces"
"I like your shoelaces" is a code phrase Tumblr users will employ to find out if someone they've have just met and suspect uses Tumblr is really on the site. If the person responds, "Thanks, I stole them from the president," they are a Tumblr user. The first Urban Dictionary entry for the phrase was added on November 16th, 2012 by user Whovian-classicrock-fandom.[25] It was defined as, "A phrase used by Tumblr users to detect another Tumblr user in the real world."
5T4S
5T4S : In early 2011, the television network MTV began broadcasting commercials for Tumblr that brought in a wave of new members to the site. Older members protested the influx by inserting "5t4s", meaning "fight force", into their posts to indicate that they had been on Tumblr prior to the MTV commercials. (See also: Oldfags)

Tumblr Day
Tumblr Day, also known as the International Tumblr Day, is an unofficial community holiday observed annually in early March ever year, during which Tumblr users are encouraged to wear the site's lower-case "t" logo on their skin or clothes so they can be identified as a group offline.




The first Tumblr appreciation day was launched in March 2011 under the name "National Tumblr Day," which was succeeded by the International Tumblr Day held in March 2012. The second annual event was organized by Tumblr user emily-loves-asgardians, who has since deleted her original post,[26] and in 2013, it evolved into a larger-scale event after Tumblr user Ms.VeronicaBreanne's screenshot[27] of emily-loves-asgardians' original post went viral.



What Is Air?
"*What is Air?*" is a catchphrase used by Tumblr users to identify each other outside of the website. Since being introduced in 2010, the phrase has evolved into a form of trolling on anonymous chat site Omegle, ultimately prompting the Anonymous raid on Tumblr known as Operation Overlord.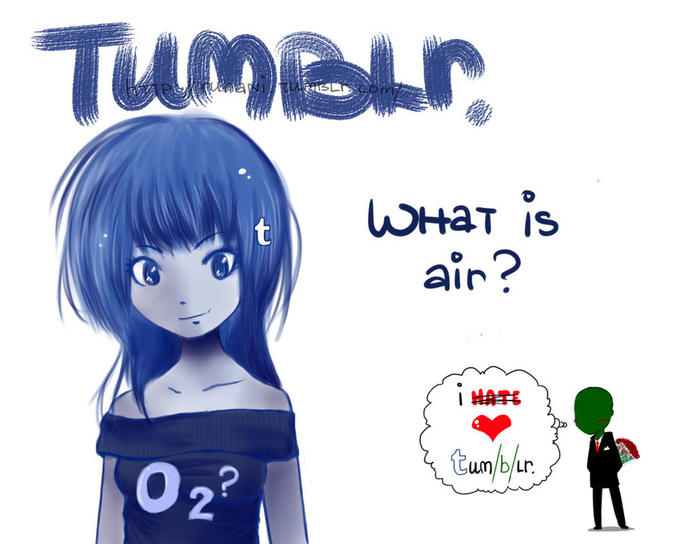 4chumblr
4chumblr refers to the fictionalized relationship between personified versions of 4chan and Tumblr. The anthropomorphized relationship stemmed from a trolling war between the sites known as Operation Overlord.

Fake Photo Sets
Fake Photosets are still images or animated GIFs that are sectioned into multiple frames with white margin space in order to give the appearance of a photo set post on Tumblr. The "photo set" feature was first introduced in July 2011 to allow single post compilations as opposed to a series of posts.

Controversies
Dashboard Redesign
In early June 2011, Tumblr released a new format for the user's dashboard. This caused quite a large amount of confusion among users, and many were not content with the changes at first. The original dashboard featured a follower count, message inbox, drafts, post count, queue, tracked tags, and a few other features on the first and only page besides a personal post feed. The new format changed this so that the follower count, drafts, post count, messages, and queue were on a separate page alongside one's personal posts, while the tracked tags remained next to the main dashboard feed. A message inbox was added to the top of the main page.
Spamming and Phishing
As with almost any major social network, many people have tried to find ways to give users viruses or gain access to their account. When accounts are compromised, users sometimes unwillingly send messages to other bloggers or generate posts with links that will phish out more account information. In an attempt to stop the phishers and spammers, the Tumblr Staff has tried many different methods to try and prevent malicious activity. These measures have generated an endless source of frustration for innocent users, however, because they consist of a character limit on messages, a limit for how many messages can be sent in a period of time, and a limit on how many times a user can click the "follow" button in a 24-hour period. For an example of a phishing scheme, see the submeme, "lolsummer69".
Porn Bots
Starting as early as 2014, Tumblr users began receiving mass follows from pornographic spam blogs. These blogs generally have generic names mashing up words and numbers and are filled with hardcore pornographic gifs. On May 27th, 2014, an anonymous user on Quora.com[28] sent an inquiry asking why so many pornographic blogs were following her despite her content not being sexual in nature. A commenter named Michael Edwards responded:
If you have posts of nude or semi-nude people (or have liked/reblogged posts of a similar type) and they are popular, it is likely they are showing up in the person's feed. When they see such a post, they scrape it for the likers and rebloggers, which will also grab your account. They then mass follow that scraped list to get refollows.
Using random tumblrs to rank for porn in google is almost useless. Tumblr likes are nofollow and reblogs do not get indexed often, and even when they do if they don't remain on the first page of the blog (where most of the juice is) it won't have a noticeable effect. Tumblr is best used for instant niche traffic. Get as many people as you can to go to your site.
Using tumblr to rank a site requires other people to reblog your post or for the person to have control over several tumblr blogs with high metrics and point them to his site and then point links to those individual blogs. However, I doubt this would work for the competitive porn keywords because the top ranking sites for those have thousands of backlinks that are spammy but for some reason do not penalize their sites.
In July 2016, Tumblr user fishbone76[29] posted a link to the Quora page with the caption "In case you wanna know why so many porn blogs follow you." The post has over 32,000 notes as of October 5th, 2016. Another user named snarp[30] posted a theory that Tumblr itself created the porn bots in order to meet a hypothetically promised number of notes for advertisers who come to their site. User notcuddles responded by saying SEO workers hired by advertisers, not Tumblr, were to blame for the proliferation of Porn Bots. The thread gained over 33,000 notes.
They're incredibly unpopular with the site's users. One petition by MapMatthew[31] launched on July 25th to get Tumblr to do something about it gained over 157,000 notes, though according to MapMatthew, "aside from a generic copy/pasted response about how great it is that we're being vigilant against spam, (Tumblr has) not taken any action or even acknowledged that this is a problem for many users."
Searching "Porn Bots" on Tumblr[32] yields hundreds of posts featuring users complaining about porn bots and posting screenshots of their recent followers, which are generally all porn bots (example shown below).

Russian IRA Account Purge
On March 23rd, 2018, Tumblr sent out an email to a large amount of users alerting them that they had identified and terminated 84 accounts that were tied to the Internet Research Agency, a Russian-affiliated agency which engages in the spread of disinformation and propaganda through social media.[40] Tumblr also included a list of the accounts as well as their aliases. The email was sent to anyone who liked, reblogged, or otherwise engaged with their content. Users on Tumblr quickly noticed that many of the accounts identified posted shitpost-style posts rather than political propaganda. For example, a post by identified IRA account lagonegirl featured the Draymond Green Talking to Kevin Durant meme and gained over 218,000 notes (shown below, left). In the Select All[41] story about the news, Seth Everman was identified as a person who had reblogged a post by an IRA account, though the post in question showed a man going down a water slide, which gained over 88,000 notes (shown below, right).


Tumblr users joked about the news via jokes. For example, Tumblr user terror-billie posted an Is This a Pigeon? parody which gained over 10,000 notes (shown below, left). User blackshikamaru posted a joke about the infamous Aphobe List controversy that gained over 18,000 notes (shown below, right). These jokes were covered by Buzzfeed.[42]


Special Reports
2013 Year in Review
On December 3rd, Yahoo! released its 2013 Year in Review, offering a glimpse at the most searched keywords and news stories, as well as a top ten list of "most viral blogs" on its recently acquired microblogging platform (shown below).
On the following day, Tumblr launched its first-ever annual trend report[24] highlighting the most favorited and re-blogged content in 20 different categories (shown below), with plans to unveil one additional category per day until December 31st.

Most of the pages from the 2013 year in review have since been removed since, as other years in review have replaced them.


Design REMOVED
Fashion REMOVED
Food REMOVED
Places REMOVED
Video Games REMOVED
Actresses REMOVED
Actors REMOVED
Solo Artists REMOVED
Bands & Groups REMOVED
News REMOVED
Most Viral REMOVED
Tumblr Radar REMOVED

2018 Year In Review
On November 28th, 2018, Tumblr released its lists of top fandoms on the site in 2018. According to the site's staff:[48]
After reviewing literal tens of thousands of lines of data, we sorted the most popular stuff into 23 lists with our very own Fandometrics rating system--measuring searches, original posts, reblogs, and likes to rank your enthusiasm and love.
According to the site's system, the top fandoms of Tumblr 2018 were thus:
1. BTS
2. Voltron: Legendary Defender
3. Marvel
4. Steven Universe
5. Boku no Hero Academia
6. Overwatch
7. Klance | Keith & Lance, Voltron: Legendary Defender
8. Avengers: Infinity War
9. Artists on Tumblr
10. Critical Role
The Daily Dot[49] took particular interest in Tumblr's shipping list,[50] organizing the top pairings discussed on Tumblr. At #1 was Klance, a ship between Keith and Lance of Voltron: Legendary Defender, and Reylo, between Kylo Ren and Rey from Star Wars: The Last Jedi. Author Gavia Baker-Whitelaw pointed out that these two ships were notorious for infighting amongst other shippers in the fandom, arguing that the fact that they topped Tumblr's fandometric list suggested that shipping culture on Tumblr was still mired in controversy.
Traffic
According to Business Insider[10], Tumblr ranks as the 10th largest social network site with 6.8 million weekly visits. The site has a US Quantcast[7] rank of 28, an Alexa[8] traffic rank of 46 and a Compete[9] rank of 67. According to Quantcast's demographics, the user base is 51% male and 41% female with the majority in the 18-34 age bracket. According to a Mashable[19] article from June 15th, 2011, Tumblr accumulated 20,873,182 blogs, surpassing Word Press by 85,000.
Search Interest
Search queries for "Tumblr" remained relatively insignificant until the summer of 2010, when volume began to dramatically increase.
External References
Recent Images 11,875 total