PROTIP: Press 'i' to view the image gallery, 'v' to view the video gallery, or 'r' to view a random entry.
Disclaimer: If you are epileptic or prone to having seizures, then you may want to avoid clicking on the images at the bottom of this page.
---

About
Speedycat is a yellow cat that initially appeared as a flash animated drawing. She is often paired with the Longcat-inspired tagline "Speedycat is speedy" and can presumably travel at the speed of light.
Origin
According to Urban Dictionary[1], The name "Speedycat" came from a typo that occurred in late 2005 in a 4chan IRC chat room nicknamed "speedychat" for its excessive volume of spams. After an anonymous user misspelled the name of the chatroom as "Speedycat," another user created a flash animation[3] of a yellow cat travelling through space and posted it to 4chan. The animation was paired with the Engrish song "Speedycat" by Y&Co from the 2004 Playstation 2 music video game Beatmania IIDX11: IIDXRED.[2]

In the original flash animation, the viewer could click on the moon, which triggered Speedycat to accelerate at "Warp Speed" with flashing lights and the song to play twice as fast.
Spread
The flash animation was reposted on several media hosting sites including Dagobah[4], Photobucket[5], Sheepa.org[6], and SWFchan.[7] The cat also appeared in a May 2006 flash music video titled 4chan City[8], a parody of well-known Newgrounds animation Nightmare City[9] by animator NCH.[10] On November 3rd, 2006, the first Speedycat YTMND was created.[11] That year, the cat was mentioned on gaming forums as well, including The Helix Community[14] and Kingdom Hearts Insider.[15] In 2007, Speedycat appeared in at least three[16][17] 4chan threads on /b/ (random), including one declaring her a forgotten meme.[18] The cat also has a small following on deviantArt[12] and Tumblr.[13]
Fan Art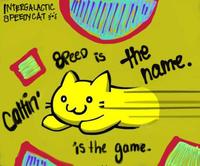 Search Interest
External References
Facebook Comments