PROTIP: Press 'i' to view the image gallery, 'v' to view the video gallery, or 'r' to view a random entry.
This entry has been rejected due to incompleteness or lack of notability.
To dispute this DEADPOOL flagging, please provide suggestions for how this entry can be improved, or request editorship to help maintain this entry.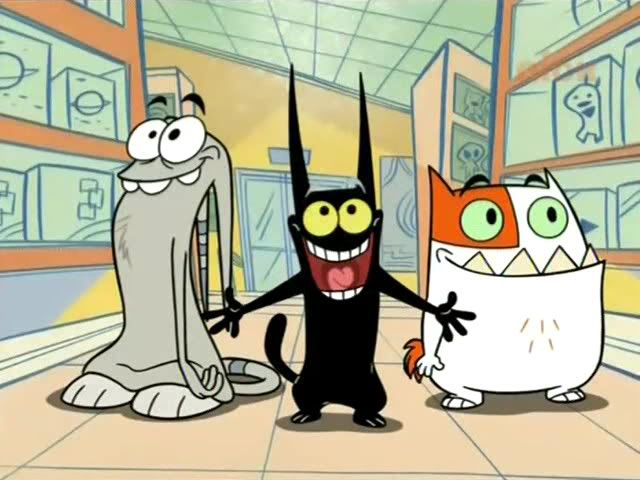 About
Catscratch was an animated show created by Doug TenNapel for Nickelodean featuring cats and their adventures. Which lasted for two seasons before being cancelled after Spindango Fundulation was aired.
Premise
It is explains everything right as you hear the theme song. Gordon, Waffle, and Mr. Blik have gotten custody of the mansion their owner, Mrs. Cramdely, formerly owned. Along with the butler, Hovis.
Gordon is the prideful, scottish accented short haired tabby of the Highland Quid clan. Who is usually the one with most common sense in situations. His most synonymous character is having a crush on a young girl named Kimberly(AKA Human Kimberly), and helping The Kraken in his many troubles.
Waffle is the oafish, easy going, and dimwittedly lovable goof who just wants to play games, watch movies, and drink root beer. His catchphrase 'Splee!' after hearing the name 'Duke Ert Splee' became a common phrase among the fandom of catscratch. Waffle also tends to have newts as a common pet and around him many times throughout his life.
Mr. Blik is the stern, no nonsense long haired cat and the oft times the leader of the group. Blik has a love for power, but he's more notable for his quick-witted comebacks and catchphrases that come out of the blue in conversations. Blik being the stern one, controls what happens around the house and has a tendency to want things to be perfect at all times.
Finally. There's Hovis. The neutral butler who has to deal with every good and bad thing the cats do. Hovis is fan favorite by many for his sharing of quick wit with Blik, and dry sounding British voice.
History
Catscratch was the successor of Gear. A less lighthearted novel about four cats high-jacking a robot.
The show was becoming more and more popular by the episode and was proving to be another SpongeBob SquarePants in terms of the style of humor and story lines that intrigued people by how admirably well thought out and outrageous they were.
Reception
Unsurprisingly the reception for Catscratch was nothing but positive. Garnering a big spot with the other popular shows of Nick at the time and meeting critical acclaim with critics.
Recent Videos
There are no videos currently available.
Recent Images
There are no images currently available.
Facebook Comments