PROTIP: Press 'i' to view the image gallery, 'v' to view the video gallery, or 'r' to view a random entry.
This entry has been rejected due to incompleteness or lack of notability.
To dispute this DEADPOOL flagging, please provide suggestions for how this entry can be improved, or request editorship to help maintain this entry.
"Where Are You Yeezy?" is an image macro originating in early June 2008 as a "Girl of the Week" post on Kanye West's blog. This phrase was also a line in the song "Flashing Lights" from his September 2007 release of Graduation. Yeezy is a nickname for Kanye West.
The image macro began with photos of models, actresses, and other fashionably sexy women that Mr. West himself would post. After a few of these "Girl of the Week" posts, he added a comic bubble to one of them with the phrase "Where are you Yeezy?", and with "I'm right her." written underneath the photo.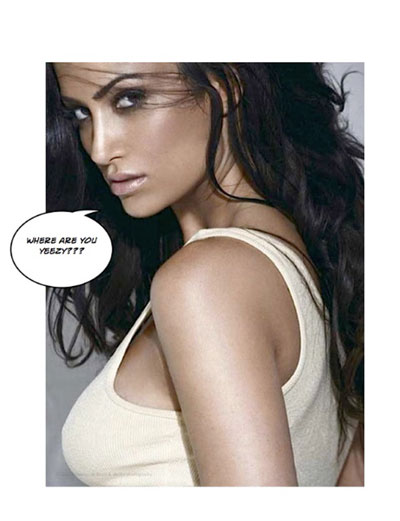 In January 2009, Kanye wrote a post in which he details out how he makes his "Yeezy" image macros using Comic Life, and includes his design opinions on how it should look, and why he enjoys this posting theme.
The image macro was recently sparked by a Free Art & Technology Lab Kanye Webst Week project from mid-May 2009, which was generally filled with humorous art projects as commentary and parody of Mr. West and his eclectic lifestyle. The "Yeezy" was macrofied in a post on their web site, which spilled over onto the frontpage of popular celebrity gossip site BuzzFeed.
Recent Videos
There are no videos currently available.
Facebook Comments