Warning: This page contains material that may be considered not safe for work.
About
The 7-Day No Fap Challenge is a challenge that began on Reddit 2011 that encourages male participants to stop masturbating for seven days in order to raise their testosterone levels. The challenge is based on a 2003 study claiming benefits for those who stop masturbating for a week, and resulted in a number of memes and the popular "NoFap" community.
Origin
Between March and April 2003, Jiang M, Xin J, Zou Q, and Shen JW from the science department of the J Zhejiang University published a paper titled, "A research on the relationship between ejaculation and serum testosterone level in men" to PubMed.[1] The study had 28 volunteers stop masturbating for an extended length of time, before and after which their testosterone levels were tested. Researchers found that on the seventh day of abstinence, volunteers saw a peak in testosterone level reaching over 45.7% of the baseline.
On June 20th, 2011 the /r/NoFap[3] subreddit was created for the purpose of holding "no fap" challenges, where members of the community document their experiences abstaining from masturbation.
On June 21st, 2011, a now-deleted Redditor posted a link to the study to /r/todayilearned,[2] garnering over 1,800 upvotes and 2,000 comments in roughly 10 years (shown below, left). The post inspired a number of comments joking about what people would be like if they stopped masturbating, along with people implying they were going to accept the challenge (examples shown below, right).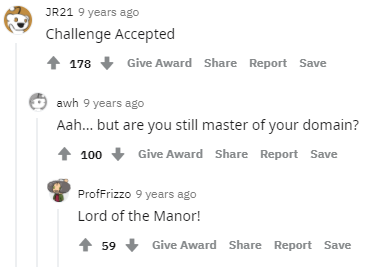 Spread
That year, numerous Redditors began taking the "7-Day No Fap Challenge" and documenting their experiences, struggles, and benefits across Reddit. A number of posts from June of that year can be found on subreddits like /r/IAmA,[4] /r/AskReddit,[5] and /r/reddit.com[6] asking about and claiming to take part in the challenge (example shown below).

The challenge inspired a number of memes about taking it, most of which are image macros, Rage Comics, and advice animal formats (examples shown below).


No Fap Movement
In the following years, the NoFap movement increased significantly in popularity. As of April 2021, /r/NoFap has gained over 792,000 members, with some members taking part in the challenge year-round. The movement has an official website, NoFap.com,[7] which includes information on stopping porn addiction, support forums, and more (logo shown below).

No Nut November
The 7-Day No Fap Challenge has evolved over time and inspired a number of new challenged, the most popular of which is No Nut November. The No Nut November challenge has participants abstain from masturbating for the month of November and recording their results.

Various Examples






External References
Recent Videos
There are no videos currently available.