PROTIP: Press 'i' to view the image gallery, 'v' to view the video gallery, or 'r' to view a random entry.
About
Blue Ball Machine is a series of YTMND sites illustrating user-generated models of the Rube Goldberg machine, an over-engineered structure designed to perform a very simple task in a very complex fashion, often involving chain reactions.
Origin
In 2005, the Something Awful forums hosted a contest in which a blue ball machine was to be created. While no specific instructions were provided for creating the instances, hundreds of SomethingAwful forum goons posted small GIF animations in which blue balls ran through a small portion of a virtual Rube Goldberg machine. These were eventually compiled together into a large collage of GIFs (as shown below) and spawned dozens of derivatives on YTMND, some of which went on to become the most viewed pages of all time within the community.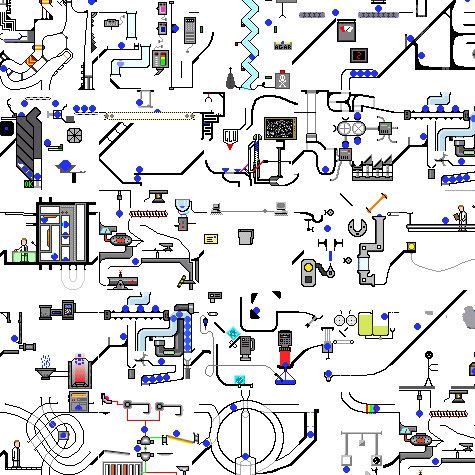 YTMND

Instances

In later 2005, YTMND user EarthBounder created the site Blue Ball Machine. It quickly gathered a large number of views. The site became the most-viewed YTMND of all time in 2005, and stayed in that position for over a year. On December 21st of 2006, the site How to Prank a Telemarketer (frequently referred to as HTPAT) gained the notoriety as the top-viewed YTMND of all time, where it is today. However, the Blue Ball Machine is currently 2nd most viewed with more than seven million views.
Earthbounder continues to believe that Cosby Bebop is the best site on YTMND, though many users believe that the BBM is the best. Earthbounder has also challenged voters, saying that if the site's rating dropped below a 4-star rating, the site would be deleted as soon as possible. The music used for the YTMND is Breakfast Machine from the Pee-wee Herman movie Pee-wee's Big Adventure.

The site has had more than one million stumbles on StumbleUpon, reviewed by Jay Is Games, as well as more than 1,000 Diggs. Max Goldberg, the creator of YTMND himself, has said in an interview with WIRED magazine that the Blue Ball Machine YTMND is awesome.
Spread
As the site had millions of views, it spawned many YTMNDs relating to it. Some sites are just parodies, but in others, there is an entirely new patchwork of blue ball gifs. In these, either the user made it themselves or it is taken from another SomethingAwful Blue Ball Machine contest (there have been multiple since the original). Some of these sites have hundreds of thousands of views. Some of the most popular sites include YTMND for the blind, which has more than 100,000 views and was created in February of 2006. Another is Tragedy at the blue ball factory, with 300,000+ views.
Derivatives
Facebook Comments