PROTIP: Press 'i' to view the image gallery, 'v' to view the video gallery, or 'r' to view a random entry.
This submission is currently being researched & evaluated!
You can help confirm this entry by contributing facts, media, and other evidence of notability and mutation.
Overview
The 2014 North American Polar Vortex is an extreme weather event that is believed to have originated from a distortion in the large cyclone near the Earth's north pole, also known as the "polar vortex", resulting in heavy snowfall and record-breaking declines in temperature across the United States and Canada.
Background
On January 2nd, 2014, the nonprofit weather news site Climate Central[2] published an article about an influx of cold air heading toward the Midwest United States. Estimating a steep decline in temperatures from 20 to 40 degrees below average across, the article attributed the cold wave to a section of the polar vortex that had broken off and drifted south.
Notable Developments
News Media Coverage
In the coming days, many news sites published articles about the polar vortex and the impending cold weather, including The Washington Post,[4] Fox News,[5] Slate,[6] The New York Post,[7] Mashable,[8] Time[9] and The Huffington Post.[10]
Online Reaction
On January 6th, the Internet humor site Heavy[3] published a compilation of notable polar vortex-related image macros and photoshopped pictures (shown below).
On the same day, BuzzFeed[12] highlighted several tweets in which people burned themselves trying to throw boiling water into the air to make snow during the cold snap.
Tried the boiling water trick today… burned the high holy hell out of my hand… I may have done it wrong… but it shore was purdy…

— Tyler Rump (@tyrump) January 7, 2014
My little brother burned himself trying to throw boiling water into the air to make it freeze. BEWARE #lol #caughtonvideo

— Vincent Escudero (@VinceEscudero) January 7, 2014
According to the Twitter analytics site Topsy,[13] "polar vortex" mentions peaked at over 77,000 on January 6th.
On January 8th, Redditor rocconyew submitted a post claiming to have discovered a photograph of a woman doing a flip in a bikini while searching for the phrase "polar vortex" (shown below, left) to the /r/funny[1] subreddit. Within 48 hours, the post garnered upwards of 7,700 up votes and 180 comments. On the following day, Redditor koley submitted a Polandball comic titled "The Polar Vortex" to the /r/polandball[11] subreddit, in which an America ball is frozen in a block of ice (shown below, right). In the first 24 hours, the post garnered over 4,100 up votes and 350 comments.
Notable Photos
Throughout January and early February, dozens of photographs showing snow-covered landscapes and cityscapes across North America went viral on Twitter, many of which were subsequently featured in the round-up coverage of the extreme cold weather by Internet news sites like Mashable[17] and The Independent.[18] Similar to the fake images that flooded the social media in the aftermath of Hurricane Sandy, some of the Polar Vortex photos were eventually debunked as fake, including a photograph that claimed to show a completely frozen Niagara Falls (second row, far left).[19]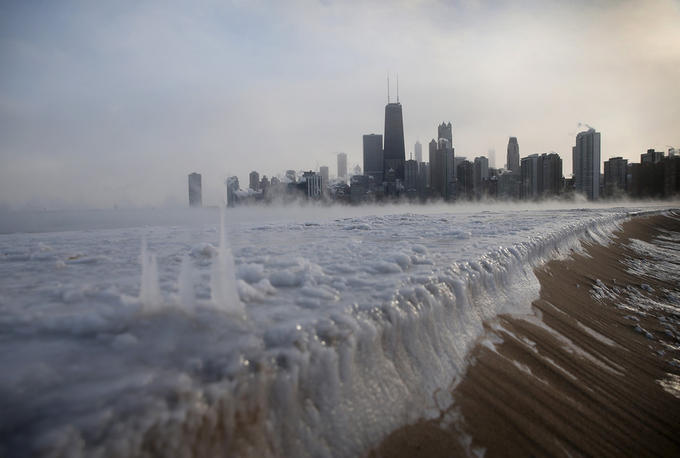 #SoWhiteOutside
#SoWhiteOutside is a Twitter hashtag originally introduced as a keyword relating to discussions about the Polar Vortex, but it quickly derailed into a hashtag used to tweet about things that are deemed to be stereotypically Caucasian. The first use of the hashtag used to make fun of white culture came from @makinziepwall on January 29th, 2014, who tweeted,
#sowhiteoutside starbucks is gonna go out of business

— makinzie. (@makinziepwall) February 13, 2014
The hashtag really took off on February 13th, when it was reported on by Complex[15] and Jezebel.[16]
#SoWhiteOutside that college students are discussing whether the snow is coming from a position of unearned privilege.

— Mark Harris (@MarkHarrisNYC) February 13, 2014
#SoWhiteOutside
It looks like a Tea Party rally.

— Paul Lander (@paul_lander) February 14, 2014
#SoWhiteOutside the snow DVR'ed every episode of Girls

— Anthony Serio (@SeriouslySerio) February 14, 2014
Snow Day Announcements
During 2014's winter season several school officials recorded music video announcements to let their students know they would be getting a snow day. On February 3rd, 2014, officials at Boone County Schools in Kentucky uploaded a video to YouTube titled "SchoolClosing Stephens Elementary 020314" (below, top right) that featured a school closing announcement sent to the tune of Queen's "Bohemian Rhapsody." As of February 14th, the video has over 2 million views. On February 4th, the Principle of Cedar Creek Elementary posted a video titled "What does the principal say?" (top left) which featured a snow day announcement set to the tune of Yelvis song "What Does the Fox Say?" As of February 14th, 2014, the video has over 270,000 views. On February 12th, the Head and Assistant Head of Durham Academy uploaded a video to let their students know they would be having a snow day set to the tune of Vanilla Ice's "Ice, Ice, Baby" (bottom, center). As of February 14th, the video has over 2.9 million views.
<
Search Interest
External References
Facebook Comments