PROTIP: Press 'i' to view the image gallery, 'v' to view the video gallery, or 'r' to view a random entry.
Overview
Food Network Recipe Reviews is an example of customer review comedy that took place on Food Network's official website in November 2010. Similar to the tongue-in-cheek reviews of Three Wolf Moon and Tuscan Whole Milk on Amazon, a number of recipe articles on FoodNetwork were flooded with facetious comments poking fun at the overly simplistic cooking instructions.
Background
In November 2010, celebrity chef and cooking show host Rachael Ray's Food Network recipe article "Late Night Bacon"[1] suddenly began receiving the attention of trolls who pointed out the article's verbose instructions on how to cook bacon in the microwave. The recipe article was originally posted in May 2004.

Baffled by the overly simplistic recipe, some readers began responding to Ray's article with tongue-in-cheek reviews of the instruction in the comments section.
LocalBoyMakesGoo: "Tried this recipe last night. The bacon was great, but the paper towels tasted awful."
I

LOVE

BACON

!: "It's only 6:54pm… can I make this yet? Or does it need to be later?"
midnightsky: "I think a nice glass of water would wash down this bacon well. So I get the glass out of the cupboard… but I'm not really sure what to do next. I would appreciate any help. Thanks."
Developments
One of the first websites to pick up on the comment trolling was FoodNetworkHumor.com[2], a website entirely devoted to satirizing the Food Network's hosts and shows that was launched in January 2009. On November 8th, 2010, FoodNetworkHumour[3] crowned "Late Night Bacon" the most ridiculous food network recipe of all time. On the following day, a link to the recipe article was posted onto Reddit in a thread titled "Rachel Ray's Bacon Recipe,"[4] which received 777 up votes and over 300 comments.
Pineapple Wedges Recipe
Following the viral rise of "Late Night Bacon," it was reported that the user signups on Food Network's website rose by a considerate amount. New members started combing through the site looking for more recipe articles posted by Rachel Ray. Soon, similar user reviews began flooding in the comments section of Rachel Ray's "Pineapple Wedges"[5] recipe article.

The reviews for the recipe mocked Rachel Ray and also made several references back to "Late Night Bacon."
rachaelsbacon: I got it confused with the bacon recipe and put it in the microwave. It tasted terrible but I think that may be because I accidentally overlapped the slices.
ilovegnomeland: I'm so glad that she came up with this recipe. I've been using Sandra Lee's recipe for canned pineapples and I sprained my wrist using the can opener. Thank you Rachel, my wrist has healed thanks to you!
Paula Deen's English Peas Recipe
Another celebrity chef Paula Deen's "English Peas" recipe[6], originally posted in May 2007, also came into the spotlight later that same month.

thedjvan: "This recipe was fantastic! I am a house cat, and after making this recipe I was able to speak english for roughly 30 seconds! I can't wait to try this wimeow meow meow meow meow meow."
AnnieFalafel: "

BUT

HOW

DO

YOU

OPEN

THE

CANS

OF

PEAS

?!?!?!?!?!"
frankw: ?Es posible sustituir los peas mexicano por ingles?"
Ellie Krieger's Dark Chocolate Recipe
Ellie Krieger's "Dark Chocolate As A Snack"[7] from May 2007 was also targeted by the trolls, who poked fun at the recipe's only ingredient: 1 ounce of dark chocolate. By January 2011, it had prompted similarly absurd comments. Although the link to the original article has since been disabled, a screenshot can be seen below.

adamwa: "This was just ok. Maybe if it could be simplified some because its too much work.
kelly-davis_125…: "So that's how you do it!!?!!?!!!!! All this time i've been……oh nevermind, I just feel stupid."
egdohov: "Will this work if I substitute milk chocolate?"
Notable Examples
Many others continued to take screenshots of overly simplistic or verbose recipe articles and shared them on various internet humor sites, including FoodNetworkHumour and FAILblog among others.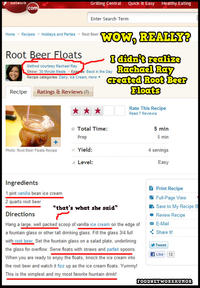 Search Interest
External References
Facebook Comments