PROTIP: Press 'i' to view the image gallery, 'v' to view the video gallery, or 'r' to view a random entry.
This submission is currently being researched & evaluated!
You can help confirm this entry by contributing facts, media, and other evidence of notability and mutation.
About
"Faith in Humanity Restored" is an expression indicating an event or good deed has improved one's opinion of human beings. The phrase can be seen as the antithesis of I don't want to live on this planet anymore.
Origin
On October 3rd, 2000, a post titled "Nice Things That Restore my Faith in Humanity" was submitted to the writing database Everything2[7] by user Nailbunny, which featured a short story about a heartfelt phone call from a close friend.
Freddie Mercury Rage Pose
The phrase "Faith in humanity restored" is often seen a a caption used with the Freddie Mercury Rage Pose image (shown below).



Spread
On April 5th, 2007, Livejournal[15] user salaroo submitted a post to the "We Hug Sloths" community titled "My faith in humanity has been restored," which celebrated the adoption of a sloth at a zoo. On August 31st, 2010, a TV Tropes page for "Restored My Faith in Humanity"[8] was created, which associated the theme with the "Rousseau Was Right"[8] and "Humans Are Good"[9] tropes. On September 3rd, a series of photos featuring a man rescuing a drowning dog (shown below) were highlighted on the Internet humor blog Ned Hardy[11] in a post titled "Need Your Faith in Humanity Restored?"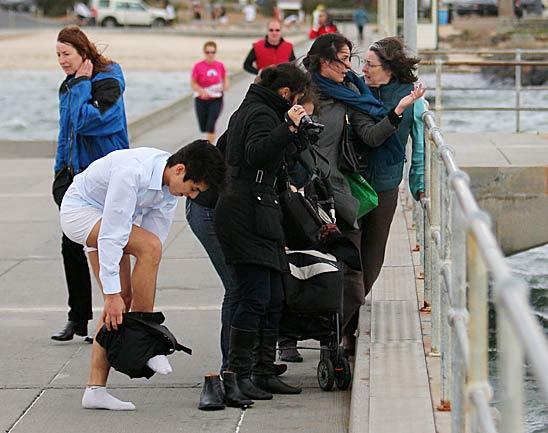 On December 8th, the "Random Acts of Pizza" subreddit was created, which adopted the slogan "Restoring faith in humanity, one slice at a time." On February 13th, 2012, a Facebook[1] page titled "Faith in Humanity: Restored" was launched, gaining more than 11,000 likes in the next two years. On June 20th, the viral content site BuzzFeed[5] published a round-up of "21 Pictures That Will Restore Your Faith in Humanity," which received upwards of 12.9 million views and 17,000 Facebook shares in the first 10 months. On July 3rd, the post was updated with a YouTube video titled "How to Restore Your Faith in Humanity" was added, featuring a slideshow of images from the original post (shown below).
On August 27th, the Internet humor site Cracked[14] published an article titled "6 True Stories That Will Restore Your Faith in Humanity." On December 14th, BuzzFeed[6] published another photo compilation titled "26 Moments That Restored Our Faith in Humanity This Year," accumulating over 7.4 million views and 542,000 Facebook shares in the following five months. The same day, the Internet humor blog Smosh[13] published a similar photo compilation titled "24 Photos That Will Restore Your Faith in Humanity."
Notable Examples
Image macros chronicling heart-warming stories can be found on Pinterest[10] and Tumblr[12] with the description "faith in humanity restored."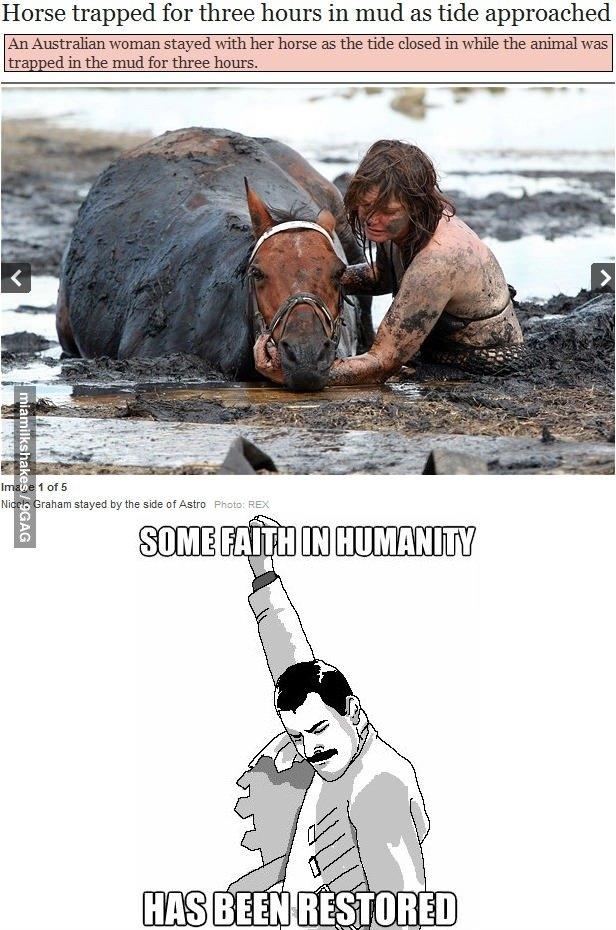 Search Interest
External References
Facebook Comments