PROTIP: Press 'i' to view the image gallery, 'v' to view the video gallery, or 'r' to view a random entry.
This submission is currently being researched & evaluated!
You can help confirm this entry by contributing facts, media, and other evidence of notability and mutation.
About
Funny Store Signs are marquees, blackboards and other storefront displays featuring humorous messages or illustrations, including those that are unintentionally funny as a result of a technical malfunction or grammatical error. On the Internet, user-submitted photographs of unusual storefront signs have been circulating through image-hosting sites and social media platforms since the early 2000s, similar to other photo-documentary memes from that same era, such as Engrish and troll posters.
Origin
While the exact origin of funny store signs as a genre of internet humor remains little known, the earliest known website dedicated to highlighting photographs of humorous visual signs, including those found at storefronts, was launched at SignSpotting.com[5] in January 2000.

Spread
On November 21st, 2000, a site dedicated to highlighting funny signs was launched under the domain FunnySign.com.[1] On November 8th, 2006, YouTuber tomerikp uploaded a slideshow of funny store signs (shown below, left), which earned upwards of two million views in less than eight years. On March 3rd, 2007, YouTuber Ernie Deveau posted another compilation of store sign FAILs (shown below, right), racking up 900,000 views.
On February 1st, 2010, the Internet humor site Holy Taco[2] published a compilation of notable photographs of "hilarious storefronts." On April 29th, 2012, the /r/funnysigns[6] subreddit was launched for submissions of humorous sign photographs. On August 31st, 2013, BuzzFeed[4] highlighted a large selection of funny store sign photos in an article titled ""88 Funniest Signs of the Summer."


On January 27th, 2014, the Internet humor blog Pleated Jeans[3] posted a compilation of photos depicting funny store signs. On May 21st, Redditor Ludop0lis submitted a photograph of a humorous blackboard spotted outside a pub in Ireland to /r/funny,[8] where it received more than 4,100 votes (96% upvoted) in the first three months (shown below, left). On May 30th, Redditor cubs1917 submitted a photograph of a blackboard sign outside of a bar in New York City with a joke poking fun a former U.S. President George W. Bush (shown below, right). In two months, the post gained over 3,500 votes (89% upvoted) on the /r/funny[7] subreddit.


Notable Examples
Storefront Signs






Marquees






Blackboard Signs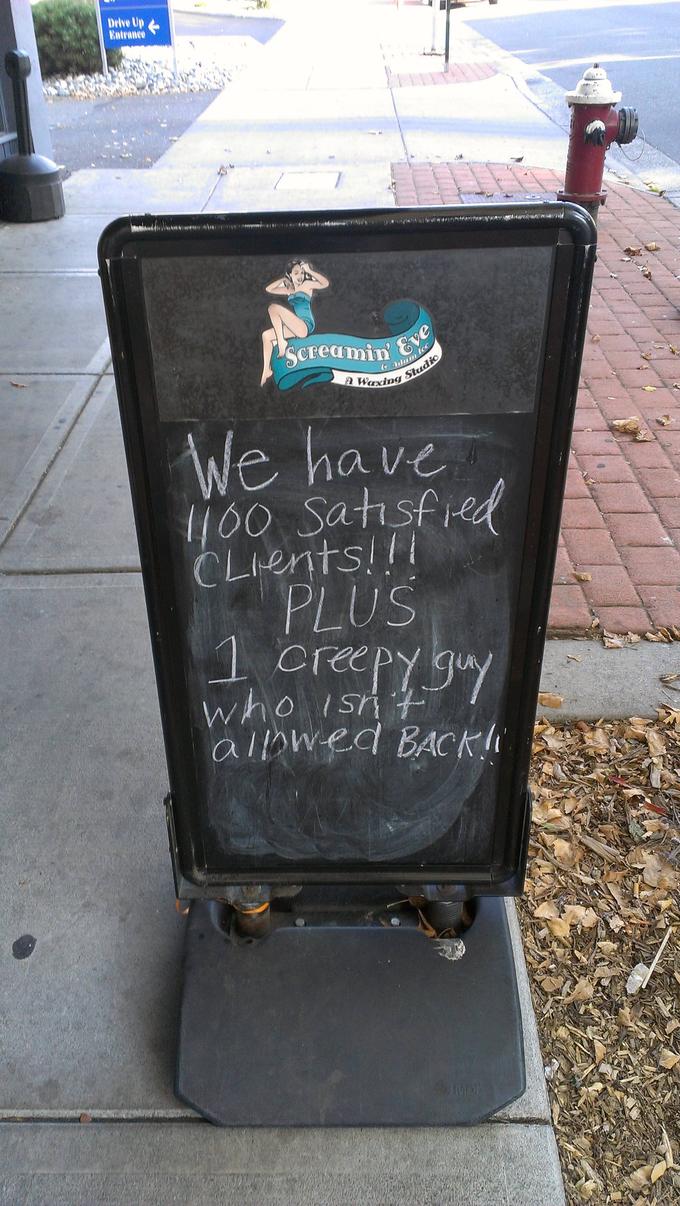 Search Interest
External References
Recent Videos
There are no videos currently available.
Facebook Comments