PROTIP: Press 'i' to view the image gallery, 'v' to view the video gallery, or 'r' to view a random entry.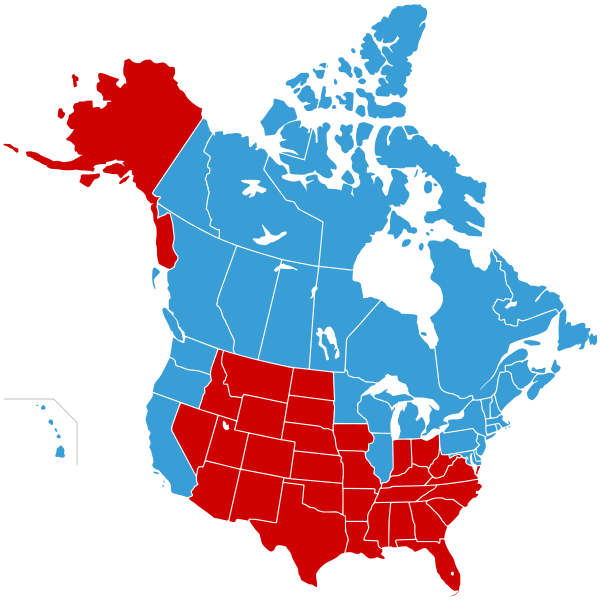 About
Jesusland is a slang term for 30 American states who typically vote for Republican candidates in United States elections. It includes the central and western Red States[10], as well as the south-central and southeastern states known as the Bible Belt.[11] The term first surfaced in 2004 during the U.S. presidential election season, when a satirical map of the country split into Jesusland and its Blue State counterpart, "The United States of Canada," began to circulate on various online forums, illustrating the split between the parties' fundamental ideologies.
Origin
On November 3rd, 2004, the day following the 2004 US Presidential election, G. Webb posted the map in a thread titled "I've solved it! – Now the Jesusland watch thread" on YakYak forum[1], a message board for fans of video game designer Jeff Minter.[12] The map was an attempt to explain why George W. Bush had won the presidency.

Spread
The same day it was created, the map was posted on personal blog Slapnose.[13] The following day, similar maps began appearing on political blogs including Politics on About.com[7] and Uncyclopedia[3], and Flickr.[14] Also on the 4th, the first Urban Dictionary[5] definition of "Jesusland" was added. Over the course of 2004, Jesusland was referenced on Canadian blog Cool.ca[15], Tribe[16], Free Republic.com[17] and San Francisco Weekly.[18] n addition, the term was widely used by partisan blogs from both ends of the political spectrum throughout 2004 and 2005. Jesusland was referenced by the Los Angeles Times[8] and New York Times' Freaknomics blog[6] in the late 2000s.
Despite the name being associated with the map, journalist Julia Scheeres reported seeing a sign for "Jesus Land" in the 1970s after her family had moved to rural Indiana.[
Notable Variations
Many Internet users from both ends of the bipartisan spectrum shared their own maps, featuring additional countries and borders.



Jesusland
* Jesusistan
* Dumbf*ckistan
* Redstateistan
* Redneckistan
* Bushlandia
* The United States of Evangelicals
* The United State of Texas
The United States of Canada
* Eastern Realitania
* Northeastistan
* Western France
* The New American Republic
* New America
* The Sorry States of America
* New Canada
* Snobberia






In Popular Music
In April 2005, American indie musician Ben Folds released the album Songs for Silverman, which included a track titled "Jesusland." In July 2005, American punk band NOFX released a 7" single titled "Leaving Jesusland," which was officially included in the 2006 album Wolves in Wolves' Clothing.
Saturday Night Live: "Blue State Santa"
In December 2009, Saturday Night Live aired an animated TV Funhouse short called "Blue State Santa". In the short, Santa decides to skip over the houses of the "red states" that voted for Bush in 2004. During it, he holds up a map similar to the original Jesusland map, but with the title "Dumb****istan".
Search Interest
Sources
Recent Videos
There are no videos currently available.
Facebook Comments