PROTIP: Press 'i' to view the image gallery, 'v' to view the video gallery, or 'r' to view a random entry.
This submission is currently being researched & evaluated!
You can help confirm this entry by contributing facts, media, and other evidence of notability and mutation.
About
Naked Banana is an image that gained notoriety on imageboards, mostly being used as an out of context image on various boards on 4chan.
Origin
On April 27th, 2010, the "Naked Banana" Facebook page was launched, featuring an illustration of an anthropomorphic banana holding a peel to its side as if it were its clothing.
Spread
The image, a stock photo of a "naked" banana holding a peel, began trending due to a Facebook post in which a group of older internet users find the image to be far funnier than most would, and have a confusing conversation about it; the original source and explanation can be seen below.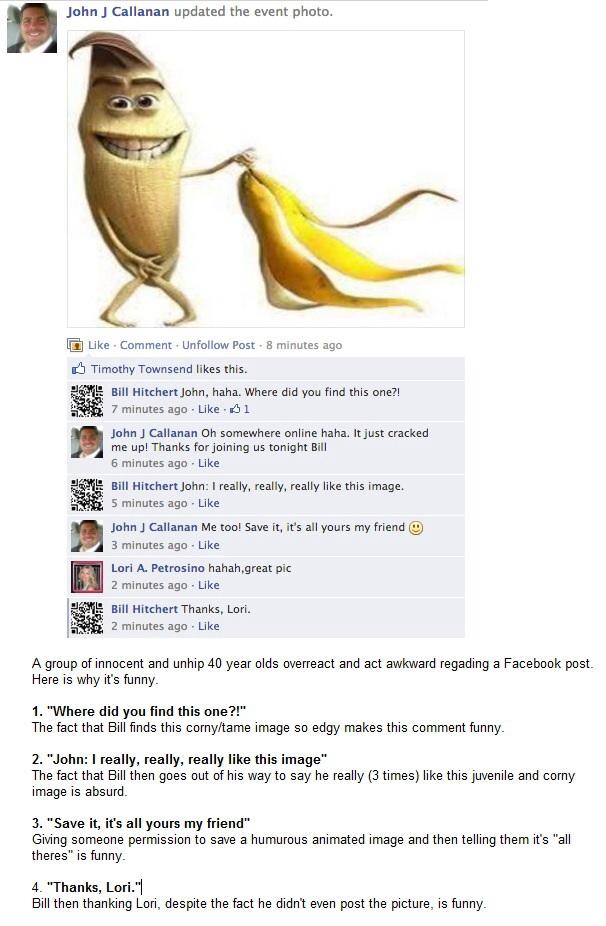 Naked Banana, or variations of the image are typically posted dozens of times in "You Laugh, You Lose" threads, to the fury of many users who wish to see different content. When shared on 4chan, users typically reply with "I really, really, really like this image" or other quotes from the bizarre conversation. One notable negative reaction to come from other posters is a Copypasta in which the poster goes on about how the person who posted the Naked Banana is an overweight, shut-in manchild living with his mother whose entire existence revolves around posting the Naked Banana picture or recreating the original Facebook conversation. The full version is as shown:
There he is. There he goes again. Look, everyone! He posted it once again! Isn't he just the funniest guy around?! Oh my God.

I can almost see your pathetic overweight frame glowing in the dark, lit by your computer screen which is the only source of light in your room, giggling like a like girl as you once again type your little Banana thread up and fill in the captcha. Or maybe you don't even fill in the captcha. Maybe you're such a disgusting

NEET

that you actually paid for a 4chan pass, so you just choose the picture. Oh, and we all know the picture. The "epic" Banana guy, isn't it? I imagine you little shit laughing so hard as you click it that you drop your Doritos on the floor, but it's ok, your mother will clean it up in the morning. Oh, that's right. Did I fail to mention? You live with your mother. You are a fat fucking fuckup, she's probably so sick of you already. So sick of having to do everything for you all goddamn day, every day, for a grown man who spends all his time on 4chan posting about a fucking banana. Just imagine this. She had you, and then she thought you were gonna be a scientist or an astronaut or something grand, and then you became a

NEET

. A pathetic Bananafag

NEET

. She probably cries herself to sleep everyday thinking about how bad it is and how she wishes she could just disappear. She can't even try to talk with you because all you say is "I

REALLY

REALLY

LIKE

THIS

PICTURE

." You've become a parody of your own self. And that's all you are. A sad little man laughing in the dark by himself as he prepares to indulge in the same old dance that he's done a million times now. And that's all you'll ever be.
Search Interest
External References
Facebook Comments