PROTIP: Press 'i' to view the image gallery, 'v' to view the video gallery, or 'r' to view a random entry.
About
Playing Dead (시체놀이) is a mass-participatory photo meme that swept across South Korean lulz communities and social networking sites, beginning sometime in early 2003.
Origin
The earliest origin of "playing dead" can be traced back to Crayon Shin-Chan[1], a popular 90s Japanese manga by Yoshito Usui. In the series, Shin-chan (the main character) often plays a prank on his mother by pretending to be dead on the floor as she returns home from running errands. The manga became an international hit throughout the late nineties and in early 2003, group photos of S. Korean school pupils "playing dead" began to emerge on the web[2]. Subsequently, the prank became a national meme throughout all demographics, from kindergartners and high school students to all sorts of people at work and housewives at home.
Precursor: Survival Instinct
It is difficult to strictly define the act of playing dead as an internet-born phenomenon; after all, possums are well known for playing dead in the presence of prey, and what's scary, so are certain types of snakes. Even people resort to playing dead in life-threatening circumstances, like during epic battles and encounters with raging wild bears. But. It should be also noted that without the Internets, I would've never guessed that all these people were alive in the first place to play dead & take pictures of it.
Spread
Due to its immense popularity, Playing Dead became one of the earliest memes to be documented by the Korean media. According to the newspapers, the term "playing dead" was first introduced to the mass audience through a popular comedy/variety show (aired in early 2003), during which Shin-Chan is cited as the source of origin. Upsurge in sales of digital cameras during the early 2000s also seems to have played a role in the rise of the meme.
Popular Japanese manga → Popular Korean variety show → Internet meme
How to Play Dead
The main objective of playing dead is to display both comical and convincing sight of death by tactfully staging a disheveled pile of bodies within a given space. For example, the image on the left illustrates a classic example of "playing dead," while the one on the right is a less stunning iteration, as the participants appear to be passed out or asleep rather than dead:
Notable Examples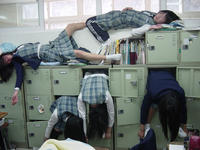 Development in the West
Funny pics of people playing dead also have emerged in the English-speaking web on sites like playdeadpics.com, but it seems to exist as a niche interest at the most. It's also interesting how this eccentric sport of "playing dead" developed into a group arts project within certain social networks, like the Flickr group[3] featuring over 600 submissions as well as DeviantART[4] with over 2000 submissions.
Later on, visually similar games that involve lying on the ground emerged elsewhere with the French website A plat ventre (on one's belly) in 2004, the UK Facebook group Lying Down Game in 2010 and most recently the Australian Facebook community Planking in 2011.
Search Interest
External References
Facebook Comments