PROTIP: Press 'i' to view the image gallery, 'v' to view the video gallery, or 'r' to view a random entry.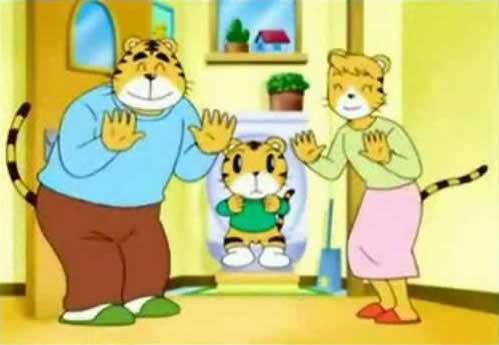 About
Shimajiro: Toilet Training is a three-part episode from a cartoon in a correspondence education materials aimed at teaching preschoolers about various social manners, etiquette and life skills. In this particular episode on potty training, the kiddie tiger learns how to properly use the toilet all by himself …with a little bit of help from the talking toilet.
Origin
The toilet training video known as this name today, was originally titled "Manage to Go to the Toilet – Pants Man" (トイレで できたら パンツマン) which was included in a companion DVD of the 2006 April issue of Kodomo Challenge Pocket, a correspondence education materials for toddlers (2-3 years old) released by Benesse.[1] In this video, their mascot character Shimajirō which has been made the TV anime series[2] tries pooping and peeing by himself in the toilet. And in the last chapter, a child challenges the toilet training with an educational toy in the appendix to the issue as an instruction of the toy.
Anthropomorphism of Feces
In Western culture, it's difficult to imagine "feces" as something charming or of any significant value, but it's a little bit different in Japan. While it would be just as an inappropriate or weird topic to casually bring up in most circumstances, anthropomorphic caricatures of Unko[3] (Japanese/Korean for "poop") has been widely adopted as a popular character design, from stationary products and junk foods to childrens' books and cartoons.
Typically represented as a cute swirl of brown resembling soft ice cream, Unko-shaped items are also considered "lucky" in Japanese Shinto tradition. This is because of dubious meanings in the Japanese word "Un", which is both an onomatopoeia of loud guttural exertion and a homonym for "luck."
Spread
Because this video looked so weird to Westerners for these reasons, This video has continued to be uploaded to YouTube with English subtitles. It had been picked up on eBaum's World[4] and also reported by a TV show The Soup by E! Entertainment Network circa 2006-2007. Some of YouTube Poops had been posted in those days.
Meanwhile, users in the Japanese video sharing service Nico Nico Douga (NND) found the resource for MAD videos in the latter part of the video by their own sense. A series of MAD videos named "X Has a Poop Friskily", better known as "Friskily Pooping Series" (Japanese: ノリノリでうんこシリーズ)[5], was triggered by a video titled "A video clip in which a child has a poop friskily" posted to NND on December 14th, 2008[6]. It was made by user "A Man in a Bending Machine" (自動販売機の中の人)[7], one of the originators in NND's MAD video phenomenon. And its background music is taken from KONAMI's 1989 video game for NES console Ganbare Goemon 2.[8]
Notable Examples

Left: While I Play Unfitting Music | Right: "Ding Dong Song" by Günther

Left: Fake Subtitles | Right: (

NSFW

!!) Fake Subtitles
X Has a Poop Friskily

Left: Azunyan from K-ON![9] | Right: A Certain Magical Index[10]

Left: Cirno from Tohou Project[11] | Right: Yandere Sister[12]
Search Interest
[Not Available]
External References
Editor's Note: Registration is needed to browse the original videos listed in this section.
Facebook Comments