PROTIP: Press 'i' to view the image gallery, 'v' to view the video gallery, or 'r' to view a random entry.
This submission is currently being researched & evaluated!
You can help confirm this entry by contributing facts, media, and other evidence of notability and mutation.
About

League of Legends (abbreviated as "LoL") is a free-to-play MOBA (Multiplayer Online-Based Arena) game (based of of the Defense of the Ancients mod for Warcraft III) for the PC developed by Riot games. It takes place in valoran. A mystical land ravaged by misuse of magic, where the league of legends was setup to restore balance. The players plays a robed magicians called summoners who "summon" battle ready warriors called champions into the "fields of justice" where they fight for honor, glory and the occasional political power struggle.
Gameplay

Classic: From the 100+ available champions, Teams of 5 or 3 champions try to destroy the enemies' towers, and ultimately destroy their nexus to win. Along the way players kill minion NPC's and enemy players to gain gold to buy items which will give their champion more stats. Is available in two different maps. Summoners rift(5v5) and Twisted treeline(3v3)

Dominion: A capture the point game mode, released by riot later 2011. taking place on the Crystal scar. Teams of 5 alsongisde npcs race to capture the 5 Points. The team with more points captured continue to automatically damage the opposing nexus. Whichever teams nexus is destroyed is declared the losers.

Co-op Vs Ai: A game mode where the players can practice the maps by battling AI
History

As with all Moba games, League of legends had its humble beginnings with DotA. Which in itself is the map "Aeon of strife" ported for warcraft 3 as a mod. DotA was originally designed by eul, but later became DotA Allstars when Steve "guinsoo" feak. It was after guinsoo had passed on the torch of DotA to Icefrog, and banded together with Steve "Pendragon" Mescon as well as Marc "Tryndamere" Merrill to form Riot Games did league of legends finally come into fruition. Announced on October 7, 2008 and released on October 27, 2009 League of legends had come a long way and has since grown to become one of the most popular games of all time.
Fandom

Since its release, the game has gained massive popularity. By the end of season 2 Riot had announced that league of legends had become "By hours played by month, The most played pc game in the world.". Being one of the powerhouses of E-Sports (Electronic Sports) Along with Starcraft , It has also spawned an extremely creative community who participates by producing content in the form of fanart, fanfiction, cosplays, bar meetups(barcrafts), flash animations, fan comics, gifs, youtube videos, gameplay videos, parodies, machinima, crossovers, music etc.

The game's forums are very active with normal players, and developers of the game (which are known as "Reds" on the forums due to their red names.) With these active forums have come many memes within the community based on the game.
Online presence

League of Legends based topics are not uncommon to be found on 4chan's video game generals board, /vg/,. The League of legends wiki is available for details on characters and stats. The league of legends subreddit has 156,358 Summoners as of 16th October 2012, and is in the top 10 of the most active non-default subreddits.On the 7th of october 2012 during the Season 2 world championship quarterfinals the "Stream off" thread had reached the top of /r/all in 8 minutes beating Jamie Hyneman's AMA. The official facebook page has 4,248,109 as of 16th October 2012. It also has a growing youtube community built around famous youtubers such as Dunkey and Sivhd provideing new content in the form of gameplay videos,animations etc.
Reception

League of legends has gained a considerable following throughout the world. Particularly in north America, Canada, Russia,Korea,China,Taiwan, Sweden, France, Spain, Singapore, and Germany. it has won multiple awards such as the golden joystick award as well as the game developers choice online awards to name a few. IGN awarded League of Legends 8.0 out of 10.As of November 2011, League of Legends had over 32 million registrations and averages millions of players per day, with the number of concurrent users online at any given time peaking over half a million, doubling its player base in 4 months.
Notable Derivatives:
Dance Master Phreak and Nerf Master Suck Town

On January 21, 2011, user 'cbr1000rider3' created a thread on the League of Legends forum showing his patch preview comic, which was a comic using stills taken from Riot's patch preview. In the 2nd comic, he gives Phreak (a Riot employee) the name "Dance Master Phreak" for his story of hitting on a girl at a club and dancing to Britney Spear's "Hold It Against Me." The comic can be directly seen here. User "Whist" also made a video adaption of Dance Master Phreak, seen below.

From the same comic series spawned the nickname Nerf Master Suck Town for Riot employee Morello. This is because he's known to nerf champions (makes less powerful) which whether or not it's better for the game, makes some community members mad.
"I ate some oranges and it was k."

On July 1, 2011, user "SantiagoBR" created a thread entitled "Gangplank meme" containing the picture below.
The meme parodies the fact that one of the champions in LoL, Gangplank (the person pictured above) has an ability in which he eats oranges and removes all negative effects and heals himself. People on the forums now use "but then I ate some oranges and it was k" as a response, mostly to reply to a rager.

Example:
Person 1: My doctor told me I can't eat any more oranges!
Person 2: Eat some oranges and it will be k.
Ok.

Ok is a derailing meme on League of Legends forums. The original thread started by user "DrowElfDrizzt" on September 11, 2010, started the whole thing. Users say nothing but "ok" (properly all lower case, no punctuation) to resemble the character Rammus, who says nothing but "ok." Users who don't say "ok" are downvoted until their post is no longer viewable.


The meme is meant to derail troll threads or pointless threads, but noobs and trolls who try to derail good threads are downvoted and usually ridiculed.
Mord es #1
HUEHUEHUE
As we all know there's the stereotype that Brazilians plague free to play games. Whether you agree or not, on October 30, 2010, user "futebolBR" made a thread called Brasil 5v5 tier list which parodied a well known player's list of all the champions and how good they are.

In the list, the most notable quote was for the champion Mordekaiser, which was listed as the best champion in the game.
The description reads: "Mordekaizer (es the best, #1, best, shield es always win, never loose)."

This became a HUGE meme in the LoL fanbase. Any time someone brings up Mordekaiser it's almost certain that one of the first replies will be "Mord es #1 HUEHUEHUE." This has also spread to YouTube, with many videos dealing with Brazilians having "MORD ES #1 HUEHUE" as a top comment.


Riot Games Board Meeting

Riot games board meeting is an exploitable from the thread "Typical Riot Games Board Meeting" created by user "CrazyMunchin" on April 18, 2010. The original image is below. And the exploitable can be found here.
This exploitable series makes fun of flaws or trends that the community sees with Riot games. For example: Too many Teemo skins, too high of champion prices, and patch day problems.

Garen Spin 2 Win

Garen is also associated with screaming "

DEMACIAAAAAA

!"
This meme originated from the champion Garen (pictured above), who's main damage ability Judgement, makes him spin around with his sword. Upon release he was generally overpowered and the LoL community dubbed him "Spin 2 Win" as you simply pressed a button to spin, and watched the enemy die. The video below demonstrates this.
A popular forum thread was created by user "DontShoot" on September 4, 2010 which holds a collection of MS Paint pictures showing Garen doing funny parodies of Spin 2 Win.

Jesse Perring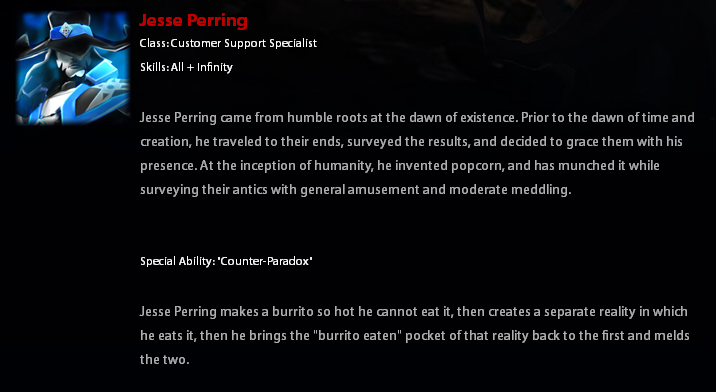 This is Jesse Perring's description as it appears on Riot's website.
Jesse Perring is pretty much known as the Chuck Norris of League of Legends. Jokes about Jesse Perring are the same as Chuck Norris jokes, usually telling a story of how he does something that would normally be impossible. The meme came from this thread started by "Skribbles," another Riot employee on September 29, 2009.


Renekton Reads His Mail

Renekton reads his mail is an exploitable comic depicting the champion Renekton reading his mail and then being enraged by the letter. The exploitable originated July 28, 2011, in this thread. The exploitable plays on the fact that Renekton uses a system called "fury," and the letter enrages him to gain his max amount of fury, hence the red bar above his head.



This is the original comic.
Dunk Master Yi

Dunk Master Yi was created by YouTube user 'notue' in his video "pro as heck guide to master yi" (shown above.) In this video, notue gives a guide on Master Yi that is completely ridiculous as incorrect to the game (for comedic effect.) Ridiculous statements include calling red potions "red sodas", cloth armor "clothing", Madred's razor "X-man claws", and Zeal "doubleswords." The catchphrase used in the video when he kills someone is "get dunked", hence the name Dunk Master Yi.
Variants and Additional Memes

Draven Face: The Draven face meme Similar to the Tenant face(Doctor Who) meme, originated after the release of the champion draven. Who quotes "Welcome to the league of draven" This prompted summoners to start a photoshop meme where all champions and eventually everything started having dravens face on it.It has become notorious on major league of legends sites as well as tumblr.

Teemo: An excruciatingly difficult and annoying character to play against as well as sporting one of the cutest looks in the game, has caused Teemo to become one of the most Hated(ironically hated, not seriously hated) characters in the game. One has not felt true rage until stepping on a Teemo shroom. Thus the Community revels in his pain, it is as if he has an invisible bounty on his head. And anything retaining to Teemos death is usually taken to be a boon. Riot and the community also uses him as a unit of measurement for the game.

Truly truly outrageous: A quote by champion Taric, the gem knight. originating from the old cartoon Jem and the holograms has become synonymous with good fashion sense.

Mundo goes where he pleases: A photoshop meme where champion mundo is Photoshopped into multitudes of different locations. Also has evolved into Mundo X when he pleases.

Better nerf irelia: Originateing from riots continuous nerfs of champion irelia. it is now believed that whenever Anything occurs, The only logical solution is to nerf irelia.

Tonnes of damage: Or tonnes of X, is a meme that started when rioter Phreak overused the term "tonnes of damage" in multiple champion spotlights. It is often said to be "dealt" by building a trinity force.

I play X as a jungler: Another meme that started with rioter Phreak overusing a term. in conjunction to the jungle nerfs it is now believed that any champion can be jungled(a role in the game), and Phreak will undoubtly jungle with said character.

Secrets2s2.docx: A secret document believed by the fans, containing groundbreaking season 2 strategies that was believed to be the key to carrying Counter Logic gaming NA to victory in the season 2 finals. Sadly as CLG.NA was eliminated early, we were unable to view its true potential.
Cosplay

Riot Games often endorses cosplay with prizes so it is of no surprise that League of Legends cosplayers have now started to be seen in many anime/gaming conventions such as Dragoncon and the Penny Arcade Exposition.



Fanart

The league of legends community produces a massive amount of fanart. The deviant art group as of October 16th 2012 has 5,452 members and 375,562 page views.
Search Interests

Interest over time. Web Search. Worldwide, 2004 – present. Search interest shows a large peak on Mid 2011 and late 2012. This matches with the season 1 and 2 tournaments respectively.
External Links

[IN PROGRESS]
Facebook Comments