Defense of the Ancients (DOTA)
About
Defense of the Ancients (DotA) is a multiplayer online battle arena (MOBA) video game modified from the 2002 real-time strategy game (RTS) Warcraft III which inspired the creation of the MOBA game League of Legends. The 2013 sequel DotA 2, produced by the video game developer Valve, has an annual tournament with the largest prize pool in electronic sports (esports) history.
Gameplay
DotA matches have two teams consisting of five players each, who attempt to destroy the opposing team's "Ancient" to win the battle. To win, players control a "Hero" character who gains strength by leveling up, acquiring items and fighting against enemies.
History
On July 3rd, 2002, the RTS game Warcraft III was released for the Microsoft Windows operating system and included a "world editor" allowing players to create custom maps for multiplayer games (shown below, left). In 2003, the editor was used by Warcraft III player Eul to create the first version of DotA, which was based on the scenario "Aeon of Strife" from the RTS game StarCraft. The map featured a battle between elves, humans and orcs against a faction of undead known as "The Scourge."
Following the release if the expansion pack Warcraft III: The Frozen Throne, game designer Steve Feak developed a new version titled DotA: Allstars. In 2005, the game designer IceFrog took over as lead designer of DotA: Allstars. In October that year, the first DoTA tournament was held at the Blizzard Entertainment convention BlizzCon. As the DotA player base continued to grow, it became increasingly popular among those involved in electronic sports. On June 12th, 2008, the video game blog Gamasutra[1] published an article about DotA, noting that the mod had become a popular competitive game worldwide.
League of Legends
On October 27th, 2009, the DotA-inspired MOBA game League of Legends (LoL) was released, which was developed by the video game company Riot Games and designed by DotA developer Steve Feak.
DotA 2
In October 2009, IceFrog was hired by Valve to work on the stand-alone sequel DotA 2. According to Valve managing director Gabe Newell, Valve's interest in creating the sequel was sparked by several employees who had competed in tournaments for the original DotA.
At the 2011 Gamescom in Cologne, Germany, Valve held the first DotA 2 tournament titled "The International,"[9] which used a beta version of the game and had a grand prize of $1 million. In May 2012, Valve won a legal decision against Blizzard Entertainment concerning the DotA trademark. In August, The International 2012 was held at the PAX Prime conference in Seattle, Washington with a prize of $1.6 million. On July 9th, 2013, DotA 2 was released for the Microsoft Windows operating system, followed by a release for Mac OS C & Linux later that month.
In August, The International 2013 was held at the Benaroya Hall in Seattle with a total prize pool of $2.8 million. On May 20th, 2014, The Daily Dot[8] reported that the prize pool for Valve's annual DotA 2 tournament had reached $6 million, noting that the esports tournament was comparable to some of the world's biggest sporting events in terms of prize money.
Dota Auto Chess
On January 4th, 2019, Dota 2 custom game mode Dota Auto Chess (DAC) was released by Drodo Studio.[11] In the game mode, eight players are put on a map consisting of eight 8 by 8 chessboard-like fields. To win, players have to purchase units with in-game gold, build a fighting roster and strategically arrange it on their field. Each round, players are pitched either against neutral opponents ("creeps") or each other, with the fights completing automatically. The loser receives damage to their health bar. The rounds continue until only one player is left alive.


In the next months, the game mod gained significant popularity. In January and February 2019, Dota 2 gained over 125,000 daily online players.[12] On February 16th, 2019, Gameinformer reported that the game mode was the fourth most popular game on Steam with over four million players.[13] On March 9, 2019, Dota 2 peaked at over 1 million online players for the first time since February 2017.[12]
On February 20th, 2019, VPEsports reported that Valve were considering acquisition of Dota Auto Chess and making it an official Valve title.[14]
On March 14th, 2019, Venture Beat reported that a standalone "Dota Auto Chess" app was being developed by Drodo Studio in partnership with Dragonest,[15] with reservations for Android and iOS open online.[16]
In the months following the release of the game mode, multiple memes related to the custom game appeared online, with numerous notable examples posted to /r/AutoChess subreddit.[17]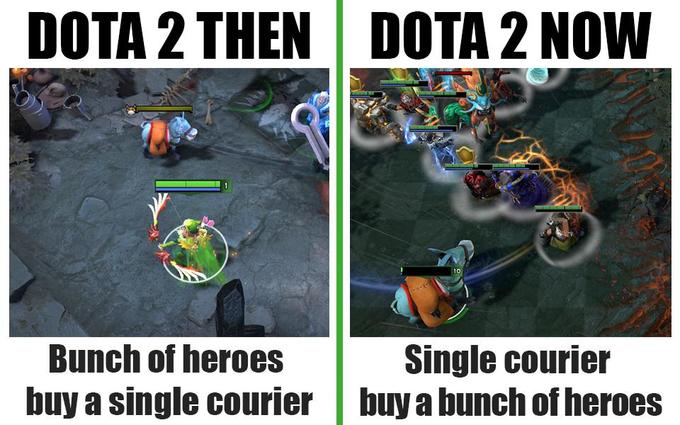 Online Presence
In March 2006, the PlayDota[2] site was launched, which contains information, player guides, tools, a discussion forum and media related to the DotA games. On November 7th, 2007, a Facebook[4] page titled "Defense of the Ancients" was created, gathering more than 42,000 likes in the next seven years. On February 16th, 2009, the /r/dota[5] subreddit was launched for discussions about the video game. On October 13th, 2010, a subreddit for the sequel Dota 2[6] was created. On August 2nd, 2011, the Dota 2 Wiki[3] was launched. The video game streaming site Twitch has a game directory[7] containing live streams and recorded videos of Dota 2 game matches.
Fanart
As of May 2014, there are over 30,000 submissions under the tag "dota" on DeviantArt.[10]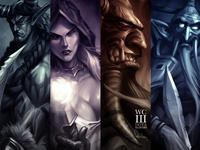 Reception
Upon released, DotA 2 received favorable reviews on several gaming sites, including Gamespot, Destructoid, PC Gamer and Videogamer. By May 2013, DotA 2 had reached nearly 330,000 concurrent players, setting a new record on Valve's Steam gaming client.
Related Memes
Diretide
Diretide is an annual Halloween tournament event in DotA 2 featuring a variety of novelty game modes. In October 2013, Valve sparked a backlash among DotA 2 players following the cancellation of the highly anticipated second annual event.
Aeon of Strife Styled Fortress Assault Game Going Over Two Sides
In October 2009, LoL producer Riot Games began referring to the game's genre as a "multiplayer online battle arena" (MOBA). Many DotA fans argued that the same term could be used to describe many other multiplayer games with gameplay unlike both DotA and LoL. As an alternative, fans mockingly coined the term "Aeon of Strife Styled Fortress Assault Game Going Over Two Sides" as a more accurate label for the genre.

The Trench
"The Trench" is a slang used to describe the server with matches that hosts the "lowest priority" account, which are associated with poor team builds and non-English speakers.

Search Interest
External References