PROTIP: Press 'i' to view the image gallery, 'v' to view the video gallery, or 'r' to view a random entry.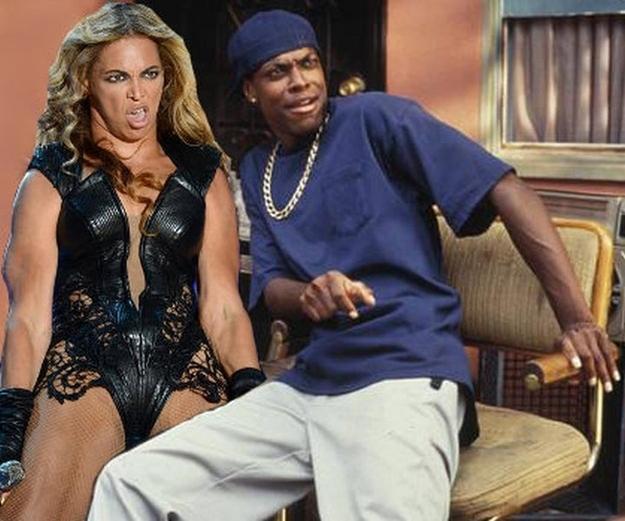 About
Unflattering Beyonce is an exploitable photoshop meme based on humorously timed screen captures of the singer Beyonce from her 2013 performance at Super Bowl XLVII. After her publicist requested BuzzFeed remove images deemed "unflattering," the photos instantly became a trending topic in the social media and spread more widely than ever before, a phenomenon known as the Streisand Effect.
Origin
On February 4th, 2013, Buzzfeed published a post-Super Bowl compilation titled "The 33 Fiercest Moments From Beyoncé's Halftime Show"[1], featuring fan-made GIFs and news photographs from Getty Images. The following day, Buzzfeed editors received an email from Beyonce's publicist at Schure Media asking to remove seven of the photos from the original post, noting that they were "unflattering." Instead of removing them, Buzzfeed further highlighted them in a post[2] also containing a redacted version of the letter (shown below, left).
Spread
The publicist's request caused the photos to gain even more unwanted attention from a number of news outlets, including The Week UK[3], the Huffington Post[4], The Vancouver Sun[5], Marie Claire[6], The Telegraph[7], the Examiner[8] and TechDirt[9], among others. As these photos continued to spread throughout the day, photoshopped images began surfacing on various message boards and social networking sites, including a BodyBuilding Forums[10] thread with nearly 300 posts and two Reddit threads, one on /r/PhotoshopBattles[11] and the other in /r/AdviceAnimals[12] which saw nearly 500 comments combined.
On February 7th, Deadspin[13] launched a photoshop contest, the highlights of which were featured on Gawker[14], Buzzfeed[15], The Daily Dot[16], the Huffington Post[17], Smosh[18], Uproxx[19] and MSN Now,[20] among others. The following day, Deadspin[21] showcased the best submissions from their contest. Also on February 8th, Gawker[22] reported that five of the seven requested images had been removed from Getty Images' database, however they were still available in the original Buzzfeed post.
Notable Examples
Search Interest
External References
Facebook Comments