PROTIP: Press 'i' to view the image gallery, 'v' to view the video gallery, or 'r' to view a random entry.
About
"Well, There's Your Problem" is an expression typically used to point out the apparent cause of a mechanical failure or malfunction. On the web, the phrase has become closely associated with a subset of FAIL images depicting various accidents on the road and construction sites.
Origin
"Well, there's your problem" was famously uttered by Adam Savage, co-host of the science entertainment television series Mythbusters, while inspecting the engine of a cement truck in an episode that aired on February 23rd, 2005. The expression subsequently became a popular catchphrase used by the co-hosts to identify the cause of a failed experiment.
Spread
On October 20th, 2006, the Internet humor site CollegeHumor[4] highlighted a screenshot of a medical-encyclopedic article from the website Wrong Diagnosis, which listed "death" as a possible symptom (shown below, left). On August 31st, 2008, DeviantArtist[6] jbwarner86 uploaded an illustration titled "Well, There's Your Problem," depicting the Mythbusters co-host Adam Savage extinguishing a fire on co-host Jamie Hyneman's hat (shown below, right).
In 2009, the action role-playing first-person shooter game Borderlands released a side quest titled "Well There's Your Problem Right There." On July 28, 2010, Memebase user OverLolrd[1] submitted a demotivational poster of a horse stuck in a pipe well (shown below, left). On February 15th, 2011, Redditor jhchawk submitted a pie graph of the United States budget highlighting the discrepancy between allocations for the military and education in an /r/pics post titled "Well there's your problem, America." Prior to being archived, the post garnered more than 3,400 up votes and 670 comments.
On October 24th, Redditor zeb1 submitted a photograph of a man staring at a destroyed road (shown below, left) in an /r/funny[3] post titled "Well, there's your problem right there," accumulating upwards of 3,500 up votes and 75 comments before it was archived. On February 14th, 2012, FunnyJunk[5] user ingebrigsten uploaded a photograph of a rodent stuck in a desktop computer fan in a post titled "well there's your problem," gathering over 36,000 views and 1,000 up votes in the first two years.
Notable Examples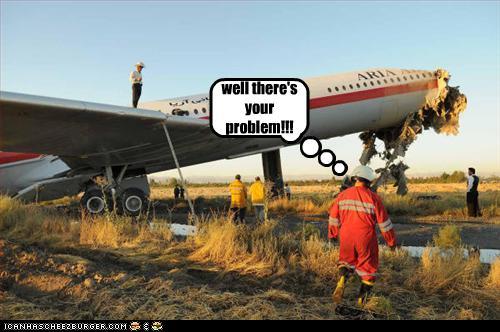 Search Interest
External References
Facebook Comments