This quote by Machinima host Adam Kovic about the first-person shooter Far Cry 3 has been widely mocked by the online gaming community for being a poorly-worded description of the game.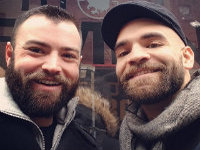 The Tumblr blog features pictures of gay couples who look eerily similar to each other.

The community outreach leader from the Creationist Baptist Church of Alabama presents an alternative view on how the universe was formed in this parody video by Funny or Die.

The film is only 17-years-old, but the unsinkable ship went down 102 years ago today.

After four years of planning, this segmented speedrun of the 1998 first-person shooter Half-Life blazes through the entire game in just short of 21 minutes. Check out the run's Google doc for more information on how it was completed.

After the @USAirways Twitter feed posted a shocking photograph of a woman posed in a compromising position with a model airplane yesterday, the airline immediately apologized for the tweet and claimed it was the result of an honest human error.

For over a month, San Diego Padres's right fielder Jeff Francoeur believed that his team's pitcher Jorge Reyes is deaf. What he didn't know, however, was that the rest of his teammates were pulling what may be one of the longest cons and most ridiculous pranks ever staged in baseball history.

This 3D sculpture of Bad Luck Brian printed by Ryan Kittleson looks a little bit like the Batman villain Joker, no?