Watch as these adorable baby sloths crawl around and squeak at the camera.

This is what your face looks like after overdosing on marijuana. Do you still think it's all fun and game?

Being one of the most iconic paintings in Christian art, Leonardo da Vinci's depiction of the Last Supper has also proven to be one of the most parodied artworks in today's contemporary art and pop culture.

It's been a long time since Dr. Dre released "Next Episode" in 2000, but the LA hardcore anthem continues to live on as a popular sample track for video game music remix artists on YouTube.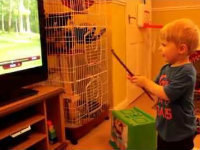 With the power of a TV remote this little boy's parents have him thinking he's ready for Hogwarts.

The Meet-and-Greet tour for popular teenage Viners has been disbanded, but the teens involved have assured fans they'll still be making videos and meeting fans together.