Taylor Swift's song of the summer is still racking up covers and parodies as more and more YouTubers feel the need to "shake it off."

Royce Hutain, the awesome dad who melted our hearts last year around this time with his custom-designed LED stick-figure Halloween costume for his baby daughter Zoey, makes a grand comeback with a revamped version featuring multi-color LEDs and the ears of Minnie Mouse.

The British tabloid site is known for their constant controversies and lengthy inflammatory headlines.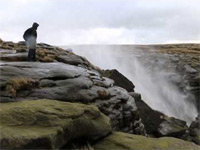 As storm force winds batter the Derbyshire Peak District in England, Kinder Downfall is blown back up onto the plateau instead of cascading 80 ft down the stream.

Bulletproof glass windows were introduced as early as in the 1920s for the protection of bank employees.

The Dancing Baby, one of the first viral videos recorded in internet history, turned 18 this month.

These Internet pranks sites and videos often feature horrifying images and loud noises that abruptly play on a victim's computer.