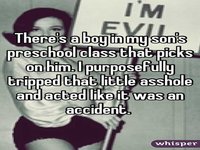 The popular secret-sharing mobile app that bills itself as "the safest place on the Internet" has come under a heavy storm of public scrutiny in the wake of The Guardian's scathing investigative report on the company's shadowy practices in handling its users' data.

Check out this recently surfaced video footage of a U.S. Marine barely escaping his death by a Taliban sniper's headshot during a 2013 joint helicopter raid in the Now Zad district in southern Afghanistan.

The cult classic turns 27 this month, and to celebrate the one and only Westley (Cary Elwes) has released a book on making the film, titled As You Wish: Inconceivable Tales from the Making of The Princess Bride.

Alaskan blogger Cory Williams accidentally discovers extraterrestrial-like noises made by mother nature after skipping a rock across a frozen lake somewhere in Anchorage.

Check out our catalog of notable scary stories that have circulated far and wide online. Don't worry, you don't need to sleep tonight.

Using The Princess Bride quote is the perfect way to warn your enemies you're coming for them.

Jonathan Mann lets his iPhone write the lyrics to his latest song, using only words suggested by autocorrect.