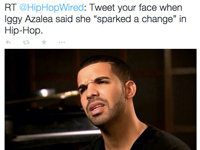 When Iggy Azalea was quoted as saying she hopes to have sparked a change in hip hop music in a recent interview with GQ, many online hip hop sites took it personally.

A woman has a loud public meltdown at a ferry terminal meltdown after missing her boat.

These unskilled hackers are often mocked for their lacking programming knowledge and using ready-made programs, including DDoS and remote adminstration tools.

This obnoxious prank that started as a form of political protest against opponents of same-sex marriage recently inspired the glitter bomb mailing service "Send Your Enemies Glitter," which reportedly just sold for $85,000 on online marketplace Flippa.

Yesterday, Barret Brown, the American journalist and unofficial spokesperson of Anonymous who has spent the last two years in prison for his involvement in the 2011 hack of a Texas-based strategic intelligence firm, was formally sentenced to 63 months in prison and a fine of $890K.

If you thought President Obama's State of the Union address on sending astronauts to Mars sounded oddly familiar, it's because the history is repeating itself. Remember this Dave Chappelle's parody sketch of President Bush's grand vision for Mars from the State of the Union back in 2004?