4chan has yet again rigged another online poll, voting Adolf Hitler's 1925 autobiographical manifesto Mein Kampf to the top of a life-changing book list on the website Best Book Read.

Brace yourselves, anime convention-goers, scantily clothed Kill la Kill fans are coming. Check out this sexy cosplay-roleplay photo shoot featuring scantily clothed members of the rebel organization Nudist Beach at this year's Supanova Gold Coast Convention in Australia.

These unsuspecting beach goers believe they're really levitating, but it's all an illusion pulled off by pranksters Rich Ferguson and Jack Vale.

Sadly, the Internet's favorite anti-drug mom is no longer with us on Twitter, but she will certainly live on as a legend in the world of novelty Twitter accounts.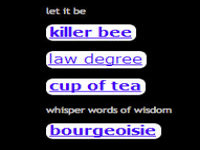 Not to be confused with Google Poetry, Tumblr users have been writing absurd parodies of pop songs with the aid of the online rhyming dictionary RhymeZone since November 2011.

Animator Zee Bradshaw created this crossover cartoon between the online first-person shooter game Titanfall and the Japanese anime series Attack on Titan.