"Cunnilingus" and "HPV" are trending topics of the day on Twitter, thanks to the 68-year-old Hollywood actor who apparently misattributed his bout with throat cancer to the bedroom technique in a recent interview with The Guardian.

Japanese band students have invented a new photo fad that turns the tuba musical instrument into a powerful air-blasting weapon.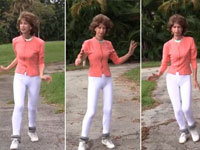 Check out this adorably bizarre exercise described as "a springy, rhythmic way of moving forward, similar to a horse's gait and ideally induced by elation."

If you witnessed the pivotal "Red Wedding" scene on Game of Thrones last night, the chances are that your face looked something like this.

Three years ago today, Keanu Reeves became Hollywood's poster child of internet memes after a candid paparazzi shot of the actor eating a sandwich went viral on the Internet.

It looks like this seagull's got those hap-hap-happy feet! Actually, this is a fairly common behavior among birds known as "worm charming," which involves tapping the earth to make earthworms rise to the surface.