About
2048 is a single player puzzle game in which the player combines tiles on a grid with matching numbers in order to create a single tile with the value 2048. The game has been compared to the mobile game Flappy Bird due to its addictive nature and difficult gameplay.
Origin
On March 5th, 2014, developer Gabriele Cirulli published the game 2048 on his Github repository. To win the game, the player presses directional keys to add new tiles to the board and merge tiles of matching numerical values into a new tile of their combined value. To win the game, the player must form a tile with the number 2048.

Since then, Cirulli has released several other iterations of the game using different numerical values, including 8192[11], 65536[12] and 9007199254740992.[13]
Precursor
On February 27th, 2014, developer Jason Saxon released the game 1024 on the iOS store,[6] in which the player attempts to combine tiles to form the value 1024 (shown below). The game served as an inspiration for Cirulli in developing 2048.[5]


Spread
On March 10th, the game was submitted to the Y Combinator feed Hacker News,[7] where it accumulated more than 2,700 up votes in the next 10 days. On March 13th, 2014, the /r/2048[3] subreddit was launched for discussions related to the puzzle game. The same day, co-founder of the citizen advocacy group LaQuadrature du Net posted a tweet linking to the game with a warning about its addictive nature.
DO NOT try http://t.co/G8psSBiNTH I repeat: DO NOT! #addictive #game

— Jérémie Zimmermann (@jerezim) March 13, 2014
On the following day, a parody version of the game using tiles with photos of the Shibu Inu dog associated with the Doge Internet meme was created at Doge2048.com.[1] The game was subsequently posted on the /r/SuperShibe[4] subreddit, where it gathered upwards of 1,600 up votes and 100 comments within 48 hours.

In the coming days, several sites published articles about the game's viral success, including The Daily Dot,[9] The Wall Street Journal[10] and City AM.[5] On March 18th, a Doctor Who-themed version of the game was hosted on the tech news site Us Vs Th3m[8] (shown below, left). On the following day, the webcomic Xkcd[2] published a comic titled "Digits," which joked about how the game had made him aware of 2048 number combinations (shown below, right).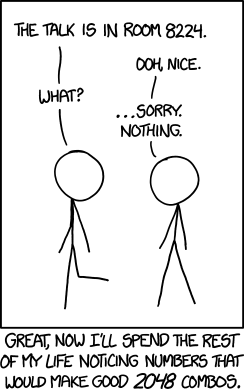 Search Interest
External References