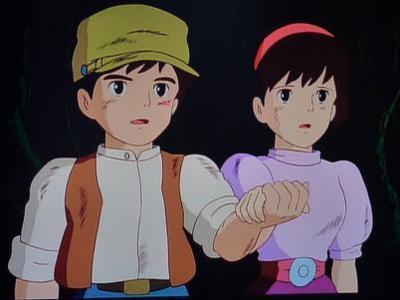 Overview
Balse (Japanese: バルス, Barusu), also spelled "Balus," is an incantation used to destroy the flying castle Laputa in Hayao Miyazaki's 1986 animated film Castle in the Sky.[1] Internet users often invoke the spell on 2channel and Twitter during the film's annual Japanese television broadcast.
Background
In Castle in the Sky, the spell "Balse" is cast during the final scene in which the characters Pazu and Sheeta use the incantation to defend the Laputa castle from the villain Colonel Mooska (shown below). 2channel users are rumored to have started spamming the phrase in sync with the scene during the films television broadcast in March of 2003.
Editor's Note: This video is as fundub, not the official version.
PAZU: Wait!! The stone is hidden. If you shoot Sheeta, I won't return it.
SHEETA: Pazu -- don't come here, it's no use. He's going to kill us, no matter what.
MOOSKA: Brat -- the girl's life for the stone. Tell me where it is! Or are you just going to scare me with that cannon?
PAZU: I want to talk with Sheeta, alone.
SHEETA: It's no use -- throw away the stone and run!!
MOOSKA : I'll wait three minutes.
SHEETA : Pazu!!
PAZU : Sheeta -- calm down. Listen closely. Tell me those words. I'll say them, too. It's in my left hand.
PAZU : I've freed Auntie and the others.
MOOSKA : It's time!! Let's hear your answer.

PAZU AND SHEETA : Balse!!

MOOSKA : Ah. . . My eyes. . . My eyes! My eyes. . . My eyes. . .

Via: GhibliWiki![2]
With the exception of 2012, the film has been annually broadcast on Japanese television since April 2nd, 1988,
| | |
| --- | --- |
| Date | Audience Rating |
| April 2nd, 1988 (Sat) | 12.2% |
| July 21st, 1989 (Fri) | 22.6% |
| May 3rd, 1991 (Fri) | 17.1% |
| March 26th, 1993 (Fri) | 20.4% |
| March 24th, 1995 (Fri) | 19.9% |
| March 7th, 1997 (Fri) | 20.6% |
| December 25th, 1998 (Fri) | 20.6% |
| February 23rd, 2001 (Fri) | 22.2% |
| March 14th, 2003 (Fri) | 22.2% |
| December 23rd, 2005 (Fri) | 16.9% |
| June 15th, 2007 (Fri) | 19.9% |
| November 20th, 2009 (Fri) | 15.4% |
| December 9th, 2011 (Fri) | 15.9% |
| August 2nd, 2013 (Fri) | - |
Notable Developments
2011 Broadcast
During the 13th Japanese television broadcast of Castle in the Sky held on December 9th, 2011, "balse" was tweeted 25,088 times-per-second, setting a new Twitter record according to Twitter Comms.
On Dec 9, the television screening in Japan of Hayao Miyazaki's "Castle in the Sky" led to 25,088 Tweets per second – a new Twitter record.

— Twitter Comms (@twittercomms) December 14, 2011
In the coming days, the news site The Daily Dot[15] and Kotaku[9] published articles about the event, noting that it had beaten the previous record with 8,868 tweets-per-second set after the singer Beyoncé announced that she was pregnant earlier that year.
2013 Broadcast
The 14th airing of Castle in the Sky was broadcast on August 2nd, 2013. In preparation for the event, Yahoo Japan enabled a "Balse" button on the top page,[10] while both Nico Nico Douga (NND)[11] and the Japanese social network service mixi[12] launched special webpages for users to spam "Balse" in their respective feeds. The following day, Twitter's Japanese team announced that "Balse" had been tweeted 143,199 per second, four times more than the existing world record of 33,388.[13]
昨日の「バルス」の記録がでました。ツイート数のピークは主人公が「バルス」と発したのとほぼ同じタイミングで日本時間の午後11時21分50秒、ツイート数は143,199TPSで、これまでの最高である今年の「あけおめ」の33,388TPSを大幅に上回っています。

— TwitterJP (@TwitterJP) August 3, 2013
On August 5th, The Daily Dot[17] reported that the practice of posting "balse" originated on 2channel in 2003. On the following day, Kotaku[16] published an article about the new Twitter record, noting that Twitter's Japanese branch had been prepared for the Castle in the Sky broadcast to handle the surge of activity.
Search Interest
External References