This submission is currently being researched & evaluated!
You can help confirm this entry by contributing facts, media, and other evidence of notability and mutation.

About
Studio Ghibli is a Japanese anime film studio that is well-known for a number of critically acclaimed animated feature films, such as Spirited Away, Princess Mononoke and My Neighbor Totoro, among many others. Since its foundation in 1985, the studio has garnered a worldwide following within the online anime fandom.
History
Studio Ghibli was first founded on June 15, 1985 by Hayao Miyazaki, Isao Takahata, Toshio Suzuki and Yasuyoshi Tokuma, after the success of the 1984 film Nausicaä of the Valley of the Wind. After the release of a number of successful films, most notably Grave of The Fireflies, Kiki's Delivery Service and My Neighbor Totoro, Ghibli went on to give the Disney Corporation the rights to publish Ghibli's animated movies internationally in August 1996, with the condition that no cuts are made to the films, a move made in response to the heavy edits made to Nausicaä of the Valley of the Wind, which was released in America as Warriors of the Wind. The studio has since continued to release animated films, which have gone on to recieve critical acclaim.
Reception
Studio Ghibli and it's films have gone on to receive worldwide critical acclaim from critics, and have received a number of awards. Ghibli's animated films Kiki's Delivery Service, Only Yesterday, Porco Rosso, Pom Poko and Whisper of the Heart were the highest-grossing films in Japan in the years 1989, 1991, 1992, 1994 and 1995 respectively, and all 5 won numerous awards in Japan. Spirited Away, released in North America on September 20, 2002, went on to be one of the most successful Japanese films of all time, grossing over $274 million worldwide, as well as celebrating popularity in the U.S. despite little marketing. The film is also the only anime winner of the Academy Award for best Animated Feature.
Online Relevance
Studio Ghibli has garnered a significant online following since it's founding, especially within the anime fandom, with it's films spawning large fandoms. The company has a significant presence on anime related sites, as well as on sites such as Tumblr[1], Reddit[2], 4chan's /a/ (Anime and Manga) board[3], Fanpop[4], My Anime List[5], DeviantART[6][7]. There are numerous sites holding information of the company, such as the Ghibli wiki[8], TV Tropes[9] and Anime News Network[10]. The Studio Ghibli fan Facebook page also has over 295,000 likes[11].
Highlights
Hayao Miyazaki

Hayao Miyazaki[12] is a critically acclaimed film director, and co-founder of Studio Ghibli, who is known for directing a number of the studio's more popular films. Due to his role in the studio, he has garnered a large online fanbase, who has a large presence on a number of sites.
On September 6, 2013 Miyazaki officially confirmed his retirement from directing, stating that he wanted to make room for new animators, instead moving on to working on the Ghibli museum in Tokyo, and illustrating manga. The story was soon picked up by news sites such as The Guardian[13], Kotaku[14], BBC News[15] and Anime News Network[16].
Balse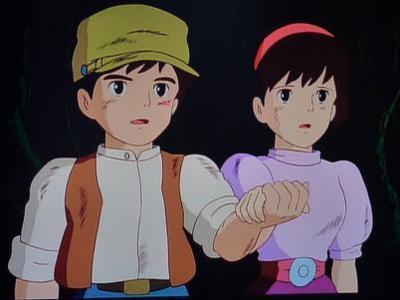 Balse is an incantation featured within the 1986 Miyazaki film Castle In The Sky, used to destroy the flying castle Laputa. The phrase is often invoked on sites such as 2channel and Twitter during the film's annual broadcast on Japanese Television.
Totoro Bus Stop Parodies


Totoro Bus Stop Parodies Is a meme parodying the famous scene out of the 1988 Miyazaki film My Neighbor Totoro, in which characters Satsuki and Mei are shown standing at a bus stop in the rain, waiting for their Father's bus to arrive, when Forest Spirit Totoro arrives using a leaf as protection against the rain. The scene has spawned a number of fan illustration, featuring characters from other fandoms.
Search Interest
External References