This submission is currently being researched & evaluated!
You can help confirm this entry by contributing facts, media, and other evidence of notability and mutation.
About
Totoro Bus Stop Parodies refer to a series of crossover fan art illustrations inspired by the memorable bus stop scene from Hayao Miyazaki's 1988 animated film My Neighbor Totoro.
Origin
Written and directed by Japanese film director and animator Hayao Miyazaki, My Neighbor Totoro was released in 1988 and met by much critical acclaim in both Japan and overseas.[1] In one particularly memorable scene (shown below), the two main characters Satsuki and Mei are seen standing next to a bus stop while waiting in the rain for their father's bus to arrive. As the two daughters wait, the forest spirit character Totoro appears at the bus stop as well, with only a leaf on his head to shield himself from the rain. Satsuki then gives Totoro the umbrella they had been saving for their father to help protect him from the rain. The scene was used as the theatrical poster for the film's Japanese release.[6]
The earliest known parody of the scene was created by deviantART user ~sachsen[7] and uploaded on June 16th, 2007. The grimdark fan illustration portrays Totoro as a sharp-teethed, flesh-eating monster who appears to have eaten the children's father, while Satsuki stands blood-soaked beside him, holding a rifle along with the umbrella. As of September 2013, the image has been viewed more than 614,000 times and favorited more than 34,000 times with nearly 5,700 comments.

Spread
On August 29th, 2007, the image was featured on DeviantART's homepage as a Daily Deviation, where a staff member called it "one of the most original pieces of Fan Art" on the site that year. As early as February 9th, 2008, Sachsen's Totoro image was reposted to 4chan's /a/[8] (Anime and Manga) board, prompting another poster to share a Pokemon-themed version (shown below, left) featuring Snorlax and Pokemon trainer "Red" as Totoro and Satsuki, respectively. In August 2008, Japanese culture blogger Danny Choo[9] shared another parody image in which both Satsuki and Totoro are depicted as Ronald McDonald (shown below, right).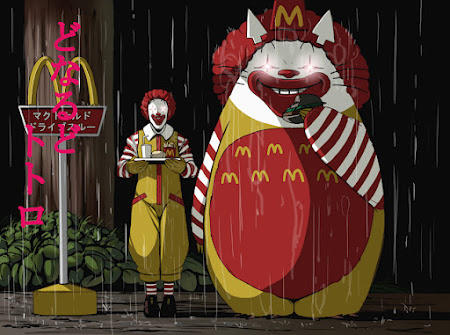 Since 2010, collections of these parody images have appeared on LiveJournal[10], We Love Anime[11] and Aniplogs Anime Souce.[12] In September 2012, A.R.M.S. Productions collected nearly 30 of these parodies on their Facebook fan page[13], challenging fans to guess all of the subcultures involved.
Notable Examples
Additional examples of crossover artworks can be found on deviantART[2], Tumblr[3], and Zerochan.[4] Many of these parodies incorporate characters from video games or anime series including Mega Man, Attack on Titan, One Piece and Azumanga Daioh.






Search Interest
External References
Recent Videos
There are no videos currently available.