This submission is currently being researched & evaluated!
You can help confirm this entry by contributing facts, media, and other evidence of notability and mutation.
About
Femboy Fishing is a web series and YouTube channel where a Missouri man, Erin, dresses in typical femboy clothing including knee-high socks and short-shorts or a skirt and goes fishing in various freshwater lakes. The channel first uploaded content in July 2020 and gained over 50,000 subscribers in a year, as well as 42,000 on their Twitter page as they continued to upload fishing videos. The videos have inspired numerous memes teasing the idea of femboy fishing. The channel's host does not show her face. Erin uses she/her pronouns.
History
On July 2nd, 2020, the first Femboy Fishing video was uploaded to the YouTube[1] channel of the same name, titled "Femboy Fishing Episode 1 – SUNFISH in a FLOODED creek" (shown below). In the video, Erin wears a camouflage hoodie, knee-high socks and short shorts while fishing at a local river. She starts the video by saying, "in this series I'm just going to go fish while I dress like some gay shit." She then says there are some people on jet-skis nearby that are making her nervous. For the rest of the video, he talks to the audience while fishing with a pink rod, catching three fish throughout the video. It gained over 231,000 views in roughly a year.
In August 2020 Femboy Fishing opened a Twitter[7] account, which gained over 42,000 followers in around a year. A subreddit, /r/femboyfishing,[8] also opened that month. The YouTuber continued to upload videos fairly consistently over the course of the year. On September 21st, 2020, Femboy Fishing episode 10 was uploaded featuring Erin in goth attire, gaining over 100,000 views in a year (shown below, left). On October 15th, 2021, Femboy Fishing uploaded the season one finale of the series fishing in the Ozark's Buffalo River with a friend, gaining over 24,000 views in a month (shown below, right).
On October 22nd, Femboy Fishing uploaded the first episode of season two where he fishes in saltwater for the first time on film, gaining over 13,000 views in two weeks (shown below).
Online Presence
Femboy Fishing has garnered a substantial fanbase since its start and often receives praise from viewers and commenters. The top comment on the premiere episode of the series reads, "The literal definition of finding an untapped market and filling it" and has over 2,800 likes.
Memes
On September 11th, 2020, Twitter[2] user @Valley_F00ds posted "I made some fishing memes" along with three memes using images from the videos, tagging Femboy Fishing on Twitter, gaining over 70 likes in a year (shown below).



On December 16th, Instagram[3] page thebluepantsboy posted a shitpost video edit showing Femboy fishing with the text "Croatian fishing" and a sick emoji, gaining over 3,800 views in 11 months (shown below).
On June 12th, 2021, Facebook[4] page White Boy Summer posted a screenshot of the tenth episode of Femboy Fishing without context, titled GOTH FEMBOY FISHING, gaining over 3,600 reactions and 900 shares in five months. On October 31st, Old Row Outdoors posted a meme to Facebook[5] and Instagram[6] comparing the "weakest saltwater fisherman" to the "strongest freshwater fisherman," using an image of a ripped fisherman for saltwater and the femboy fisherman for the freshwater, gaining over 9,700 likes on the latter in four days (shown below).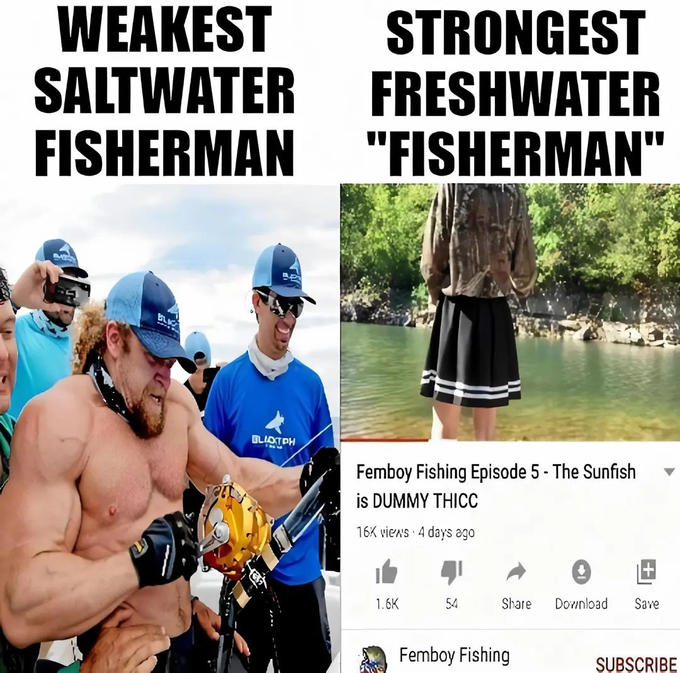 Search Interest
External References