This Is Where I Watched My Parents Die, Raphael
About
This Is Where I Watched My Parents Die, Raphael refers to a series of memes based on a panel from the 2015-2016 crossover comic series Batman / Teenage Mutant Ninja Turtles in which Batman points the place his parents were murdered at to Raphael. Online, the panel gained popularity as an exploitable, with various non sequitur responses from Raphael edited in.
Origin
On March 9th, 2016, issue four of the crossover comic series Batman/Teenage Mutant Ninja Turtles was published.[1] In one scene of the comic, Batman and Raphael are walking through the Crime Alley, with Batman recalling the deaths of his parents and talking about his motivations (pages shown below, left and center). In one panel, Batman explains that the alley, previously called Park Row, was renamed after his parents were murdered there (panel shown below, right).



Following the release of the issue, the panel has been widely circulated online with multiple posts on Reddit, Tumblr and other sites. For example, prior to September 6th, 2016, Tumblr[2][3] user gotitforcheap posted a photograph of the panel, with the post gaining over 53,500 likes and reblogs in three years. On November 11th, 2017, an unknown Redditor[4] posted the panel to /r/TwoBestFreindsPlay subreddit, writing "Injustice 2 character pack 3 new intros are weird." The post gained over 550 upvotes in six months.
On March 22nd, 2018, Imgur[5] user thegentilewookie posted an Infinity War Is The Most Ambitious Crossover Event In History meme using the image, with the post gaining over 1,800 points and 119,200 views in two years (shown below, left). However, the comic did not see use as a meme format until in November 2019 an unknown user posted an edit in which a speech bubble reading "Can you draw them farting" was added as Raphael's response. On November 19th, 2019, Redditor[6] Kabelcan made the earliest found repost of the image in /r/iamveryrandom (shown below, right).


Spread
Starting in early December 2019, the "Can you draw them farting" edit received viral spread online, with multiple viral reposts on Reddit,[7] iFunny[8] and Instagram.[9] On November 23rd, Redditor[10] ItsAesthetical posted the earliest known recaption of the edit, gaining 60 upvotes in /r/okbuddyretard in six months. A December 3rd edit by Redditor[21] Gangspacito received over 8,100 upvotes in /r/ComedyNecrophilia. On December 5th, 2019, Instagram[11] and iFunny[12] user blazie (blaziee) posted a video edit in which Raphael rapped "My Nigga" by YG (shown below), with the edit receiving viral spread online in the following days. For example, a December 14th, 2019, reupload by Instagram[13] user memesbutspicy gained over 35,400 views and 7,000 likes in six months.
Prior to March 2020, the format maintained moderate popularity online with a number of viral posts on Instagram [14] and Reddit.[15] On March 8th, 2020, Facebook[16] user Raven Perez posted an edit in which Raphael was edited to say "Cowabummer!" (shown below), a portmanteau of Michelangelo's catchphrase "Cowabunga" and "bummer." The post received over 280 reactions and 3,100 shares in two months.

The post received viral spread online in the following days with multiple reposts on iFunny,[17] Imgur,[18] Reddit,[19] Instagram[20] and other platforms. The post prompted a massive surge in the popularity of the format; for example, on April 8th, Instagram user RaeRaeRandy posted a CEO of Swag edit that received over 132,000 views and 35,200 likes in one month. On April 16th Instagram user gazermemez posted a Total Drama Island theme song edit that received over 1,700 views and 460 likes in one month weeks.
Related Memes
PaRappa the Rapper
The format received strong association with PaRappa the Rapper after on September 1st, 2021, Twitter[22] user @Vecderg posted a meme in which PaRappa repeated Batman's line in the same fashion he would in the game (shown below). The post became viral, gaining over 8,600 retweets and 52,200 likes in three weeks and being widely circulated in that period.

On September 2th, Twitter[23] user @bradois posted a voiced version of the meme in the style of the game, with the post gaining over 586,000 views, 18,800 retweets and 65,200 likes in three weeks (shown below). On September 4th, 2021, Twitter[24] user @RedBirdRabbit posted an animated version of the meme that gained over 183,000 views, 6,800 retweets and 23,900 likes, with more users creating animated versions of the meme in the following weeks.
https://t.co/DhiFrEw2C4 pic.twitter.com/VprVybf1pi

— ‼️BRADOIS‼️ (@bradois) September 2, 2021
Various Examples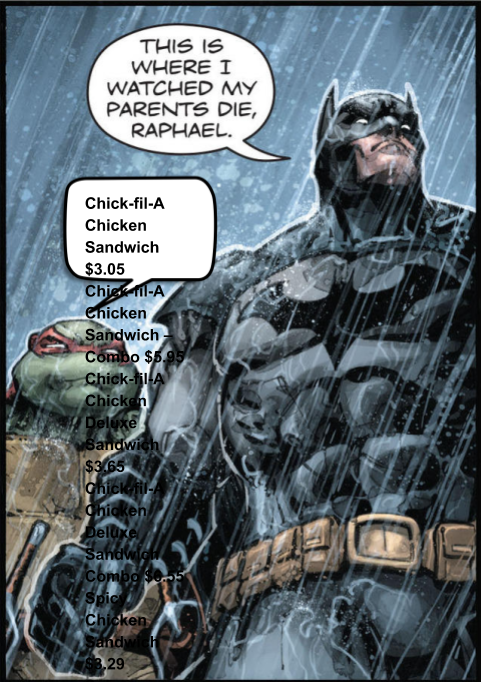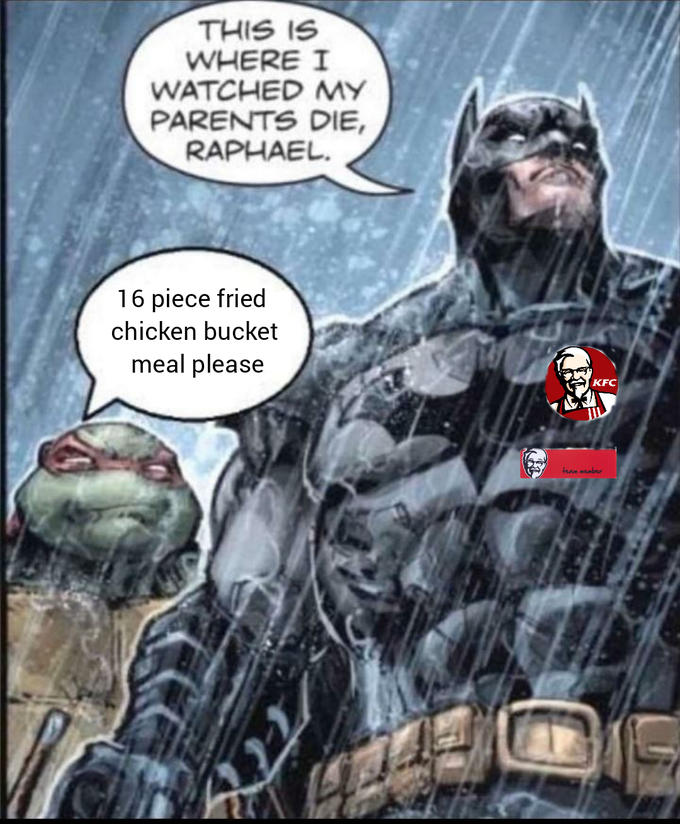 Template

Search Interest
External References