PROTIP: Press 'i' to view the image gallery, 'v' to view the video gallery, or 'r' to view a random entry.
Warning: This page contains material that may be considered not safe for work.
Background: Ahegao as a sexual fetish
That concept to present that strange face as an infectious disease, while the goal is not clearly said from the users who drew those pictures, seems to be as a reaction toward the increasing amount of the ahegao expression in Hentai material.
Hentai (変態 or へんたい) [Caution : the wikipedia page is a little graphic] can basically be summed up as "Japanese drawn porn". "Ahegao", in it, can be considered a drawing genre in which the character (mainly female) is showing, during sexual intercourse, an intense amount of pleasure translated by her facial expression.
Indeed, the Ahegao slang, on Japanese web, isn't firmly bound to what would become an exploitable face, but represents any picture, often explicit and graphic, where that kind of orgasmic face expression can be seen.
A 2008 Japanese article (translated by google translate) [Caution : NSFW content ahead] recounting the history of that peculiar Ahegao genre offers a thorough analyze of its impact on Japanese culture throughout the years.
An early model of Ahegao was shown on Japanese hentai comics and adult games around 2000. But it wasn't so notable and was just a one of expression methods in hentai comics. And it was mainly used as abnormal and undesirable orgasm expression such as sex assault, rape, etc…
Here is chronological analyze of the Ahegao genre in hentai video games (originally in Japanese, translated by google translate) [Caution : NSFW content ahead]
Ahegao got its popularity widely in hentai comics around 2005. Even in normal sexual episode, Ahegao style started to be used by many hentai comic artists and many dojinshi specializing in Ahegao also started to be released in Dojin market in those days.
Chronological analyze of the same genre in hentai comics and mangas (originally Japanese, translated by Google Translate) [Caution : NSFW content ahead]
At the same time, that particular face expression has been translated into a different name for the Western web, as this hijiribe debate shows
As a matter of fact, Ahegao as a fetish can also be known as the "Fucked silly face", or sometimes the "Mind break face".
About
Ahegaokin (アヘ顔菌 that can be translated into English as Bacteria of the orgasmic face), is an exploitable phenomenon reusing the Ahegaho fetish as an innocent and easy joke. The meme focuses on close-up pictures of characters having their eyes rolled out and their tongue sticking out of their mouth as if they were experiencing a great amount of pleasure.
Pixiv.net
Pixiv is a Japanese kind of imageboard in which people can expose their art. As a matter of comparison, it is very close, in its functioning, to Deviant Art.
Origin
On July the 10th 2008, pixiv user ゆきまん (Yukiman) created a peculiar picture of a close-up face from Patchouli, a character from the Touhou series, having kind of a strange expression mixed between orgasmic euphoria and being about to sneeze.
It is not really known which initial "normal" version of the picture has been used or if it is an original work. However, several months later, pixiv user G&regen would draw a somewhat accurate version of what would be the untouched picture, entitled "knowledge" (Patchouli's family name) :
The modified picture would attract lot of attention because of its induced comical appeal among users, leading ゆきまん to make a template out of it, the 18th of July 2008, which was posted here but it has then been removed from public view.
The fad
The very next day following the template release, another character was targeted by the phenomenon: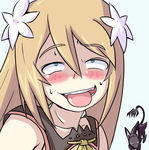 It has led, to date, to 6 pages of that same face being incorporated into various well-known anime/manga characters.
The tag used to name that phenomenon is アヘ顔菌. While it has a clear visible sexual undertone with it, that face is seen as a disease virally infecting whichever character has been drawn that way.
On the same note, a sub-fad related to it exists on pixiv, although having less pictures created, and was named らめぇ顔菌 (while "らめぇ(Ramee)" is a mispronunciation of Damee (meaning "no !" and often used as a refusal slang) as well as, also, a popular orgasmic shout in hentai comics, the same 顔菌 "face bacillus" words can be seen)
It can be described as a less desmonstrative orgasmic facial expression, as the following picture featuring Akita Neru shows:

On the Western web
As one can imagine, it's very difficult to find any information coming from SFW sites.
The meme and its fetish equivalent were both mixed on image boards dealing with explicit pictures.
On the other hand, the meme has been acknowledged by westerners as the following links show :
The meme has also been mixed with MOAR :
Exploitable
Youtube videos
Initially posted on Nico Nico Douga in July 2008 (gathering more than 200 000 views there), the following video, named Ahegaokin, has also been posted on Youtube, in June 2009 :
Cirno the Fungus Face
Ahegao speedpainting
Inspired Advice Dog Spin-off
As early as April 2010, the Suiseiseki picture was reused as an Advice Dog Spin-off called Desu Desu, which name is closely related to another well-known meme involving that character.
Most of the picture created are either dealing with sexual innuendos or the Desu meme itself. Nevertheless, it has hit the "Legendary Tier" on the website but didn't stagnate to that level and is currently in the "Baby Tier".
Facebook Comments