PROTIP: Press 'i' to view the image gallery, 'v' to view the video gallery, or 'r' to view a random entry.
This submission is currently being researched & evaluated!
You can help confirm this entry by contributing facts, media, and other evidence of notability and mutation.
About
Chargeman Ken! (Japanese: チャージマン研!; chāji man KEN!) is a Japanese animated series that was created by Knack Productions,[1] and aired during the mid-1970s. Due to the show's poor-production quality, it has managed to develop a cult following after being rediscovered many years later by Japanese internet users, and it has since became a notable resource for MAD remix videos on the video-sharing site Nico Nico Douga.
Origin
Produced by the animation studio Knack Production, Chargeman Ken![2] first premiered in Japan on the Tokyo Broadcasting Station (TBS) on April 1st, 1974, where it would air 65 episodes, with each consisting at least five minutes. The series takes place in a futuristic city, where it follows a young boy named Ken Izumi, where he must defend his planet from the evil alien race known as the Jurals under his superhero alter-ego "Chargeman Ken."
Because of the studio's low budget and its poor direction, this series suffered from a number of production errors, with many ranging from poor animation and voice acting to limited audio track, with only four background themes being played throughout the show. And due to each episode being only given five minutes for plot-development, the show was also hindered story-wise, with episodes being filled with Deus-ex machinas and leaving many things unexplained with no proper conclusions. Also with the lack of official credit, the identities of most of the vocal cast is still remains unknown.
Spread
When the anime was first broadcasted, it received little to no attention with Japanese viewers, and as years passed, it dropped out the public eye expects to few anime enthusiasts. The show remained obscure until decades later, when it was re-released in DVD-box set on February 2007, and sometime after the relaunch of Nico Nico Douga, a user began uploading these episodes to the site. Though the episode uploads has since been taken down, they have managed to grasp the attention with users at the time. Eventually, some users began to see it's potential as a source of remix, with the earliest known MAD video, being a mash-up of Marisa Stole the Precious Thing, was uploaded on August 17th, 2007.[3]
The show's sudden resurgence in popularity on the internet would introduced on the Japanese TV for the first time on the program "The Net Star" on September 5th, 2008. From there on, remixes began to see their peak of interest, when a mash-up utilizing the BEMANI song RED ZONE, titled "CHARGE ZONE," was uploaded on April 25th, 2009.[4]
Coinciding with the popularity with remixes of RED ZONE, the video was one of the most viewed at the time it was uploaded, gaining over 850 thousand views. As of October 2013, over 4,700 videos relating to Chargeman Ken! has uploaded to Nico Nico Douga,[5] with videos being reprinted on YouTube, and occasionally been used by YTPMV makers as well. [6] The show has also been documented on Nico Nico Pedia[7], Uncyclopedia,[8] and, and on it's own wiki site.[9]
Media Coverage & Official Recognition
The online cult following for Chargeman Ken! has been featured even in mainstream media, with it's debut was at NHK's midnight satellite-broadcasting TV show for online subcultures "The Net Star" on September 2008. The series's renewal interest has also prompted it be rebroadcast for the first time in its over 30 years history on the premium anime channel Anime Theater X (AT-X) during 2008-2009.
The anime's original producer, Knack Production, also caught wind of the show's sudden revival, and in response, the studio launched an official website[10] for Chargeman Ken! on August 21st, 2010. The studio then began releasing a line of official merchandise, including action figures, T-shirts, and as well as Ken's helmet. They also released an official soundtrack titled チャージマン研! Tribute to Soundtracks vol.1, which featured remastered themes, tribute covers, and unreleased character art.
On August 2012, the popular terrestrial midnight talk show for young people called "Angry new Party" showcased the irrational episodes in Chargeman Ken!. Since it was this show's first appearance on terrestrial broadcasting programs, it made a headline among Japanese internet users.
Notable Examples
Episodes
Out of the series' 65 episodes, four of which has managed to be considered by fans as the most memorable, with them being used in MAD videos, as well as spawning a number of catchphrases.
Dynamite in the Brain!
"Dynamite in the Brain" (頭の中にダイナマイト) aired as the 35th episode of the series, where Ken discovers that scientist Doctor Volga has an explosive implanted in his head, and must save him before it detonates. The episode is consider the most memorable for Ken's "unheroic" action of sacrificing Doctor Volga by throwing him out of his spacecraft to defeat the Jurals pursuing him. Ken's line "Doctor Volga, forgive me!" (ボルガ博士、お許し下さい!; Volga hakase, oyurushi kudasai!) is one of the most famous and symbolic lines of this animation.
The Mental Clinic of Terror!
"The Mental Clinic of Terror!" (恐怖!精神病院) is the series 23rd episode, where Ken pretends to have a mental illness, so he can sneak in the mental hospital and the stop the director of the hospital from conquering the world with a missile and help from the Jural. The episode became controversial for its prejudiced portrayal of mental hospitals and those with mental illness, with Ken's father referring as it as "Such a place" (こんなところ; Kon'na tokoro). Additionally, the director's line,"Our target is Europe!" (我々の目標はヨーロッパだ!, wareware no mokuhyo wa Yōroppa da!) and his unwarranted suicide also became a subject of mockery.
A Murderer Record's Melody of Terror
"A Murderer Record's Melody of Terror" (殺人レコード 恐怖のメロディ) is episode 16 of the series, and it revolves around a record that causes rapid aging, and Ken's family inventively buys the records, then upon discovering it's power, he goes to the store for a refund and discovers that the Jural was behind the ordeal. Ken's dialog "How dare you sell such a lunacy record!" (よくもあんなキチガイレコードを!; Yokumo anna kichigai record wo!) became very popular with fans, and the theme of the record has remixed a number of time.
A Mysterious Beautiful Boy
"A Mysterious Beautiful Boy" (謎の美少年) is the fourth episode of the series, where it begins with Ken playing a game Rugby, and after losing, his opponent "Hoshi" ask to follow him to a secret area and then demands Ken to demonstrate his transformation into "Chargeman Ken." After refusing to do so, "Hoshi" reveals himself to be Jural alien in disguise, prompting Ken to battle him. Though not considered as one of the "big three" episodes, it still managed to become popular, being widely used in MAD remixes.
Characters




Name: Ken Izumi (Japanese: 泉 研; Izumi Ken)

Summary: The main hero of the series, Ken Izumi is a ten year old boy who is out to defend Earth from the evil Jural invaders. Because of each episode's limit time-frame, writers had to make small sacrifices to conclude them, with many involving Ken doing careless actions. For example, Ken can often seen killing off Jurals before they reveal their disguises. Due to these and many irresponsible motives, he is usually characterized by fans as a immorally evil character.


Name: Caron Izumi (Japanese: 泉 キャロン; Izumi Caron)

Summary: Caron Izumi is Ken's seven year old younger sister who is, and is often shown in many episodes being captured by the Jural and must be saved. She is sometimes portrayed by fans as a Yandere, after she being mind-controlled into stabbing his brother in his sleep during episode 45.




Name: Barikan (Japanese: バリカン, Barikan)

Summary: Barikan is a small robot and who is also Ken's friend. With not being given any special abilities, he is shown as a comic-relief character while contributing very little to the show's plot.




Name: Jural Aliens (Japanese: ジュラル星人; Jural Seijin)

Summary: The Jural is an alien race from outer space who main goal is to conquer planet Earth in any means necessary, with them appearing in every episode with various disguises and attack plans. Though they claim their science and technology is 500 years more advanced then Earth, their plans always never effective, and they are shown to be fairly weak. With their guileless foolishness and funny dialogs, they are much loved with fans.




Name: Satan (Japanese: 魔王; Maō)

Summary: Satan is the leader of the Jural race, and he has a more striking appearance of the rest. Though the Jural being aliens and not demons, and known as "Satan" by his subordinates, the reason for his naming one of the biggest mysteries of the animation. He is known for disguising as a girl to bring Ken's guard down in episode 10, and for his death cry during the last episode, which has been used in many

MAD

movies.




Name: Doctor Volga (Japanese: ボルガ博士; Volga Hakase)

Summary: Doctor Volga is a scientist from West Germany who appeared in episode 35. Though being a one time character, he is widely remembered by fans for his unwarranted death, caused by Ken's rash thinking, and his scream from his fall has been commonly used in

MAD

remixes.




Name: Hoshi (Japanese: 星君; Hoshi-kun)

Summary: Hoshi is a mysterious young boy first appearing in episode four, who would later be revealed to be a Jural alien in disguise that same episode. His good looks made him the "bishounen" character of the show, and his weird shouts "Eeeei!" (エ゛エーイ!) and "Wei!" (ウェイ!) have became an essential for many Chargeman Ken! MADs.
MADs
In addition to the standard taggings for MADs, there are also two other tags are also used to relate to video game series for songs being utilized originated from, which are "chargemania"[12] for songs taken from the BEMANI rhythm game series, and "東方充電男"[13] (Touhou Jūden Otoko) for themes from the bullet-hell shooter the Touhou Project, with "Jūden Otoko (充電男) literally meaning "Charge Man" in English.

Left: Disneyland Electrical Parade[14] | Right: "Ojamajo Carnival!!"[15]

Left: Night of Nights[16] | Right: Seven Colors of Nico Nico Douga[17]

Left: Pulla Magi Madoka Magica OP Connect[18] | Right: Jojo's Bizarre Adventure OP Bloody Stream[19]
Fan Illustrations
Fans have also took their hand at creating fan art, and parody illustrations of scene from the the show. These creations have been posted on the art sharing sites pixiv,[20] Nico Nico Seiga,[21] and deviantART.[22]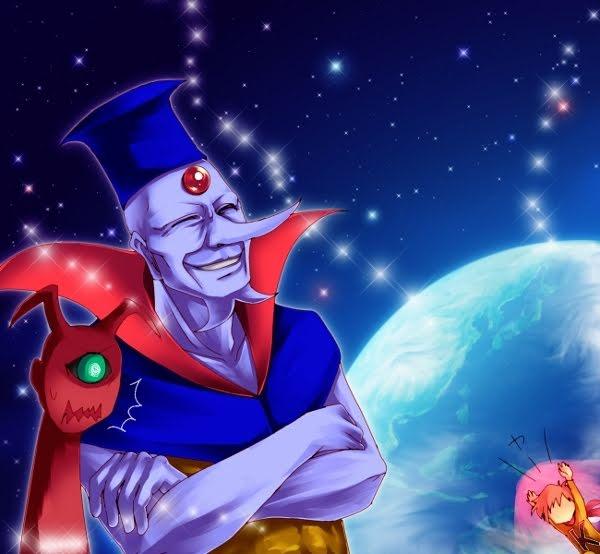 Search Interest
The series began steadily trending during early 2008, but would see a large surge of interest during August 2012, just after it's showcase on the "Angry new Party."
External Reference

Editor's Note: Registration is needed to browse the original videos listed in this section.
Facebook Comments