PROTIP: Press 'i' to view the image gallery, 'v' to view the video gallery, or 'r' to view a random entry.

About
Crazy Girlfriend Praying Mantis is an advice animal image macro series featuring a photo of a praying mantis set against a blue and teal colorwheel background. The overlaid text typically describes what an overbearing, irrational or obsessive girlfriend might say to her significant other.
Origin
The first image was posted to Reddit on February 1st, 2011, using a color drawing of a praying mantis. In the comments, Redditor JakeCameraAction[1] suggested using an actual photograph of a praying mantis and provided a template that has been used since.


The "praying mantis" analogy to an intimidating girlfriend stems from the common association between female praying mantis and sexual cannibalism, in which a female kills and consumes her male partner before, during, or after mating.
Spread
The website Smosh[2] featured a round-up of images on April 15th, 2011. More derivatives have been posted on sites like FunnyJunk[3] , Reddit[4], and the Body Building Forums.[5] The Crazy Girlfriend Praying Mantis Tumblr[6] was created on March 17th, 2011, further bringing the series into the light of a broader audience. The meme remains in active circulation under the hashtag #Crazy Girlfriend Praying Mantis.
Notable Examples






Derivative: Jackass Boyfriend
A thread was posted in Reddit's female oriented subreddit TwoXChromosomes titled "In response to the Crazy Praying Mantis Girlfriend Meme… I give you Jackass Boyfriend" on March 12th, 2011, and featured a picture of a donkey with overlaid text associated with obnoxious male behavior.[7]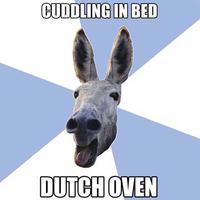 Blank Template

Search Interest
Search queries started picking up in early March around a month after the first Reddit thread was posted. As of June 2011 they have fallen back down to insignificant levels.
External References
Recent Videos
There are no videos currently available.
Facebook Comments