PROTIP: Press 'i' to view the image gallery, 'v' to view the video gallery, or 'r' to view a random entry.
About
Good Guy Greg (GGG) is an advice animal image macro series featuring a photo of a square-jawed man smiling at the camera with a marijuana cigarette in his mouth. As the antithesis of Scumbag Steve, the captions generally depict the character as kind, generous or empathetic to other people.
Origin
Good Guy Greg is rumored to have started on 4chan's /b/ (random) board but an archived thread has yet to be found. On April 26th, 2011, the template photo was uploaded to the image remixing site Canvas[1] with the description "This is Good Guy Greg." The Canvas thread received over 570 remix replies within 11 months.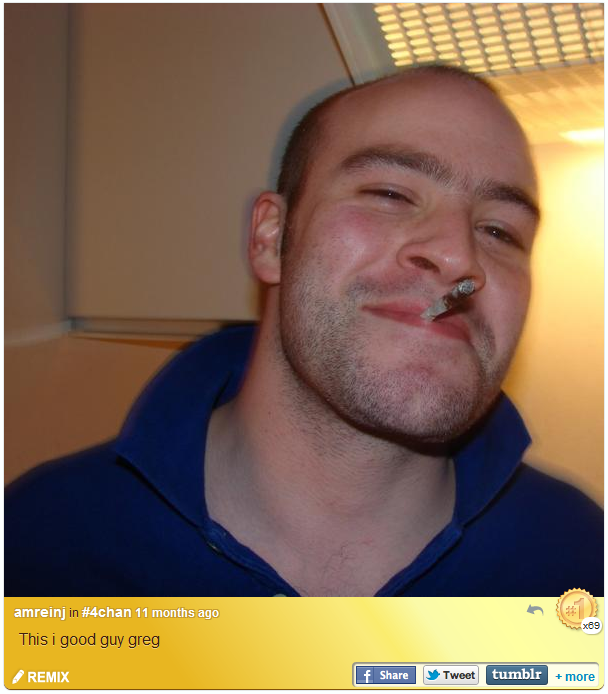 Precursors
On February 3rd, 2011, an image macro called "Generous Jeff" was posted to the marijuana enthusiast subreddit /r/trees[8], which depicted the character as a lovable stoner (shown left). On February 9th, a Scumbag Steve spin-off called "Cool Guy Steve" (shown right) appeared on Reddit[7], shortly after he was interviewed by Know Your Meme.
Spread
On May 19th, 2011, the first Good Guy Greg Quickmeme[2] image macro was uploaded with the caption "Sleeps on your couch / makes breakfast." The same day, the macro was posted to the /r/AdviceAnimals[3] subreddit by user RsonW, which reached the front page receiving 1,717 up votes prior to being archived.
On June 12th, a compilation of GGG examples were posted to the list-making website Ranker.[16] On June 14th, the first Urban Dictionary[15] definition for "Good Guy Greg" was submitted by user DrDragun, identifying the character as an Internet meme on 4chan and Reddit. The advice animal template eventually reached 4chan[23] with the earliest known archived thread dating to October 6th.
On October 14th, the "Fuck Yeah Good Guy Greg"[17] Tumblr blog was created, curating 63 image macros in six months. On October 30th, the Internet humor site BuzzFeed[18] published a compilation of notable GGG examples.
The meme has continued to spread on sites like FunnyJunk[4], Tumblr[5] and Memebase.[14] As of April 19th, 2011, a Facebook page for "Good Guy Greg" has over 28,500 likes, a Quickmeme[12] page has received over 52,500 submissions and a Meme Generator[6] page has over 89,000 items.
Notable Derivatives
Derivative: Good Guy Grog
On March 26th, 2012, Redditor partyfunk8 posted an image macro to the /r/AdviceAnimals subreddit featuring GGG's face edited on to a photo of a caveman with the caption "Takes girl back to his cave / doesn't club her" (shown left). The post reached the front page and received over 4,800 up votes in 23 days. On April 4th, BuzzFeed published a compilation of notable Good Guy Grog examples.
Identity
On August 10th, 2011, Redditor fishieman posted an AMA thread titled "Reddit, I passed the 6 week challenge and crewed along side GGG. Iama a commercial fisherman, ama."[9] He included several pictures of the man he claims is the real GGG. Several users have disputed that this is actually the real GGG, cited several physical differences between the men in the photos.
On January 11th, 2012, a man posted to 4chan's[22] /b/ board claiming to be the real Good Guy Greg. Many users were skeptical, noting several facial characteristics that did not match the original GGG photo.
Template
Search Interest
External Links
Facebook Comments