PROTIP: Press 'i' to view the image gallery, 'v' to view the video gallery, or 'r' to view a random entry.
This submission is currently being researched & evaluated!
You can help confirm this entry by contributing facts, media, and other evidence of notability and mutation.
About
Damn It Feels Good To Be A Gangsta is a catchphrase used ironically in image macros featuring a picture of someone doing something that is often awkward, silly, or nerdy.
Origin
"Damn it Feels Good To Be A Gangsta" is a 1992 song by the rap group 'Geto Boys' (show below.) The song slowly became popular outside of the web before it was uploaded to YouTube and received a large amount of views and likes. The original song was also featured in the well known comedy movie 'Office Space'.
Spread
The phrase began to spread on YouTube after the video was uploaded, with people saying what they were doing or did followed by it. It later was put with images as an image macro that was posted on forums and image sharing websites such as Cheezburger[1], Imgur[2], and Tumblr[3]
Notable Examples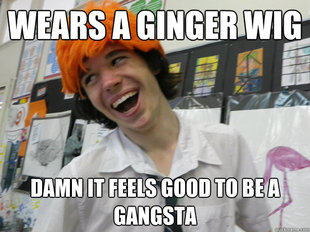 External References
Facebook Comments