PROTIP: Press 'i' to view the image gallery, 'v' to view the video gallery, or 'r' to view a random entry.
Warning: This page contains material that may be considered not safe for work.
This submission is currently being researched & evaluated!
You can help confirm this entry by contributing facts, media, and other evidence of notability and mutation.
BEING WORKED ON-If ANYONE HAS SUGGESTIONS, PICS, INFO, FEEL FREE TO EDIT
ORIGIN
Destiel or sometimes referred to as "Dastiel" or simple Dean/Castiel is a short nickname giving to subject matter that revolved around the TV show's Supernatural characters Dean Winchester and the angel Castiel.
DEAN:
PLUS CASTIEL:
EQUALS DESTIEL: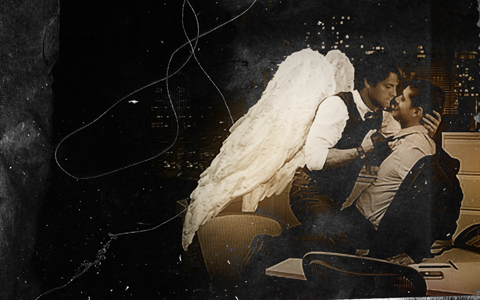 It's very simple math.
Both are usually put together in homoerotic situations. It was first conceived when the character of Castiel was introduced in the premier of season four: Lazarus Rising. From Castiel's first appearance in that episode, fandom saw the on-screen intensity between Dean Winchester and Castiel and took it further. It soon became a very popular pairing, with the first Dean/Castiel LiveJournal community appearing on 19th September 2008, the day after "Lazarus Rising" first aired, and growing to over 1000 members within the first four months. In March 2010 the community had 3196 members.
http://community.livejournal.com/deancastiel/
The pairing soon became an OTP and this has led to occasional Shipping wars with people for whom Sam/Dean is their OTP
In the tradition of fandom making "mashup" pairing names, Dean/Castiel is sometimes referred to as Destiel or Dastiel.
Following fans mentioning fanfic and Dean/Castiel Slash, Misha Collins, who plays the character of Castiel, has mentioned Slash at a number of conventions. At the Salute to Supernatural Vancouver 2009 where he said he'd heard about "Dean/Castiel/Pie fic" and at Collectormania London 2009 he said he had read some slash fanfic but "stopped at the part where Cas choked… on someone's cock":
FORMS
Apart from many Fanfictions being done on Destiel the 4Chan forums /cm/ and /y/ contains endless fan, drawn, photoshopped photos of two. In addition, Youtube members have also mashed up videos together. There was also http://fiveprime.org/hivemind/Tags/destiel created for the mash ups.
Among the sites to feature Destiel exists http://www.tumblr.com/tagged/Destiel solely for the purpose of it.
Recent Videos
There are no videos currently available.
Facebook Comments