This submission is currently being researched & evaluated!
You can help confirm this entry by contributing facts, media, and other evidence of notability and mutation.
About
Slash fiction refers to fanfiction which features a homosexual romantic relationship between two characters. The name comes from the slash (/) put between the characters' names in the title or description of the fiction, which differs from the ampersand (&) put between the names of characters in platonic pairings.
History
The first widely distributed slash fanfiction was published in September 1974 in the third issue of the Star Trek fan zine Grup. Entitled "A Fragment Out Of Time," the story fantasized a sexual relationship between Kirk and Spock whose names were never mentioned in the text.[1] As more stories featuring homosexual pairings were published, authors would use a slash between the two names ("Kirk/Spock") in their descriptions instead of an ampersand ("Kirk & Spock"). Since the ampersand traditionally denoted platonic pairings in fan fiction[3], use of the slash became a warning to readers that the characters would be paired romantically.[2] One of the earliest printed examples of the word "slash" being used to describe this type of pairing dates back to a Letter of Comment published in a nonfiction Starsky & Hutch fanzine from February 1981.


Categories and Types
Femslash-slash fiction featuring two female characters
Chanslash-slash fiction featuring underage characters
Real person slash-slash fiction featuring celebrities
Reverse slash-slash fiction with a less explicit sexual content than in the original canon
Online Presence
The earliest entry for slash fiction on Urban Dictionary[4] was submitted on May 10th, 2008, by user mcn00baj00b who defined it as:
"Slash Fiction is the portrayal of a perceived homosexual relationship between two lead characters in a popular continuity."
Slash fiction is featured on many major fan fiction forums including Archive of Our Own[11] and Fanfiction.net[12]. On May 1st, 2012, the Tumblr blog slash-fanfic-recs[13] was created. The Tumblr highlights slash fiction from all fandoms. Other Tumblrs dedicated to slash fiction include slashfanfiction[14] and slash-recs.[15]
Notable Slash Pairings
Kirk/Spock
One of the original slash pairings, the Star Trek slash couple began the genre in 1974. The pairing was revived with the 2009 film reboot.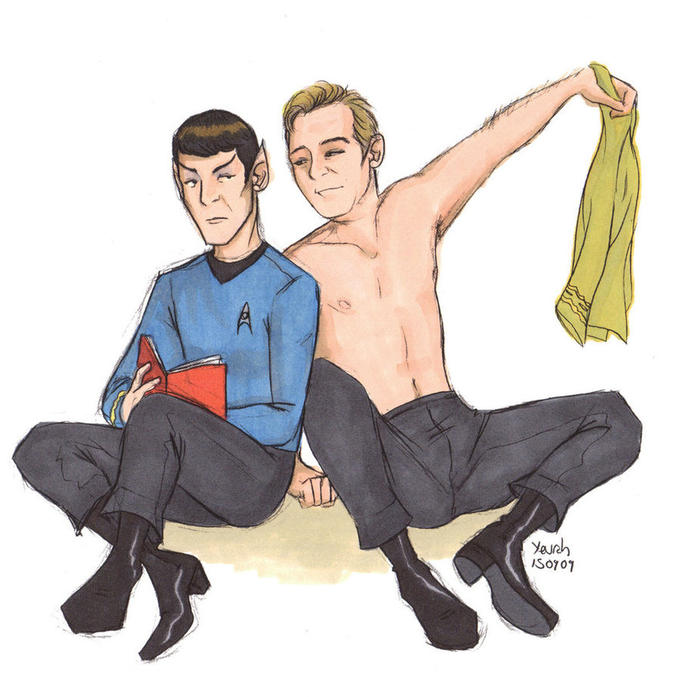 Angel/Spike
The Buffy the Vampire Slayer pairing has over 600 fictions on Archive of Our Own[5] as of June 2014.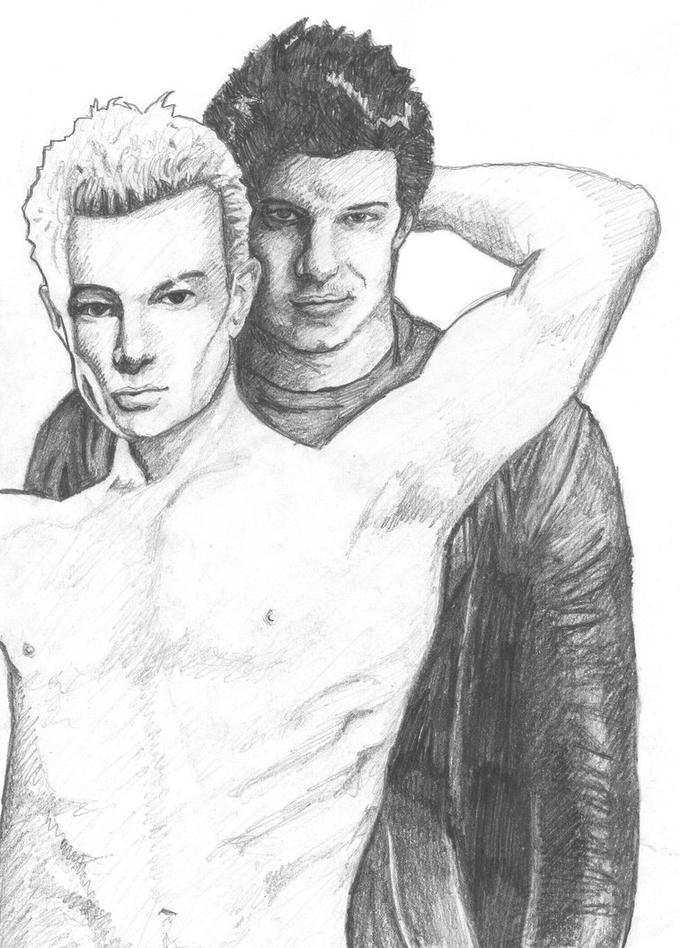 Harry/Malfoy
The Harry Potter pairing has over 8,000 fictions on an Archive of Our Own[8] as of June 2014.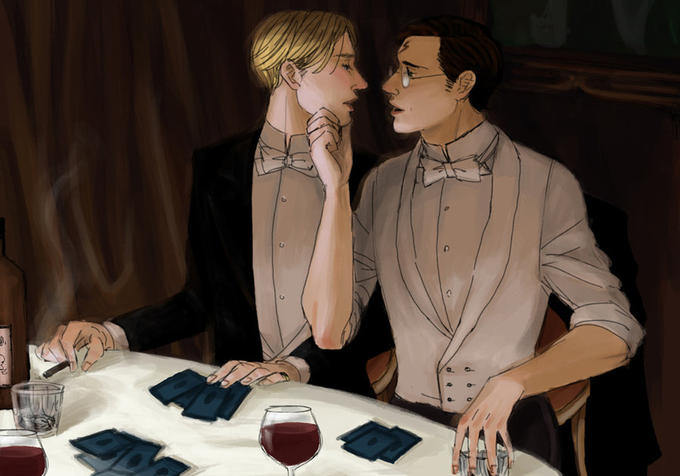 Dean/Castiel
The Supernatural pairing has over 35,000 fictions on Archive of Our Own[9] as of June 2014. One of the most popular Dean/Castiel fictions is titled "Twist and Shout" and features the characters in an alternate universe in which they are young men in the 1960s.

Derek/Stiles
The Teen Wolf pairing won gay entertainment site AfterElton's Ultimate Slash Madness Tournament[6] for favorite same sex TV ship in 2012 and in 2013 won E! Online's Fantasy TV Couple poll.[7]

Sherlock/John
The Sherlock pairing has over 48,000 fictions on Archive of Our Own[10] as of June 2014.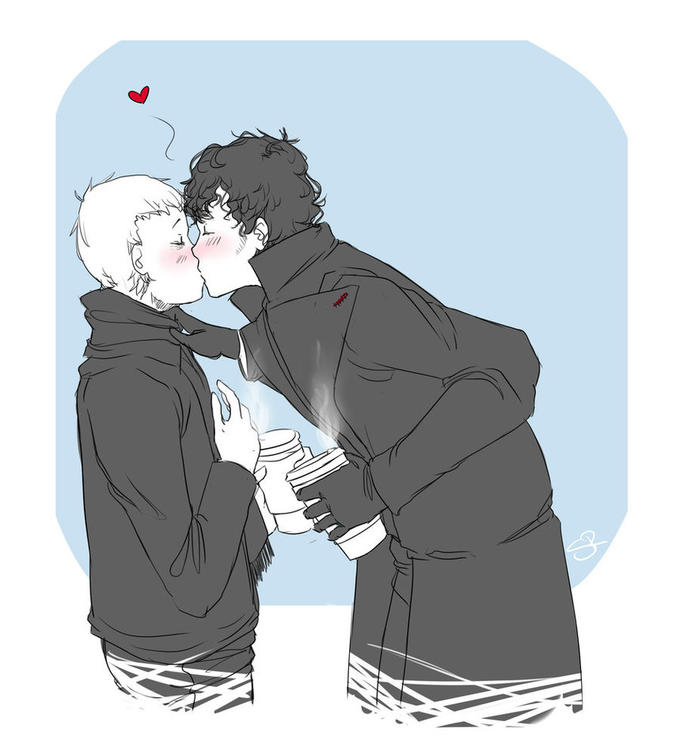 Hannibal/Graham
The Hannibal pairing has over 4,000 fictions on An Archive of Our Own.

Banner/Stark
The Avengers pairing also known as science bros has over 13,000 fictions on Archive of Our Own.[17]

Historical Slash
The earliest known example of history slash can be found in an anonymous sketch of Tsar Alexander and Napolean Bonaparte kissing, which is believed to have been drawn sometime after the two leaders signed the Treaty of Tilsit in July 1807.[1]

In his 1869 novel War and Peace, Leo Tolstoy spends a considerable amount of time writing about their relationship, saying,
"In spite of the trampling of the French gendarmes' horses, which were pushing back the crowd, Rostov kept his eyes on every movement of Alexander and Bonaparte. It struck him as a surprise that Alexander treated Bonaparte as an equal and that the latter was quite at ease with the Tsar, as if such relations with an Emperor were an everyday matter to him."
Numerous historical figures have been subjects of slash pairings on DeviantART and Tumblr. The section of the fandom focusing on the founding fathers and the American Revolution is the largest subset of History Peeps. Popular ships include Hamburrgers (Alexander Hamilton and Aaron Burr) and Jamilton. (Thomas Jefferson and Alexander Hamilton). As of February 2014, DeviantArt[4] has over 116,000 submissions under the Founding Fathers tag and Tumblr blogs dedicated to Founding Fathers fan art and fiction include sexyfoundingfathers[5] and fuckyeafoundingfathers.[6] Fan art surrounding the founding fathers fandom have been rounded up in mulitple Buzzfeed articles such as "Pinup Founding Fathers Make Independence A Whole Lot Sexier" and "21 Examples Of Founding Fathers Slash Fiction."[2][3]


Search Interest
External References
Recent Videos
There are no videos currently available.