PROTIP: Press 'i' to view the image gallery, 'v' to view the video gallery, or 'r' to view a random entry.
About
Didney Worl is an image macro series featuring various characters from animated films produced by Disney and the phrase "Didney Worl," which is an unusual phonetic transcription of the Disney World resort in Orlando, Florida. Similar to Derp image macros, the characters are typically shown making wall-eyed expressions.
Origin
On August 11th, 2008, Flickr[14] user canicula uploaded a series of photos taken at the Disney World resort to a gallery titled "Didney Worl 2008." On June 24th, 2011, the Puppytube[1]Tumblr blog posted a screen capture from the 1992 animated musical film Aladdin with the caption "Didney Worl." Within 10 months, the post received over 5,300 notes.
Etymology
On August 15th, 2005, an Urban Dictionary[12] definition for "didney" was submitted by user Laurensky, describing the term as "A Disney kids movie." On November 2nd, 2006, an Urban Dictionary[13] submission for "didneylan" was submitted by user Paul Trapani, who described the term as a way of pronouncing "Disney Land" with a speech impediment. On September 16th, 2009, a post was published to the Mukpuddy animation blog Mukblog[15] titled "Didney Lan", which featured several drawings of Disney characters.
Spread
On July 15th, 2011, the Tumblr[6] blog "Goin To Didney Worl" was launched, which featured screen captures of Disney characters making odd facial expressions. On July 17th, YouTuber TheBoyInBlack published a video titled "Didney Worl", which featured the original Aladdin image with the song Beverly Hills Cock from the anime Panty and Stocking.
On January 23rd, 2012, Redditor clearlyreading submitted a post titled "Didney Worl" to the /r/funny[4] subreddit, which featured an image macro of Gaston from the film Beauty and the Beast with the caption "Didney Worl." Within three months, the post received over 4,500 up votes and over 90 comments. The following day, the same image macro was submitted to the Internet humor site FunnyJunk[7] by user Papertowel.
The meme has continued to spread on sites like deviantArt[11] and Tumblr[10] under the tag "#didney worl." As of May 9th, 2012, a Facebook page for "Didney Worl" has received 330 likes.
Notable Examples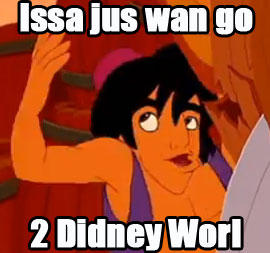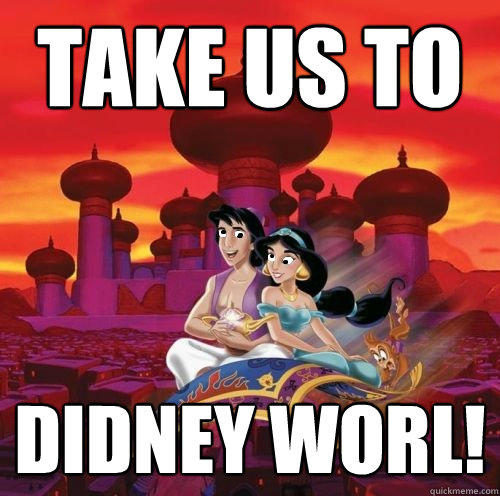 Search Interest
External References
Facebook Comments