About
Facebook is a social networking website where people from around the world can add friends, exchange messages, join groups with common interests and share photographs or videos. The name of the website stems from the colloquial name for books that are distributed to students by university administrations at the start of each academic year with the intention of helping students identify each other. By October 2012, the site had reached over 1 billion users.
History
Foundation
Mark Zuckerberg founded Facebook while he was enrolled at Harvard University with college roommates and fellow computer science students Eduardo Saverin, Dustin Moskovitz and Chris Hughes.[1] The early prototype of Facebook was initially called "Facemash" and it was launched on October 28th, 2003. According to the Harvard Crimson[2], the site represented a Harvard University version of Hot or Not, an image rating site where visitors can rate user-submitted photos based on their level of attractiveness, by presenting photographs of two students side-by-side and ask the viewer to choose the "hotter" person.

To accomplish this project, Zuckerberg compiled photographs from the online profiles of student houses and even reportedly hacked into the secure areas of Harvard's computer network and copied the houses' private dormitory ID images. On February 4th, 2004, Zuckerberg launched "Thefacebook" as a social networking site specifically for Harvard University students. In July of 2004, the Guardian[3] reported that more than half the undergraduate population at Harvard registered on the service within the first month of launch.
Incorporation
Facebook incorporated in the summer of 2004 and appointed Internet entrepreneur Sean Parker, who founded the music sharing website Napster and had been informally advising Zuckerberg, as the company's president. In June 2004, Facebook moved its base of operations to Palo Alto, California. In 2005, the company dropped "The" from its name after purchasing the domain facebook.com for $200,000. In September 2005, the site significantly expanded its userbase after opening up registration for high school networks. On September 26th, 2006, Facebook officially opened up registration for anyone older than age of 13 with a valid e-mail address.
Facebook IPO
Even before Facebook announced its revenue profit for the first time in September 2009, rumors about Facebook's initial public offering (IPO) had been circulating both online and in the news media for years. In November 2010, online marketplace SecondMarket reported that Facebook's value was estimated at $41 billion, surpassing that of eBays as the third largest U.S. web-based company after Google and Amazon.

On January 25th, 2011, Bloomberg[32] reported that Facebook halted trading of its shares in secondary markets for three days, which analysts read as a possible indicator that the company is gearing up for the much-anticipated IPO process. Two days later, the Wall Street Journal[31] reported that Facebook Inc. was preparing to file for an initial public offering in early February with Morgan Stanley as the likely underwriter, citing company's anonymous insiders who are apparently familiar with the matter. The article also reported that Facebook is looking to raise as much as $10 billion in its initial offering and a valuation of $75 billion to $100 billion, which would be more than four times the capitalization Google had during its IPO in 2004.


On May 18th, 2012, Facebook held their initial public offering, with shares opening at $38.[46] Within the first half hour, 200 million shares were traded and that day, the price peaked at $45 a share.[45] By October 4th, the price had gone down to $21.95 a share and dozens of lawsuits[47] had been filed against both Facebook and NASDAQ due to glitches that occurred on the stock's opening day of trading.
Stock Crash
Following several controversies related to the privacy and security Facebook's user accounts, the proliferation of fake news and election meddling, the company refocused its efforts to place privacy ahead of profits. As a result, the company and analysts noted that this would slow growth of the company's profits because billions of dollars would be needed in order to meet expected specifications and better secure user information.[134]
On July 25th, 2018, following their Q2 earnings call, Facebook's stock dropped 17%. At the time, the drop was expected to result in more than $123 billion in market value.[135] Reuters[136] reports:
Operating profit margin, which fell to 44 percent in the second quarter from 47 percent a year ago, will sink to the "mid-30s" for more than two years, Chief Financial Officer David Wehner said in investor guidance.

The plummeting stock price wiped out as much as $150 billion in market capitalization and erased the stock's gains since April when Facebook announced a surprisingly strong 63 percent rise in profit and an increase in users.

If the share drop holds on Thursday, it would be Facebook's largest single-day decline, topping a 12 percent decrease in July 2012.
Features
News Feed
On September 21, 2011, Facebook updated their News Feed layout to automatically sort posts based on an algorithm that would determine what was most relevant to you, rather than chronological order.[4]
Now, News Feed will act more like your own personal newspaper. You won't have to worry about missing important stuff. All your news will be in a single stream with the most interesting stories featured at the top. If you haven't visited Facebook for a while, the first things you'll see are top photos and statuses posted while you've been away. They're marked with an easy-to-spot blue corner.
The new layout received a backlash from many users, and was covered by MSNBC in an article titled "Facebook gives the News Feed a makeover, users get angry."[7] The extra status updates in the top right corner struck some people as being redundant, inspiring the creation of an Xzibit Yo Dawg derivative:

Timeline
On September 22nd, 2011, Facebook held F8, an annual developers conference in San Francisco, where they unveiled a new profile layout called "Timeline." The new layout used an algorithm to determine your top photos and posts to display along a timeline that shows less content as a user browses back in time.[16]

On September 23rd, BuzzFeed[7] revealed how Facebook users could enable the new Timeline profile 2 weeks early by faking the creation of an app. The same day they published a follow up post explaining how to use the new Timeline profile to view people who had unfriended you in the past.[5] The post outlined how users could go back in their Timeline and discover who unfriended them by looking at the "Made X New Friends" boxes.[6] People with "Add Friend" next to their name were those who had been removed as friends at some point. This feature was removed by the end of the day. Timeline profiles became accessible to all 800 million Facebook users on December 15th, 2011.[30]

First Commercial
On October 4th, 2012, Mark Zuckerberg posted a note[33] on his personal Facebook profile announcing that the site had reached the milestone of one billion users. In this note, he also revealed the first TV commercial for the social networking site titled "The Things That Connect Us." Created by Wieden & Kennedy[34] of Portland, Oregon, the ad (shown below) features a compilation of vignettes of people sitting in chairs and interacting as the narrator draws a series of comparisons between Facebook and chairs, in addition to doorbells, airplanes, bridges, dance floors and basketball.
The day it was released, the commercial was featured on tech and commercial blogs as well as news sites including Adland[35], Ads of the World[36], the Huffington Post[37], the Examiner[38], the Atlantic Wire[40], Motherboard[41] and Mashable[39], which asserted that the ad was confusing and used "lame analogies." The Mashable article also pointed out that no one in the advertisement was seen using a computer.
The same day the ad was unveiled, a single topic Tumblr titled "Are Like Facebook"[42] was created for parodies, arbitrarily comparing a variety of things like puppies, bananas and prosthetic limbs to Facebook.

Additionally, the Twitter account @FacebookChair[43] was created for similar purposes, though it was seemingly abandoned after six tweets. On October 5th, the first round of parody skits based on the commercial began appearing on YouTube.[44]
Social Graph Search
On January 15th, 2013, Facebook[59] announced that it had released the beta version of "Graph Search,"[58] a semantic search engine which allows users to find content by using natural language queries (ex: "bands my friends listen to" or "friends who work at my company") and advanced filter options.
The same day, the technology news blog Gizmodo[65] published an article reporting that the service could be used to paint users in a bad light, citing search results for queries like "women who like sucking dicks" or "men who like sexism." On January 18th, Slacktory[61] editor Nick Douglas uploaded a sketch to YouTube in which he reads aloud several humorous Social Graph search terms (shown below).
On January 22nd, the Tumblr[60] blog "Actual Facebook Graph Searches" was launched, which featured screenshots of humorous search queries such as "mothers of Jews who like bacon" and "married people who like prostitutes." The same day, the site was featured on the news aggregator website YCombinator[64], where it received over 430 up votes and 200 comments within 17 hours. On January 23rd, TechCrunch[62] published an article about the Tumblr blog, comparing it to the public Facebook search site OpenBook.[63]
Mobile Product: Facebook Home
On March 28th, 2013, Facebook announced that the company will hold a press conference at the headquarters on April 4th to reveal its "New Home on Android."[66] Though sources initially suggested it would be a modified version of Android operating system that would integrate one's phone deeply into the Facebook network, others began to speculate[67] that Facebook would be releasing a special HTC phone.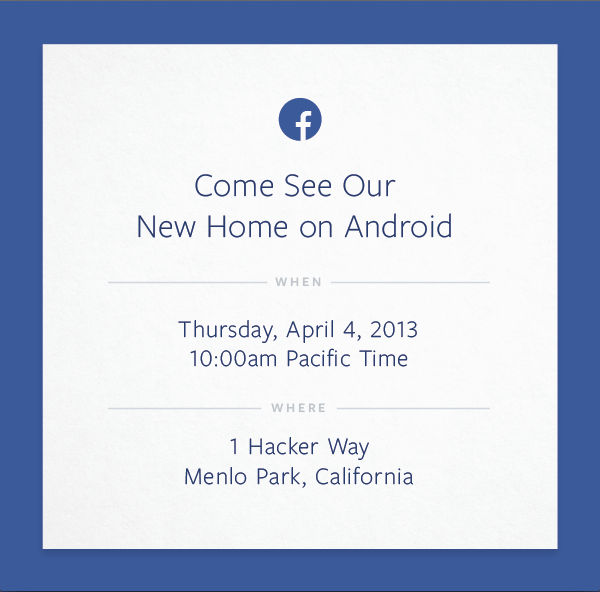 On the day of the event, Mark Zuckerberg introduced Facebook Home[68], an application launcher that integrates into the apps already on a person's Android. Accessible directly from one's lock screen, the app instantly takes a user to their Coverfeed (shown below, left), a visually enhanced version of one's normal Newsfeed. Facebook Home also offers a system called Chat Heads[69] (shown below, right), which offers pop-up access to Facebook and SMS messaging no matter what app a person is using.


Numerous tech blogs[70] and news sites[71] offered live coverage of the event, during which some critics questioned the degree of privacy protection the app would offer. GigaOm reporter Om Malik[72] suggested that the phone would allow Facebook to track a user's every move, not only within the apps but through the phone's GPS system. Despite this, other news sites including Slate[73] and Forbes[74] expressed excitement over the new phone option, with the latter hoping it could introduce a new era of communication protocol where people are connected through names and not numbers.
Rooms
On October 23rd, 2014, Facebook released the "Rooms" mobile application on the Apple iOS app store.[89] In a Tumblr[90] blog post about the app, the company announced a Rooms feature that allows users to create custom chat rooms where photos, videos and text can be posted in a live-updated feed. In addition, users can choose different nicknames to display for each room, thus effectively enabling anonymous chat on the social networking site.

On the following day, Facebook product manager Josh Miller submitted an article to the news site Medium,[91] revealing that users had begun spreading QR codes linking to various rooms on both Instagram and Reddit.[92]


On October 29th, the business news site Value Walk[93] reported that the company Room Inc. was pursuing legal action against Facebook for copying their applications intellectual property.
Empathy Button
On September 15th, 2015, Facebook uploaded a video to Vimeo of a public question and answer session with Mark Zuckerberg, in which he mentioned people had been asking for a "Dislike button" and revealed "we're working on it" before elaborating that the company is not looking to implement a downvote button (shown below).
"We didn't want to just build a Dislike button because we don't want to turn Facebook into a forum where people are voting up or down on people's posts. That doesn't seem like the kind of community we want to create."
That day, many news sites published articles reporting that Facebook was building a Dislike button, including Business Insider,[100] Fortune[101] and The New York Times Bits[102] blog.[102] Meanwhile, the marketing news blog MarketlingLand[104] published an article titled "Dislike Button? Facebook's Not Getting That -- But It May Gain Alternative To The Like Button," noting that Zuckerberg explicitly stated the company would not be building a Dislike button. The following day, Tech Crunch[103] published an article titled "Facebook Is Building An Empathy Button, Not 'Dislike'," which speculated that the new button could be used to tell people "sorry" to express feelings of concern.
Reactions
On October 8th, 2015, Facebook[105] announced it had begun testing a new "Reactions" feature, which would become an extension of the "Like" button providing additional quick responses to content. That day, Tech Crunch[106] published an article about the new feature, revealing that it would include a set of six emoji to express love, laughter, happiness, shock, sadness and anger (shown below). Meanwhile, The Verge[108] published an article revealing that Facebook chose the six emoji based on scans of one-word comments and stickers used by users on the social network. In the coming days, several other news sites published articles about the upcoming feature, including Ars Technica,[107] Wired[110] and Gizmodo.[109]

Hate Speech Button
On May 1st, 2018, some users began reporting a new prompty shown below other user's Facebook posts, asking "Does this post contain hate speech?" followed by "Yes" and "No" buttons (shown below).

Following the discovery, numerous Twitter users began posting jokes and criticisms directed toward the new feature (shown below).


Later that day, Facebook Vice President Guy Rosen posted a tweet announcing that the prompt as "a test – and a bug that we reverted within 20 minutes" (shown below).

2018 F8 Announcements
On May 2nd, 2018, Facebook Developer Conference F8, Mark Zuckerberg announced a series of new features and privacy implementations. He also announced a new video chat feature for Instagram.
Dating Feature
At F8, Zuckerberg announced that the company had been developing a dating feature inside of Facebook to compete with Tinder and OKCupid. The feature would allow users to view profiles of people who are not their friends. Additionally, friends would not be able to see dating profiles and users of the dating feature would only be suggested to people who are not their friends. The feature would be optional and opt-in only.
Following the announcement, the stock price for Match Group, who owns Tinder and OKCupid, fell 18%.[131]
Privacy
Following the various controversies regarding Facebook's protection of user data in 2018, Zuckerberg made promises to increase security efforts on the site. These include stronger restrictions on data use and new app review procedures.
Additionally, they announced a new "clear history" feature. Users will be able to view what information Facebook collects from them when they are using the web client, as well as prevent Facebook from tracking users around the web.[132]
"Once we roll out this update, you'll be able to see information about the apps and websites you've interacted with, and you'll be able to clear this information from your account," Zuckerberg said. "You'll even be able to turn off having this information stored with your account."
Trustworthiness Rating
On August 21st, 2018, The Washington Post[137] reported that Facebook has begun rating the trustworthiness of users on a scale from zero to one. The system has been designed in the ongoing effort to cut down on Fake News on the site.
Facebook product manager Tessa Lyons told the paper that it's not uncommon for people to tell us something is false simply because they disagree with the premise of a story or they're intentionally trying to target a particular publisher."
The score is determined by "new behavioral clues" that the site takes into account to rate the user. However, it is still unclear what exactly Facebook is using to determine the score.
Controversies
Privacy
Main Article Facebook Privacy Controversies
On September 27th, 2011, Redditor realbigfatty posted a thread titled "How to annoy Facebook"[18] to the /r/funny subreddit. The post contained a link to an image outlining how to make a data request to Facebook to send all the personal data they have collected about you as part of the "European Data Protection Directive."[19]

The same day, Redditor endroop[21] posted a screenshot of an email from Facebook saying they would not be able to fulfill his data request due to the volume of requests they were receiving. Shortly after, an article was published to the technology blog ZDnet[20] that claimed the Reddit thread managed to "overwhelm Facebook with data requests."
On September 28th, Reddit davesterist[22] posted a screenshot of an email he received from Facebook explaining that they would not be fulfilling his request because he lives in the United States where there are no laws that require Facebook to send personal data.
Obscene Content
On November 15th, 2011, various news outlets including CNN[23], Time[24] and Fox News[25] published articles about reports that graphic photos of pornography and gore, including lewd photoshopped photos of celebrities like Justin Bieber, were showing up on their Facebook[24] Newsfeeds. The unofficial Facebook blog All Facebook[27] noted that this wasn't the first time this type of spam had appeared on the social networking site.

An article by MSNBC[26] writer Helen A.S. Popkin noted that the resurgence of a hoax about hackers posting porn links invisible to the owner's wall may have been related to the porn spam issue.

Facebook confirmed[28] the coordinated attacks, acknowledging that it may have been due to a self-XSS vulnerability in an unidentified browser. Users were unknowingly executing harmful JavaScript codes while completing normal activities on the site. While who was behind the images is unclear, AnonymousWiki[29] have stated that they are not involved.
New Guidelines and Copyright Hoax
On November 21st, 2012, Facebook[57] published a post announcing that the company may remove the option of user voting on privacy policy changes on the social networking site. The same day, the proposed changes were reported in an article in the LA Times[50] and according to the urban legends and folklore site Snopes,[49] a status update message began circulating on Facebook which instructed other Facebook users to copy and paste the update in order to protect their copyright.
"In response to the new Facebook guidelines I hereby declare that my copyright is attached to all of my personal details, illustrations, comics, paintings, professional photos and videos, etc. (as a result of the Berner Convention).
For commercial use of the above my written consent is needed at all times!
(Anyone reading this can copy this text and paste it on their Facebook Wall. This will place them under protection of copyright laws. By the present communiqué, I notify Facebook that it is strictly forbidden to disclose, copy, distribute, disseminate, or take any other action against me on the basis of this profile and/or its contents. The aforementioned prohibited actions also apply to employees, students, agents and/or any staff under Facebook's direction or control. The content of this profile is private and confidential information. The violation of my privacy is punished by law (UCC 1 1-308-308 1-103 and the Rome Statute)."
On November 26th, several news sites including Gizmodo,[51][55] Gawker[52] and ABC News[54] reported that the widespread status update was a hoax, citing insert the primary explanation here. The same day, Facebook posted an update to its Newsroom[56] site titled "Fact Check: Copyright Meme Spreading on Facebook," which denied that the company was making changes to user media ownership."
Also on November 26th, the Internet news blog Slacktory[53] published an article titled "Celebrities and Newsmakers Fall for the Facebook Copyright Notice Hoax," which included several image macros mocking the idea that Facebook status updates can be used for legal protection (shown below).



2013 Government Requests Report
On August 27th, 2013, Facebook released its first Global Government Requests Report[75], revealing statistics on inquiries to the site from government officials across the world in both criminal and national security cases between January and June 2013. The report included a chart breaking down the number of requests received from a specific country, the number of accounts inquired about and the percentage of requests that were fulfilled, including partial fulfillments.


Click through to see entire list.
In that six month span, data from nearly 38,000 users was requested, with more than half of those users requested by the United States government. Only five other countries made requests in excess of 1,000: France, Germany, India, Italy and the United Kingdom. That day, the report was featured on a number of news outlets and internet culture blogs including Buzzfeed[76], The Verge[77], Russia Today[78], BBC News[79], the New York Times[80] and the Washington Post[81] among many others.
Anti-Conservative Bias Allegations
On May 9th, 2016, the Gawker Media tech news blog Gizmodo[112] published an article titled "Former Facebook Workers: We Routinely Suppressed Conservative News," which reported that several former "news curators" at Facebook deliberately prevented conservative-leaning topics and news stories from appearing on the site's algorithm-powered "trending" module, citing anonymous accounts from several former employees. According to one former Facebook news curator's allegations, some of the conservative figures who were intentionally excluded from the module include CPAC, Mitt Romney, Wisconsin Governor Scott Walker, Lois Lerner, a former IRS official who became embroiled in a political scandal for selectively auditing conservative groups, and Chris Kyle, a former Navy SEAL who was murdered in 2013. Furthermore, the anonymous tipster alleged that trending articles from various conservative news outlets and journalists were also suppressed, such as Glenn Beck, Steven Crowder, The Drudge Report and Brietbart. Additionally, some sources claimed they were instructed to manually insert selected stories into the bar, specifically noting topics regarding the Black Lives Matter movement.
Facebook's Response
That evening, a Facebook spokesperson released a statement denying the accusations of bias in their trending topic sidebar.
"Trending Topics shows you the popular topics and hashtags that are being talked about on Facebook. There are rigorous guidelines in place for the review team to ensure consistency and neutrality. These guidelines do not permit the suppression of political perspectives. Nor do they permit the prioritization of one viewpoint over another or one news outlet over another."
Meanwhile, Facebook Vice President of Search Tom Stocky addressed the controversy in a status update post,[111] which claimed that his team "found no evidence that the anonymous allegations are true" (shown below). As of May 10th, a Snopes[113] page lists the claim that "Facebook routinely suppresses conservative news in favor of liberal content" as "unproven."

"We Have a Problem with Political Diversity"
On August 20th, 2018, senior Facebook engineer Brian Amerige posted an essay on Facebook's internal message board entitled "We Have a Problem With Political Diversity." The post accuses Facebook of creating a "political monoculture that's intolerant of different views.[138][139] The group refers to itself as "FB'ers for Political Diversity," and The New York Times reports that more than 100 Facebook employees have joined the group since the memo posted.
May 2019 Influencer Bans
On May 2nd, 2019, BuzzFeed News[146] reported that Facebook and Instagram had banned several controversial political figures from the platform, including Louis Farrakhan, Alex Jones, Milo Yiannopoulos, Paul Joseph Watson and Laura Loomer.
Fake News Accusations
On October 12th, 2016, The Washington Post[120] published an article addressing the prevalence of fake news stories that were promoted by Facebook's Trending feature, which reported that at least five fake stories had been identified as trending content by the social network's algorithm during its three-week study. On October 26th, BuzzFeed News[117] ran an investigative article similarly highlighting the growing number of fake news stories in high-volume circulation on Facebook since the company dissolved its team of human news editors. On November 3rd, BuzzFeed News[118] published another report on its finding of at least 140 pro-Trump U.S. political news sites that had been launched by various locals in the town of Veles, Macedonia over the past year.



On November 9th, 2016, the day that Donald Trump was declared the winner of the 2016 United States presidential election, New York Magazine[114] ran an article titled "Donald Trump Won Because of Facebook," which sharply criticized Facebook's inability or neglect to contain the viral spread of hoaxes or fake news stories about the candidates as a major factor that shaped the public opinion of the voters and influenced the outcome of the election. Furthermore, the article alleged that Facebook ultimately empowered Donald Trump's stature by allowing the circulation of stories from partisan and opinionated news sites that are mainly driven by for-profit agendas rather than journalism.
Facebook's Response
On November 10th, Facebook CEO Mark Zuckerberg[119] flat out dismissed the accusations as a "crazy idea" while speaking at the Technonomy conference in Half Moon Bay, California.
"Personally I think the idea that fake news on Facebook, which is a very small amount of the content, influenced the election in any way -- I think is a pretty crazy idea. Voters make decisions based on their lived experience."
#DeleteFacebook
On March 17th, 2018, in a series of interviews with The New York Times, the Observer and the Guardian, former employee and whistleblower Christopher Wylie said that using money from Republican and Trump donor Robert Mercer and former White House advisor Steve Bannon, the data mining firm Cambridge Analytica harvested private information from more than 50 million Facebook users without their permission.[121][122]
On March 16th, 2018, Facebook announced that they would be suspending Startegic Communication Laboratoris (SCL), who owns Cambridge Analytica from the platform. They wrote in a statement:[123]
Kogan requested and gained access to information from people after they chose to download his app. His app, "thisisyourdigitallife," offered a personality prediction, and billed itself on Facebook as "a research app used by psychologists." Approximately 270,000 people downloaded the app. In so doing, they gave their consent for Kogan to access information such as the city they set on their profile, or content they had liked, as well as more limited information about friends who had their privacy settings set to allow it.
On March 20th, another whistleblower, Sandy Parakilas, who was paid to investigate these types of data breaches said that Facebook had no control over the data given to outside developers. He said, "Once the data left Facebook servers there was not any control, and there was no insight into what was going on."[124] He continues to say that it is likely that a majority of Facebook users have had their data harvested.
That day, the hashtag "#DeleteFacebook" began trending on Twitter. Throughout the day, various media outlets, including Time,[125] the Verge,[126] TechCrunch,[127] CNN[128] and more, ran pieces on how and/or why to delete personal Facebook accounts. Users posted screenshots and articles of themselves deleting their accounts (shown below).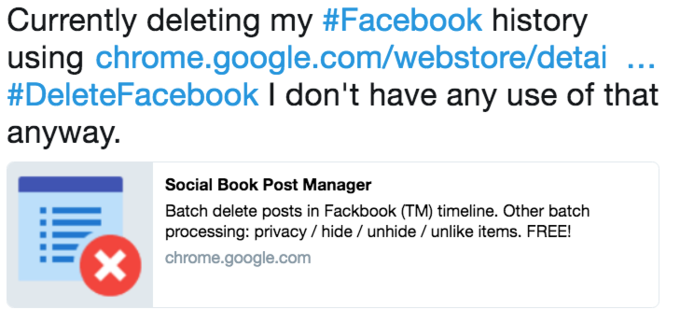 Bosworth Memo
On March 29th, 2018, BuzzFeed [129] published a leaked internal memo from 2016 written by Facebook Vice President Andrew "Boz" Bosworth. The memo, titled "The Ugly," discussed the company's quest for growth at any costs. Bosworth says everything the company does to connect people is a "de facto good," even if people are killed as a result.
That day, Bosworth tweeted[130] a statement about the memo (shown below). He wrote, "I don't agree with the post today and I didn't agree with it even when I wrote it. THe purpose of this post, like many other I have written internally, was to bring to the surface issues I felt deserved more discussion with the broader company. Having a debate around hard topics like these is a critical part of our process and to that effectively we have to be able to consider even bad ideas, if only to eliminate them. TO see this post in isolation is rough because it makes it appear as a stance that I hold or that the company holds when neither is the case. I care deeply about how our product affects people and I take very personally the responsibility I have to make that impact positive."

In a statement to BuzzFeed, Facebook CEO Mark Zuckerberg wrote:
"Boz is a talented leader who says many provocative things. This was one that most people at Facebook including myself disagreed with strongly. We've never believed the ends justify the means.

"We recognize that connecting people isn't enough by itself. We also need to work to bring people closer together. We changed our whole mission and company focus to reflect this last year."
Fake Users
On January 24th, 2019, for the website PlainSite.org,[144] Aaron Greenspan, a former classmate Zuckerberg, who reached a 2009 legal settlement with the Facebook CEO over the term "the Face Book," published a report alleging that fake account comprised of half of Facebook's network. He writes, "The fact of the matter is that Facebook does not now and will not ever have an accurate way to measure its fake account problem. Taking all of these factors into account, we estimate that 50 percent or more of Facebook's current MAUs are actually fake."
Fake accounts have effects on users and companies. The report continues that people buying advertising on Facebook are "throwing their money down the drain." These accounts also avoid "anti-fraud algorithms" by clicking on "dvertising at random." Finally, "Fake accounts often defraud other users on Facebook, through scams, fake news, extortion, and other forms of deception. Often, they can involve governments."
A spokesperson for Facebook refuted the findings. They wrote to Mashable,[145] "This is unequivocally wrong and responsible reporting means reporting facts, even if it's about fake accounts."
Stormchaser and Night's Watch
On July 8th, 2019, the news site Bloomberg[147] reported that Facebook had created a tool named "Stormchaser" in 2016 to track various types of viral content on the platform, including "jokes" about Zuckerberg being an alien. Additionally, the article mentioned another project named "Night's Watch," named after a fictional military order in Game of Thrones, which monitored news coverage of the social network across various platforms. That day, The Daily Dot[148] published an article about the report titled "Facebook used secret tools to monitor memes about the company."
Related Memes
Facebook has inspired a number of internet memes, tagging games, as well as contributing to the popularization of various photo fads in 2011.
Facebook Cartoon Profile Week
Facebook Cartoon Profile Picture Week is a social networking trend which involves updating one's Facebook profile picture with an image of his/her favorite cartoon character from childhood. Although individual practice of using cartoon avatars as profile pic may be seen as a common behavioral pattern, recent upsurge in frequency of profile change has apparently transformed into an international campaign to raise awareness for child abuse.
Facebook Bra Status Updates
Facebook Bra Status Update is an online survey game that spread through Facebook in early January of 2010 via private messages among female Facebook users. The updates were posted under the guise of spreading awareness about breast cancer.
Annoying Facebook Girl
Annoying Facebook Girl is an advice animal image macro series featuring a photo of a teenage girl rolling her eyes with her mouth agape, accompanied by a blue and white color wheel background. The overlaid text typically depicts vapid status updates, attention whoring and generally irritating Facebook activity.

Can This Get More Fans Than That?
Can This (X) Get More Fans Than (Y)? is an emerging trend of anti-fan mobilization via Facebook fan pages solely designed for the purpose of outnumbering the target celebrity's fans on the social networking site. For comical effect, these Facebook groups often choose to endorse arbitrary items of little significance (X, as in Fishstick) in competing against the famous subjects (Y, as in Kanye West).
Facebook University Meme Pages
Facebook University Meme Pages are community pages featuring Internet memes related to specific academic institutions on the social networking site Facebook.
Facebook University Compliment Pages
Facebook University Compliment Pages are anonymous communities on the social networking site where students at a specific university are invited to privately message a compliment about another student which gets publicly posted by the main page.
Popularity
Facebook is the most popular social networking site in several English-speaking countries including Canada, the United Kingdom and the United States. The website has received recognition in the "Top 100 Classic Websites" by PC Magazine[14] in 2007, and the "People's Voice Award" from the Webby Awards[15] in 2007.

Traffic
According to Techtree[8], "Facebook is the leading social networking site based on monthly unique visitors", having overtaken main competitor MySpace in April 2008. According to an article by Social Media Today[17], 41.6% of the population of the United States had a Facebook account by August 2010. ComScore[9] reports that Facebook attracted 132.1 million unique visitors in June 2008, compared to MySpace, which attracted 117.6 million.
According to Alexa[10], the website's ranking among all websites increased from 60th to 7th in terms of worldwide traffic, from September 2006 to September 2007, and is ranked first worldwide as of October 2012. Quantcast[11] ranks the website 3rd in the U.S., and Compete.com[12] ranks it 2nd in the U.S. As of August 2012, Facebook sees an average of 2.7 billion likes, 300 million photos uploaded and 2.5 billion pieces of content shared per day.[48]
On October 28, 2014, Zuckerberg announced[88] that the quarterly earnings report revealed 1.35 billion people used Facebook every month, with over 860 million of those using it every day. For the 2014 year end report, Zuckerberg released an infographic report that showed a break down of monthly and daily Facebook users, likes, searches, video views, WhatsApp users, Facebook Messenger users, and Instagram users.[94]
Outages
Throughout the early history of Facebook, the site has maintained a high availability percentage. As of January 2015, the site has only experienced 7 worldwide outages that were directly cause by server issues.[98] In October 2011, it was reported that the site maintained a 99.96% availability.[99] Combined with the high number of users worldwide, the rare downtime is often noted by users of other social media sites such as Twitter and Reddit, causing trending topics related to issue. The following is a brief summary of notable worldwide outages:



Search Interest
External References
[1] Facebook – Press Information: Founder Bio via Web Archive
[2] Harvard Crimson – Hundreds Register for New Facebook Website Facemash
[3] Guardian – A brief history of Facebook
[4] MSNBC – Facebook gives the News Feed a makeover, users get angry via Way Back Machine
[5] BuzzFeed – How To Find Out Who Has Unfriended You On The New Facebook Timeline
[6] MSNBC – How to find out who unfriended you on Facebook via Way Back Machine
[7] BuzzFeed – Get the New Facebook Profile Right Now! -
Via Archive.org
[8] Techtree – Facebook Largest Faster Growing Social Network via web archive
[9] Comscore – Social Networking World Wide
[10] Alexa – facebook.com
[11] Quantcast – facebook.com (requires registration)
[12] Compete – facebook.com
[13] The Star – Has Facebook fatigue arrived?
[14] PC Mag – Top 100 Websites
[15] Webby – 2007 People's Voice
[16] LA Times – Facebook F8: Redesigning and hitting 800 million users
[17] Social Media Today – 41.6 percent of US Population has a Facebook
[18] Reddit – How to annoy Facebook
[19] Europe v Facebook –
Get your Data!
[20] ZDNet – Reddit users overwhelm Facebook with data requests
[21] Reddit – I got a reply from Facebook after doing the How to annoy Facebook
[22] Reddit – US law does not require Facebook to respond to Personal Data Requests
[23] CNN – Porn, violent images appear on Facebook as part of spam attack
[24] Time – Facebook Users Subjected to Bieber Porn and Dead Dog Photos
[25] Fox News – Facebook Flooded With Porn and Violent Images, Company Warns
[26] MSNBC (via Wayback Machine) – Facebook investigates gore, porn infecting your Newsfeed
[27] Adweek (formerly All Facebook) – How Did The Pornography Make It On To Facebook?
[28] ComputerWorld – Update: Facebook confirms nasty porn storm
[29] PasteBin – The "Fawkes Virus" & porn on Facebook
[30] Salon – Facebook Timeline Now Available To All Users (page unavailable)
[31] Wall Street Journal – Facebook Readies IPO Filing for Next Week
[32] Bloomberg – Facebook Trades to Be Halted for Three Days
[33] Facebook – Celebrating a billion people is very special to me.
[34] Wieden & Kennedy (via Wayback Machine) – The Things That Connect Us
[35] Adland – Facebook – The Things That Connect Us (2012)
[36] Ads of the World (via Wayback Machine) – Facebook: The Things That Connect Us
[37] Huffington Post – Facebook's New Ad, 'The Things That Connect Us,' Features Chairs And The Universe
[38] The Examiner (via Wayback Machine) – The Comedic Irony in Facebook's 'The Things That Connect Us' Ad
[39] Mashable – The Facebook Commercial Is All Kinds of Wrong
[40] The Atlantic Wire – Facebook's New Ad Finds 'Real Human Emotion' in Chairs
[41] Motherboard – Facebook Hits 1 Billion Users, Celebrates With Horrible Ad
[42] Tumblr (via Wayback Machine) – Are Like Facebook
[43] Twitter – @FacebookChair
[44] YouTube – Search for "the things that connect us" parody
[45] IBN Live (via Wayback Machine) – Facebook shares peak at $ 45, 200 million traded
[46] Daily Tech (via Wayback Machine) – Facebook Shares Will Open at $38 USD
[47] Yahoo! News (via Wayback Machine) – Facebook IPO lawsuits to be heard in New York
[48] Gizmodo – What Facebook Deals with Everyday: 2.7 Billion Likes, 300 Million Photos Uploaded and 500 Terabytes of Data
[49] Snopes – Facebook Privacy Notice
[50] LA Times – Facebook proposes abolishing user votes on privacy changes
[51] Gizmodo – That Facebook Copyright Notice Is Worthless
[52] Gawker – That Facebook Copyright Thing is Meaningless and you Should Stop Sharing It
[53] Slacktory (via Wayback Machine) – Celebrities and Newsmakers Fall for the Facebook Copyright Hoax
[54] ABC News – Stop! Don't Copy and Paste that Copyright Facebook Message
[55] Gizmodo – Facebook Copyright Law For Idiots
[56] FB Newsroom – Fact Check
[57] Facebook – Proposed Updates to our Governing Documents
[58] Facebook (via Wayback Machine) – Social Graph Search
[59] Facebook – Introducing Graph Search Beta
[60] Tumblr – Actual Facebook Graph Searches
[61] Slacktory (via Wayback Machine) – Nick Uses Facebooks social graph search
[62] Tech Crunch – Tumblr Blog Actual Facebook Graph Searches Goes Viral
[63] Okuna (formerly OpenBook) – Connect and share whether you want to or not
[64] YCombinator – Actual Facebook Graph Searches
[65] Gizmodo – These People Are Now Sharing Horrible Things About Themselves Thanks to Facebook Search
[66] TechCrunch – Facebook To Reveal "Home On Android" Sources Say Is A Modified OS On HTC At 4/4 Event
[67] CNN – Coming today: A Facebook phone?
[68] NBC News (via Wayback Machine) – Facebook reveals Home launcher for Android
[69] Wired – All the Words Facebook Made Up Today (requires registration)
[70] Mashable – Live From the 'Facebook Phone' Event
[71] CNBC – Facebook Phone Event: Live Blog
[72] Gigaom – Why Facebook Home bothers me: It destroys any notion of privacy
[73] Slate – Why Would Anyone Want a Facebook Phone? Because It Isn't a Facebook Phone.
[74] Forbes – Seven Ways A Facebook Phone Could Be Highly Disruptive To Traditional Telecom
[75] Facebook – Facebook Transparency Report
[76] Buzzfeed – Facebook Is Now The Government's Most Valuable Asset On The Internet
[77] The Verge – New Facebook report shows over 25,000 government requests for user data worldwide
[78] Russia Today – Facebook: Governments demanded information on 38K users, among them protesters and political activists
[79] BBC News – Government requests to Facebook outlined in report
[80] New York Times – Facebook Releases Report on Government Requests
[81] Washington Post – Facebook report: 74 countries sought data on 38,000 users
[82] Wayback Machine – Facebook outage draws more security questions
[83] Wayback Machine – The Whir Facebook Outage
[84] YouTube – Facebook Down August 10 2011
[85] Computing – Facebook Service Unavailable
[86] Facebook – More Details Regarding Todays Outage
[87] Twitter – #facebookdown
[88] Facebook – Traffic Update Oct 28 2014
[89] iTunes (via Wayback Machine) – Rooms – Create Something Together
[91] Medium (via Wayback Machine) – Throwing a Party Without The Host
[92] Reddit – roominvites (can only access with an invite)
[93] ValueWalk – Facebook Inc Could Be Sued For Its New
[94] Facebook – Mark Zuckerberg – 2014 Year End Report
[95] Guardian – Facebook Down in Second Major Outage in Two Months
[96] Guardian – Facebook Not Hacked: Server Error Takes Social Network Offline
[97] The Telegraph – #SocialMeltdown2015: 5 things that happen every time Facebook goes down
[98] Guardian – Is Facebook Down? A History of Outages
[99] SmartBear – Web Performance Benchmark: Facebook Still Fast, Availability Slips in Q3
[100] Business Insider – FINALLY: You'll soon be able to 'dislike' things on Facebook, says Mark Zuckerberg
[101] Fortune – Facebook is finally making a dislike button
[102] The New York Times – Coming Soon to Facebook
[103] Tech Crunch – Facebook Is Building An Empathy Button
[104] MarketingLand – Dislike Button?
[105] Facebook – How the Reactions Test Will Impact Ranking
[106] Tech Crunch – With Reactions Facebook Supercharges The Like
[107] Ars Technica – Liking isn't enough?
[108] The Verge – The five most [surprise emoji]
[109] Gizmodo – Facebook Is Testing Six New Reaction Emoji
[110] Wired – Facebook Tests Emoji Reactions to Fix Its Dislike Problem (requires registration)
[111] Facebook – Tom Stocky
[112] Gizmodo – Former Facebook Workers
[113] Snopes – The Algorithm Is Gonna Get You
[114] New York Magazine – Donald Trump Won Because of Facebook
[115] New York Times – Facebook Is Said to Question Its Influence in Election
[116] The Intercept – Facebook, I'm Begging You, Please Make Yourself Better
[117] BuzzFeed – Here's Why Facebook's Trending Algorithm Keeps Promoting Fake News
[118] BuzzFeed – How Teens In The Balkans Are Duping Trump Supporters With Fake News
[119] The Verge – Zuckerberg: the idea that fake news on Facebook influenced the election is 'crazy'
[120] The Washington Post – Facebook has repeatedly trended fake news since firing its human editors
[121] The New York Times – How Trump Consultants Exploited the Facebook Data of Millions
[122] The Guardian – The Cambridge Analytica Files
'I made Steve Bannon's psychological warfare tool': meet the data war whistleblower
[123] Facebook – Suspending Cambridge Analytica and SCL Group from Facebook
[124] The Guardian – 'Utterly horrifying': ex-Facebook insider says covert data harvesting was routine
[125] Time – Want to Delete Facebook? It Could Take Up to 90 Days
[126] The Verge – How to delete Facebook
[127] TechCrunch – #deletefacebook
[128] CNN – Fed up with Facebook? Here's how to protect your data
[129] BuzzFeed – Growth At Any Cost: Top Facebook Executive Defended Data Collection In 2016 Memo -- And Warned That Facebook Could Get People Killed
[130] Twitter – @boztank's Tweet
[131] Select All – Facebook Dating: What You Need to Know
[132] Select All – Facebook Can Now Stop Tracking You Around the Web
[134] CNN – Why Facebook's stock is plummeting
[135] NBC – Facebook plunges more than 17 percent on revenue miss and projected slowdown
[136] Reuters – Facebook's grim forecast: privacy push will erode profits for years
[137] Washington Post – Facebook is rating the trustworthiness of its users on a scale from zero to 1
[138] New York Times – Dozens at Facebook Unite to Challenge Its 'Intolerant' Liberal Culture
[139] - We Have a Problem with Political Diversity
[140] New York Times – As Facebook Raised a Privacy Wall, It Carved an Opening for Tech Giants
[141] Twitter – @nickconfessore's Tweet
[142] Twitter – @BCAppelbaum's Tweet
[143] Twitter – @viaCristiano's Tweet
[144] PlainSite – Reality Check
[145] Mashable – 50 percent of Facebook users could be fake, report claims
[146] BuzzFeed News – Facebook And Instagram Are Banning Far-Right Influencers Like Alex Jones
[147] Bloomberg – How Facebook Fought Fake News About Facebook
[148] The Daily Dot – Facebook used secret tools to monitor memes about the company