PROTIP: Press 'i' to view the image gallery, 'v' to view the video gallery, or 'r' to view a random entry.
This submission is currently being researched & evaluated!
You can help confirm this entry by contributing facts, media, and other evidence of notability and mutation.
About
Dynamo Feeling (Japanese: ダイナモ感覚, Dainamo Kankaku), also translated as "Dynamo Sense", is a special sense advocated by a Japanese rapper You the Rock★.[1]
This word has been a popular catchphrase among Inmufags, fans of the Japanese gay porn phenomena A Midsummer Night's Lewd Dream, due to its deep relationship to their favorite musician Gota Nishidera (西寺郷太), the leader in a Japanese pop music group Nona Reeves.[2] In addition to this, it was also their favorite audio resource for MAD videos on the Japanese video sharing service Nico Nico Douga (NND) in around 2011-2012.
Origin
You the Rock★ derived the word "Dynamo Feeling" to agitate audiences in Nona Reeves's in-store live show at Tower Records Shibuya on October 3rd, 2000. As he joined to their tune "DJ DJ ~ Todokanu Omoi" (lit. DJ DJ ~ I'll never break your heart) released in the previous month, he had a guest appearance on the stage. Nona Reeves played this song and "Love Together" in this 10-minute session, and it was live-broadcasted by Japanese music pay channel Space Shower TV (SSTV).
Translation (from 00:25-):
Nishidera: Mr. You the Rock!
You The Rock★: Here We Go! (Ikuzoo!)
Nishidera: New Tune! (Shinkyoku!)
You The Rock★: Dynamo Kankaku! Dynamo Kankaku! Yo! Yo! Yo! Yeah!
Nishidera: (quietly) DJ DJ…
Video clips recoreded that program were uploaded to YouTube by pure music fans in 2009 and 2011. Then these were imported to NND by Inmufags in November 2010[3] and August 2011.[4] This is because Nishidera has earned a cult following among Inmufags who believe he has a close resemblance to Yajuu Senpai (野獣先輩, lit. Beastly Senoir, abbr. YJSNPI), their most favorite gay porn actor in the A Midsummer Night's Lewd Dream series since before. Inmufags call him by an acronym "NSDR" and like to collect his videos to their homeground.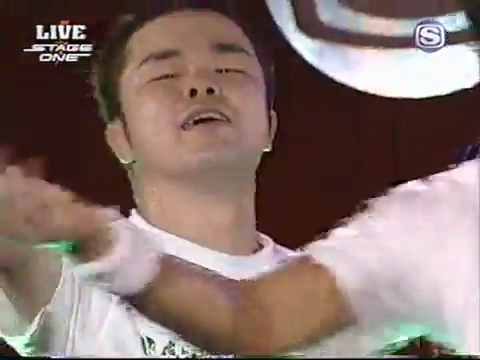 Left: Gota Nishidera | Right:

YJSNPI
Spread
When the latter reprint was uploaded to NND in August 2011, this nonsensical but very catchy phrase finally succeeded to catch an attention among Inmufags and win their heart. To make the matters worse, You the Rock★, already got a nickname "YTR" from Inmufags, also forced to join onto the lineup of mockery in that gay porn meme since he had been arrested by weed and thrown to jail in May of that year. Thus, "Dynamo feeling" is sometimes dubbed as junkie's sense. And triggered by the Mayim Mayim MAD video (shown blow), this catchphrase started to be introduced to many MAD videos in the following month.[5]
Victims Reactions
NSDR, unwillingly earns a cult following among Inmufags, has continued showing a forgiving attitude to them. Though he clearly denies their insistence that he resembles to YJSNPI, he has occasionally replied jokingly to Inmufag's messages on Twitter.[6] Inmufags call him "Big Bro NSDR" (NSDR兄貴) in honor of his graciousness.
Meanwhile, YTR only once responded to this online phenomena in his first media appearance after release from jail on November 10th, 2011, by the shout "This ain't Dynamo Kankaku!" (ダイナモ感覚じゃないぜ!, Dynamo Kankaku ja Nai ze!) on the live performance stage in a pay channel program.
In April 2014, NSDR came to one of the hosts in weekday-night live streaming program in Nico Nico Live, and made an official response to his fame and Inmufags for the first time.
Transcript (Summary)
When I heard the offer from this program, "These guys" went through my head.

THESE

GUYS

ARE

REALLY

ANNOYING

. Some of them are actually nice people and became to fans of my band. But I want to tell that I've been annoyed by these guys near 5 years. I DO

NOT

RESEMBLE

YAJUU

SENPAI

. However, I'm happy to start this program on here because I come to be able to talk about it openly. I want to make good relationships with these guys from now.
User comments on the show and its reprint on NND were filled with Inmufag's in-jokes, as was expected.
The Truth of Dynamo Feeling
On May 26th, 2014, NSDR talked about "Dynamo Feeling" in his niconico live program, and mentioned that "Dynamo" stands for the title of Dengeki Request Dynamo (電撃リクエスト ダイナモ), a SSTV's music program hosted by YTR in those days.
In addition, he revealed the back story of that live stage performance in public for the first time.
Transcript (summary)
That stage performance was totally unexpected. We were so nervous because it was the first public performance for that song and You The Rock's participation was decided just before the stage. To make the matters worse, he didn't leave from the stage even after the song was finished. So we had no choice but to perform the next song "Love Together" without rehearsal with him.
Notable Examples

Left: Dangerous Series | Right: Can Can

Left: Renai Circulation | Right:

BEMANI

song "Candy☆"

Left: Capsule + Beastie boys + Daft Punk "Starry Sky

YEAH

! Remix" | Right: I'm so Happy ("Cookie☆ Respect" Style) w/

THE

iDOLM@STER
Search Interest
External References
Editor's Note: Registration is needed to browse the original videos listed in this section.
Facebook Comments