This submission is currently being researched & evaluated!
You can help confirm this entry by contributing facts, media, and other evidence of notability and mutation.

About
THE iDOLM@STER (Japanese: アイドルマスター), also called as the official abbreviated name "iM@S", is a series of an idol (Japanese equivalent of pop star) raising simulation games produced by Namco Bandai. Since it's release, it has be come a very popular franchise particularly for it's large amount of songs and dances.
The first console version was released on XBOX 360 in January 2007, though it was originally an arcade game released in 2005. Its unique gameplay and likable characters became the subject of many fan works ranging from art, comics, cover songs, music remixes and MADs, and live performances on Nico Nico Douga.
So far the franchise consists of multiple games, Three in Xbox 360, Four in PS3, Four PSP games, One DS Game, One PSVita game, Two Playstation 4 games and Nine mobile games. Beside the games, the franchise also have several manga releases, light novels, four anime releases, several OVAs and animated shorts, one movie and a Korean Live action drama, There have also been appearances in other Namco games such as The Tales of series and Ace Combat 6. There is also a Project Diva DLC package featuring Idolm@ster songs and costumes.
It's popularity generated a huge a community named NICOM@S. THE iDOLM@STER series achieved overwhelming success from 2007 thanks to the support of this group. The series has received even more attention with the release of the diverse anime adaptations that were released in 2011 (The Idolm@ster), 2015 (Cinderella Girls) and 2017 (SideM).
Previously on /a/ there was various Idolm@ster general threads which discussed everything in the series from the games to fan translations of the several Idolm@ster comics. Separately, there was also a general for the Idolm@ster mobage threads, Due to the ban of general threads on /a/ that happened in 2014, the idolm@ster general threads moved to /vg/ (Video Game General) where they continue since.
Story
In a majority of the games you play as "Producer", a young man who is recently hired by the talent agency that change depending of the game:
765PRO (pronounced "Namuko Pro" as a pun on Namco) in All Stars and Million Live games.
346PRO (pronounced "Mishiro Pro" meaning "Beautiful Castle") in Cinderella Girls games.
876PRO (pronounced "Bannamu Pro" as a pun on Bandai) in Dearly Star games.
315PRO (pronounced "Saikou Pro" meaning "Ultimate") in SideM games.
and 286PRO (pronounced "Tsubasa Pro" a wordplay for the word "Wing" in japanese) in Shiny Colors game.
In All Stars games, 765PRO is rival to the dubious 951PRO (pronounced "Kuroi Pro") run by President Kuroi, who use shady methods to make sure his idols stay at top while making sure that your idols don't progress towards their goal.
In the game you rank up your idol by taking them to lessons, engaging in promotional campaigns, fulfilling promises and winning auditions. Generally the goal is to become "Top Idol", the game mode also varies depending of the game the player is currently playing.
Characters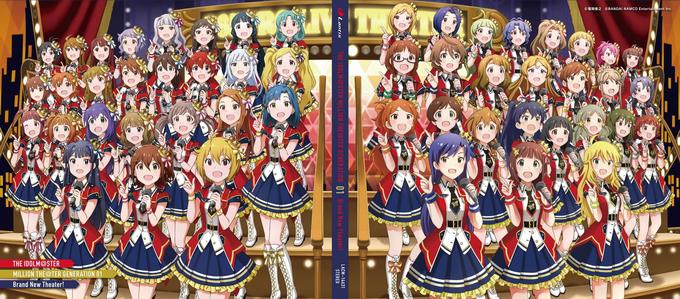 The characters in The iDOLM@STER have a large amount of variety. The main heroine in the original game is Haruka Amami, who is known for her iconic twin ribbons along with her clumsiness. She is who the fan-made mascot character Nonowa is based off of.
Putting together all the idolm@ster branches, there is a total of 315 Playable canon idols, with the numbers divided between All Stars (16 idols if Kotori, Leon and Shika are included) Million Live (39 idols) Cinderella Girls (190 idols) SideM (46 Idols) Shiny Colors (19 Idols) and Dearly Stars (5 Idols since Yumeko and Cineria become playable idols during a collaboration with Cinderella girls).
The characters deeply vary in diverse aspects, personality, fashion sense and even age, the youngest idol being 9 years old and the oldest being 32 years old.
Appeal and Gameplay
The series has appealing aspects similar to Touhou. There are a total of thirteen (fourteen if you count Kotori) girls in the main series and the PSP games iDOLM@STER SP. Two more girls and one "girl" were also added in the DS game series, "Dearly Stars". Because of the large amount of characters, it's pretty easy for fans both new and old alike to find character that they might like.
Idolm@ster also has appeal of anime dance crazes like Hare Hare Yukai and Motteke! Sailor Fuku. On top of that, it carries some of the notoriety of Vocaloids as the characters have a extremely large library of songs, even if the songs aren't fanmade as they are with Vocaloids. There are several covers of both Idolm@ster songs and dances on NND and Youtube.
Another notable feature of the games the "touch" feature. Certain story points will ask you to touch your idol somewhere on her body. This feature is somewhat controversial as most of the girls are underage, but inappropriate actions will often make your idol upset.
Spread



Arcade photo taken from the a Wired article on iDOLM@STER [1]
Originally, the game started out as an arcade release in 2005. Idolm@ster had a very small but very dedicated competitive community. Along with raising your idol, the players also had the opportunity to battle other players in live battles as well as keep track of their progress on the leader boards or community diaries.
However, the popularity of the game really took off in 2007 when the game was ported to Xbox360. As users on Nico Nico Douga began posting video footage of the games, fans of the games began to create MADs using the game footage. To this day, a dedicated group called Nicom@s continues to create fan-made videos for the games.
On January 29th, 2007 a user named Zangi posted a clip of Communication scene with Miki. During the communication scene, Miki wants to practice self-defense and asks the Producer to act like a pervert.[2] The clip gained attention because it was unexpected for that kind of scene to appear in a home console video game. The video was re-uploaded onto Youtube the same day and currently has almost 2.7 million views.[3]
As months went on more and more iDOLM@STER MAD videos appeared on NND and continued to get a lot of attention. Songs like Ami's rendition of Agent of the Night and relations gained a lot of popularity among Japanese fans. It also become popular to make MADs using songs Japanese band Perfume and MMD models.
The series received more attention from western audiences in July 2011 with the release of a 25 episode anime series titled The iDOLM@STER by A-1 Pictures.
Memes
Nonowa

Nonowa is a fan-made mascot based off of the character Haruka. It's name comes from both of it's eyes being the character "no" in Japanese and it's mouth being the character "wa".
Home Haruka

Home Haruka was a skin offered for Playstation Home. The skin became rather notable for being very creepy-looking.[7] This version of Haruka was dubbed by fans as "Home Haruka" and she makes appearances in several MADs and fanworks.
Te te te

This meme came from the iDOLM@STER BGM called Town. The chorus of the song sounds like "Te te te". It became popular on NND to spam "Te te te" in the comments at key moments in videos. The song itself is also used a lot in MAD videos.
Nicom@s

Originally known as the iDOLM@STER MAD community, Nicom@s is a a community consisting of MAD movie creators who release their works onto Nico Nico Douga. There is also a "YouTube@2ch BBS" which has threads in the NicoM@S community. Typically footage from the games are used to create these videos, though it is also popular to use Miku Miku Dance models.
Part of the community culture is to have a nickname followed by a P which is similar to the actual games where your name is always (name) P. This kind of naming became so popular that it even spread to Vocaloid producers. One example of this is the famous Ryo P of Black Rock Shooter fame.
In May 2007, "iDOLM@STER Medley like CDTV May 22" movie was released. The video was picked up by many news websites, and user Mo-Mo-DsukiP(桃月P) started the "Weekly iDOLM@STER Ranking". This allowed public awareness of iM@S MAD movie to increase more, and websites specializing in iM@S MAD movies also appeared.[4]
Tokachi Gold

Tokachi Gold is a yearly event for iDOLM@STER fans. Hosted by fans, many famous online producers gather together and have a concert with iDOLM@STER MAD works. The first one was hosted in August, 2008.[5][6]
The word "Tokachi", which also shares the same name as the music remix movement that's been a part of THE iDOLM@STER phenomena on NND, originated from the popularity of Ami/Mami's version of "Agent of the Night". This version of the song became popular on NND due to the interesting combination of Ami/Mami's lispy singing and the style of a Japanese folk song. Afterwards, this particular song was labeled with the term "loli-folk song" (ロリ演歌, Loli Enka).
Agent of the Night was also included in the Nico Nico Douga medley.
I'm L@dy/My Body is L@dy

Based off of the already established meme, My Body is Ready , this variation of the meme is popular among the non-Japanese fanbase of iDOLM@STER fans. It is based off of a lyric in the opening song of the anime series called "READY!". The joke stems from first lyrics of the song which say "Are you ready? I'm lady!".
External Resources
[1] Wired – The iDOLM@STER
[2] iDOLM@STER MAD World Service – History, January 2007
[4] iDOLM@STER MAD World Service – "Evolution of web community: A Case Study of iM@S MAD Movies
[5] nicoblog – Tokachi Gold
[7] Ota Desho? – PS3 Home IM@S Haruka Costume Get!