PROTIP: Press 'i' to view the image gallery, 'v' to view the video gallery, or 'r' to view a random entry.
Background
"I'll Be There in 30 Minutes" is a catchphrase used to troll others on 4chan's /b/ (random) board using the live feed of Earthcam 2 located in Times Square in New York City, showing a souvenir postcard stand in front of a giftshop.
Although Earthcam trolling schemes have been brought up on 4chan prior, "I'll be there in 30 minutes" comments first surfaced on February 10th, 2011, after a postcard stand on Times Square was knocked down by two pedestrians on January 20th. Others who witnessed the event via Earthcam started making empty claims to head over to Time Square and knock it down again "in the next 30 minutes."
Development
January 20th: Card Stand Gets Knocked Down
On January 20th, 2011, a cardstand on the corner of 46th St. & Broadway in NYC was knocked down by two pedestrians walking by (shown at 3:45 in the video). The recorded footage shows a man shoving another man into a storefront, causing a nearby cardstand display to fall over the sidewalk.
Soon after that episode, threads about knocking down the same cardstand started to appear on 4chan's random board, /b/. After countless failed attempts to prove the power of Anons (except for one) through live camera feed[1], the threads were flooded with trolls who claim they don't live very far away from the spot and that they'll go knock it down again." Others chimed in with their own devious threads to once again witness the fall of cardstand at the exact same location.
February 10th: "Give Me 30 Minutes"
On the night of Feb. 10th, 2011, a thread was posted on 4chan's /b/ with this image: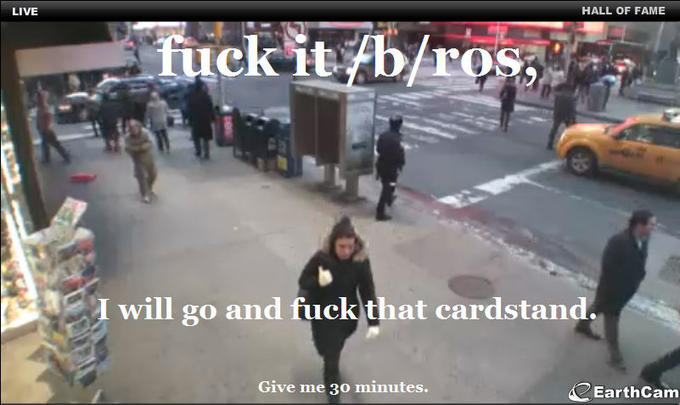 OP (original poster) also included the following statement:
"

FUCK

IT /B/

ROS

, I AM

TIRED

OF

THIS

CARDSTAND

BULLSHIT

. I AM

GOING

TO

FUCK

THAT

CARDSTAND

.

GIVE

ME 30

MINUTES

. IF IT DOESN'T

FALL

IN 30

MINUTES

, I

WILL

AN

HERO

MYSELF

IN 30

MINUTES

…"
Several members began copying & pasting this phrase, to either deter the efforts of others or provide some lulz.

February 11th: Operation Cardstand
After countless trolls copied the original text from this thread and ran with it, many variations were born. It soon came to be known in /b/ board that "30 minutes" is a euphemism for infinity, of which OP & Anon will never deliver. Newcomers unexperienced with 4chan culture (also known as "newfags") will realize that what was once 30 minutes of hope, will turn into 30 hours of watching New Yorkers walk by. The scheme was also dubbed by some Anons as Operation Cardstand.

As the insanity continued, trolls followed the latest thread as they cycle out into 404. Many /b/tards continuously tried to put an end to the Card Stand threads by linking to the original video from January 20th, while other trolls detered their efforts by linking to a YouTube video of "30 minutes" by T.A.T.U. "I'll be there in 30 minutes" also made it onto YouTube[2] comments as early as on February 11th, 2011. By the next day, Cardstand-related threads waned and most discussions have evolved into into "30 minute" in-jokes and references:
"Ik ga dat schap duwen. Ik zal er zijn in 30 minuten."
"Noch 30 Minuten, ich machs…. ich schwöre es"
"我在中國。我會在30分鐘。"
"Gebt mir 30 Minuten und ich werde den Kartenstand umhauen"
"Ελεος ρε μαλακες. Θα το κανω εγω! Δωστε μου 30 λεπτακια μονο."
" איך בין סווינדלינג געלט פון גויים נירביי. איך וועט זייַן דאָרט אין 30 מינוט.."
"αχαχχαχχαχαχα ντελίβερ!!"
"ผมอยู่ในประเทศไทยฉันจะมีใน 30 นาทีและมีเพศสัมพันธ์ว่าบัตรยืนขึ้น"
February 16th: The Day Anon Delivered
On February 16th, 8:20 pm, an Anon posted "Fuck it /b/ros, be there in the 30 minutes." Making copypasta of the original OP post, everyone calls him a troll, but watch nonetheless. 30 Minutes later, he collides with the Cardstand, scattering cards over the entire sidewalk. This event became known as "THE DAY ANON DELIVARED." By 1:30PM (EST), shopkeeper has put away the Cardstand for the night. /b/ failed.
April 22nd: Cardstand Falls Again
On April 22nd, 2011, 8:26 pm (EST), the card stand fell again:
Search Interest
External References
[1]Earthcam – Times Square, New York
[2]YouTube – Earthcam Trolling
Facebook Comments