PROTIP: Press 'i' to view the image gallery, 'v' to view the video gallery, or 'r' to view a random entry.
This submission is currently being researched & evaluated!
You can help confirm this entry by contributing facts, media, and other evidence of notability and mutation.
Overview
Senator Wendy Davis' Filibuster was a 10-hour long speech given by the Texas Democratic state senator on June 25th, 2013 in an effort to delay a vote on Senate Bill 5 (SB 5),[1] which would have required all abortion clinics in the state to be certified as ambulatory surgical centers and would not allow abortions to be performed after 20 weeks of pregnancy.
Background
Late in the evening of Monday, June 24th, Senator Davis tweeted her intent to filibuster the bill for 13 hours. It was retweeted more than 9,000 times and favorited nearly 7,000 times. She elaborated her intent via a post on her Facebook fan page[2], asking people to go to her personal website[3] and submit their personal stories about how this change in legislation will affect them so she could read it aloud as part of her filibuster. The website encouraged constituents to "Stand With Wendy" and follow along with the proceedings through the Twitter hashtag #sb5.[4]
The leadership may not want to listen to TX women, but they will have to listen to me. I intend to filibuster this bill. #SB5 #txlege

— Wendy Davis (@WendyDavisTexas) June 25, 2013
Notable Developments
Filibuster Begins
Immediately after Davis' announcement, the novelty Twitter account @WendysFlats[13] was created to help support her filibuster by tweeting under the guise of her shoes, gaining more than 240 followers within two days. Davis began her 13-hour filibuster at 11:15 a.m. CST on June 25th. During the filibuster, Senator David read personal stories and messages submitted through her website as well as via Twitter and e-mail. In accordance with the state law, she was not allowed to go off topic, lean on anything for support, eat, drink or take any breaks during the course of the session.[5] The Texas Tribune's YouTube account[6] began live streaming the event, which attracted as many as 170,000 simultaneous viewers later that evening. In the afternoon, she was issued a strike for mentioning Planned Parenthood's budget, which other senators ruled as not relevant to the conversation. At 7:27 p.m., she was issued a second strike for having a colleague help adjust the back brace she was wearing (shown below). At this point, she was told that a third strike would result in an end to her filibuster.[7]
As Davis' filibuster progressed, she began to receive support through Twitter and Tumblr with the hashtags #StandWithWendy[8][9] and #iStandWithWendy[10], which were used on Twitter more than 164,000 times[11] and 5,200 times[12] respectively, according to Topsy Analytics.
Third Strike
At 10:07 p.m. CST, Davis was given a third strike after mentioning a 2011 Texas law making sonograms required prior to receiving an abortion.[13] By this time, hundreds of people had arrived at the Texas Senate chamber[14] in support of Davis. After Republican Lieutenant Governor David Dewhurst began issuing the first strike, spectators began chanting "Let her speak" in effort to allow Davis to continue the filibuster (shown below).
Leticia van de Putte
After Davis' filibuster was halted, other senators began to defend her efforts. At approximately 11 p.m., the livestream had more than 137,000 simultaneous viewers.[17] With ten minutes left to midnight, fellow Democratic Senator Leticia van de Putte[15], who had come to the Senate session late following the funeral of her father, attempted to weigh in on the situation. When she was told that she could not because the Senate had already moved on to a different motion, she replied "Mr. President, parliamentary inquiry. At what point must a female senator raise her hand or her voice to be recognized over the male colleagues in the room?, resulting in resounding applause from the audience gathered in the Senate.
After she spoke, more than 162,000 were shown simultaneously watching the livestream. Van de Putte continued, asking the President to repeat the three points of order for her, since she had missed the first half of the meeting.[16] Van de Putte's input caused the meeting to continue past midnight, and at 2:30 a.m. CST, the bill was declared dead.[17] This was confirmed Wednesday morning by a number of news outlets, including My San Antonio.[18]
Social Media Reaction
As Davis was filibustering, a number of people reached out via social networking sites to offer support and show their solidarity with the Senator, including President Barack Obama, whose #StandWithWendy tweet[24] gained more than 17,000 retweets and 6,200 favorites in less than 24 hours. Many attendees at the Capitol also used Twitter, Instagram and Vine to share photos from the event. Additionally, Twitter users reported the lack of coverage on television news networks, including CNN who was airing a segment on the caloric content of blueberry muffins at the height of the filibuster.[23]
CNN with the hard hitting nnews #standwithwendy #sb5 #freeBoosie pic.twitter.com/H0gg47bjrM

— Gene Barrett (@Geno_Barrett) June 26, 2013
A number of internet culture websites and news blogs including The Daily Dot[19][20], Buzzfeed[17], CNN[21] and The Verge[22] all compiled tweets and vines sharing peoples' reactions to the filibuster, including a number of image macros and photoshops depicting Davis as a hero.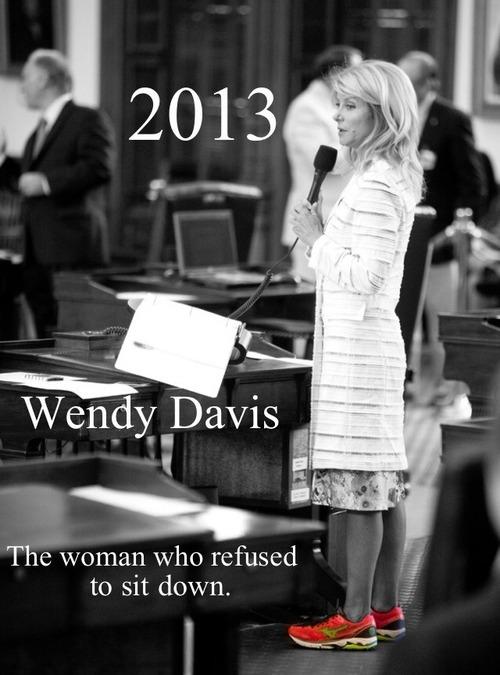 Texas Government Alters State Documents
Nearing the end of the session, former Reuters social media editor Matthew Keys[26] tweeted that the official record on the digital version of SB 5 showed that the vote had taken place after midnight, on June 26th (shown below, left). Soon after, Anthony De Rosa[25] of Circa reported that the Texas Legislature website had altered the dates to make it appear as if the voting took place on June 25th instead (shown below, right). Almost immediately, a White House petition[27] asking the government to veto the final ruling on SB 5 was established, asserting that it is illegal since the filibuster successfully pushed the vote past midnight. It gained more than 20,700 signatures within hours. However, by 2:30 a.m. CST, Texas Lieutenant Governor Dewhurst had reversed his initial call and declared the bill dead.[28]
Wendy Davis' Mizuno Sneakers
During the course of Davis' filibuster, several viewers noticed she was wearing a pair of green and red running shoes for ankle support (shown below), which were subsequently identified as Mizuno Wave Riders.
The same day, Amazon[29] user M. Black posted a 5-star review on the sneakers product page, praising them as a "marathon shoe for marathon filibustering" (shown below). Within the next 48 hours, the review gained more than 1,200 "helpful" ratings.
On June 26th, Mizuno tweeted at Wendy Davis expressing delight that their shoes provided her feet support during the filibuster. Within the first 24 hours, the post received over 280 retweets and 200 favorites.
WendyDavisTexas</a> 26.2 miles or 13-hour filibuster, we are glad our shoes could be there to provide you the support you need when you need it</p>&mdash; Mizuno Running (MizunoRunning) June 26, 2013
On the following day, the women's interest blog Jezebel[30] published an article about the online response to Davis' shoes, highlighting several of the notable Amazon reviews praising the Texas politician. Also on June 27th, several other news sites reported on the reviews, including The Washington Post,[31] Time,[32]ABC News[33] and the NY Daily News.[34] Within 48 hours of the filibuster, upwards of 40 Davis-related reviews were submitted to the Mizuno Wave Rider Amazon page (shown below).
Search Interest
External References
Facebook Comments