PROTIP: Press 'i' to view the image gallery, 'v' to view the video gallery, or 'r' to view a random entry.
This submission is currently being researched & evaluated!
You can help confirm this entry by contributing facts, media, and other evidence of notability and mutation.
Overview
#SurvivorPrivilege is a Twitter hashtag campaign launched in response to American conservative columnist George Will's assertion in a Washington Post op-ed article that being a rape victim in college is a "coveted status" sought after by women because of the privileges it grants them.
Background
On June 6th, 2014, The Washington Post[1] published an op-ed titled "Colleges become the victims of progressivism" by George F. Will, a Pulitzer Prize-winning conservative commentator, in which he suggests that rape is not an epidemic on college campuses and posits that if the reporting rate of sexual assaults is low, the crime rate itself must also be low. Furthermore, the author also asserts that becoming a victim of sexual assault could become a point of pride for college students, saying:
"Colleges and universities are being educated by Washington and are finding the experience excruciating. They are learning that when they say campus victimizations are ubiquitous ("micro-aggressions," often not discernible to the untutored eye, are everywhere), and that when they make victimhood a coveted status that confers privileges, victims proliferate."
On June 9th, Wagatwe Wanjuki (Twitter handle wagatwe)[2], who was the victim of a sexual assault during college, introduced the hashtag #SurvivorPrivilege to refute the claim that such a thing exists for rape victims.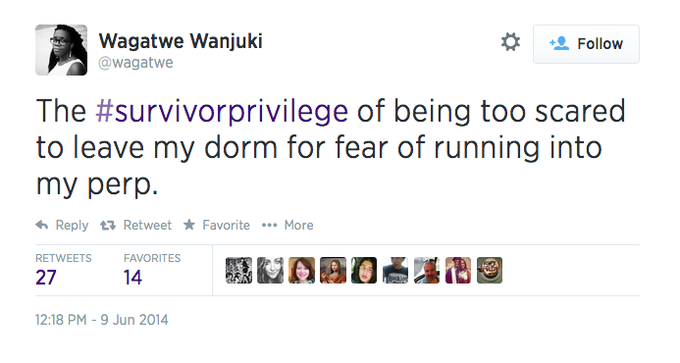 Notable Developments
George Will's column, which came amidst an ongoing national debate in the United States over violence against women in the wake of the 2014 Isla Vista Killings, was quickly met with criticism on Twitter. According to Topsy, the hashtag #SurvivorPrivilege[3] was tweeted out more than 20,000 times within the first week.
News Media Coverage
That same day, several websites reported on the Twitter backlash against George Will's op-ed, including PolicyMic[4], Buzzfeed[5] and Feministing.[6] Following the spread of the hashtag, several blogs and news sites ran personal essays written by women who had survived sexual assault and wished to confirm it was not a coveted status. On June 11th, The Huffington Post[7] published a personal essay titled "Dear George Will -- A Few Words on My #SurvivorPrivilege."
Call for George Will's Termination
On June 10th, UltraViolet, a group devoted to fighting sexism, launched an online petition[9] calling for Will to be fired from the Post, and Terry O'Neill, the president of National Organization for Women, told Media Matters[8] the group was calling for Will's column to be dropped. She explained:
"George Will needs to take a break from his column and The Washington Post needs to take a break from his column, they need to dump him. It is actively harmful for the victims of sexual assault when that kind of man writes a piece that says to assault victims, 'it didn't happen and if it did happen you deserve it.' That re-traumatizes victims."
Notable Examples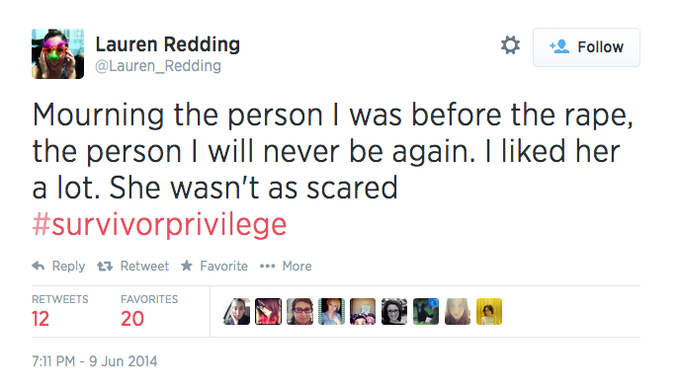 Search Interest
External References
Recent Videos
There are no videos currently available.
Facebook Comments