PROTIP: Press 'i' to view the image gallery, 'v' to view the video gallery, or 'r' to view a random entry.
This submission is currently being researched & evaluated!
You can help confirm this entry by contributing facts, media, and other evidence of notability and mutation.
Overview
"You Didn't Build That" is a quote uttered by President Barack Obama during his campaign speech in Roanoke, Virginia on July 13th, 2012. While it was intended to emphasize the role of government in fostering the growth of American businesses, the soundbite quickly disseminated across the conservative political blogosphere and spawned a bipartisan debate on income taxes and other economic policy issues.
Background
On July 13th, 2012, President Obama gave a speech[2] at a local fire station in Roanoke, Virginia, as part of his 2012 presidential re-election campaign. In taking direct aim at Mitt Romney's ongoing Bain Capital controversy and expanding on his administration's plan for higher taxes on the wealthy Americans, President Obama addressed the crowd:
There are a lot of wealthy, successful Americans who agree with me -- because they want to give something back. They know they didn't -- look, if you've been successful, you didn't get there on your own. You didn't get there on your own. I'm always struck by people who think, well, it must be because I was just so smart. There are a lot of smart people out there. It must be because I worked harder than everybody else. Let me tell you something -- there are a whole bunch of hardworking people out there. (Applause.)

If you were successful, somebody along the line gave you some help. There was a great teacher somewhere in your life. Somebody helped to create this unbelievable American system that we have that allowed you to thrive. Somebody invested in roads and bridges. If you've got a business -- you didn't build that. Somebody else made that happen. The Internet didn't get invented on its own. Government research created the Internet so that all the companies could make money off the Internet.
Notable Development
President Obama's speech in Virginia didn't catch on immediately in the mainstream news media, as the political press had already retreated into the weekend mode by Friday evening, but many people on the Internet began discussing President Obama's speech and his quote "you didn't build that" through social news and media-sharing sites like YouTube[1], Reddit[3] and 4chan.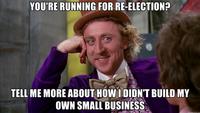 Some Redditors, Republicans and conservative bloggers began mocking Obama's pro-government argument by placing the catchphrase onto photographs of major innovators throughout history such as Henry Ford, Thomas Edison and Steve Jobs.



By July 16th, Romney's campaign team[15] as well as conservative single topic blogs like Didn't Build That[13] and RNCResearch[14] had caught the wind of Obama's exploitable soundbite, which led to further reiteration and even re-contextualization of the original quote.




News Media Coverage
The controversy and online debate surrounding Obama's quote were eventually picked up by mainstream news outlets like Los Angeles Times[6], Wall Street Journal[7] and Washington Post[9] beginning on July 16th, shortly after the Republican party's appropriation of President Obama's quote into a campaign advertisement at GOP.com. The Atlantic[10] also published an article titled "You Didn't Build That': Straw Men, Manufactured Outrage, and Funny Memes," which reported on the social media's general reaction to the quote and several image macros carrying satirical messages. Meanwhile, conservative blogger Geoffrey Dickens criticized the news media's response to the meme as intentionally delayed and selectively covered in a NewsBusters article titled "ABC, CBS & NBC Wait Five Days to Report Obama's 'You Didn't Build That' Attack on Business."[11]
"We Built This" Counter-Message
In the weeks leading up to the annual Republican National Convention (RNC) scheduled to be held in Tampa, Miami on August 27th, 2012, it became widely reported in the American conservative blogosphere and news outlets that the Republican party's pivotal event will be unified under the slogan of "We Built This," a counter-message aimed at Obama's "You Didn't Build That" remark.
However, the rumored reports of "We Built This" taking center stage as the dominant theme at the convention was quickly met by criticisms from numerous bloggers and online columnists, many of whom raised issues with the Republican party's choice of the Tampa Bay times Forum arena as the venue of the event. On August 22nd, The Daily Dolt published an article titled "GOP Announces Convention Theme "We Built This" In Stadium Built With 62% Government Funds,"[16] which pointed out that the RNC arena was in fact constructed with at least $86 million of U.S. taxpayer funds. Throughout the week, report was subsequently picked up by other blogs covering the election campaign, including Mediaite[19], The Huffington Post[18] and The New Republic[17] among many others.
Meanwhile on August 27th, Redditor FirstStateMan[23] submitted a post to /r/politics[22] revealing that Sher Valenzuela, a small business owner from Delaware and one of the main guests scheduled to speak at the RNC, has received $17 million federal loans and contracts on behalf of her company First State Manufacturing. The Redditor's critical notion was also accompanied by a single serving website registered under the domain FirstStateManufacturing.com[22], which contained a similar message exposing the company's records of government subsidies. As of 4:30pm (ET) on August 27th, the site reportedly went down and remains inaccessible.
Search Interest
External References
Facebook Comments