About
Relatable Romney is an advice animal image macro series featuring a photograph of the 2012 GOP presidential nominee Mitt Romney with outstretched arms. The captions typically portray the candidate as an out-of-touch wealthy businessman unsuccessfully attempting to relate to the public.
Origin
Redditor lyinsteve submitted a photograph of Mitt Romney with the caption "Why don't poor people / just buy more money?" (shown below, left) to the /r/funny[1] subreddit on February 18th, 2012. Within five months, the post accumulated over 4,200 up votes and 70 comments. On April 27th, Redditor askins4trouble submitted a post to the /r/AdviceAnimals[2] subreddit titled "Relatable Romney", which included an image macro expressing a similar sentiment with the caption "I understand your problems / it costs a lot to fill up all my Cadillacs" (shown below, right).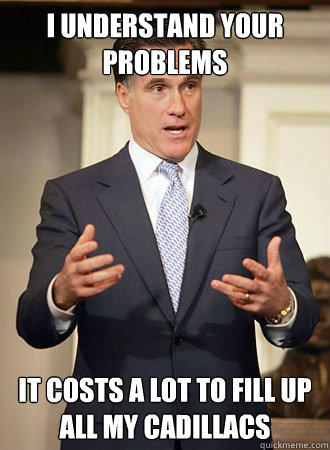 Background
Romney's vast sums of personal wealth and previous experience working for the asset management company Bain Capital became a political talking point during the 2012 Republican presidential primary elections. Romney was criticized for cutting thousands of jobs when Bain purchased other companies under his management in the late 1980s and early 1990s. On August 12th, 2011, Romney disclosed that his net worth was between $190 and $250 million.

Spread
On July 20th, 2012, the first Relatable Romney image macro to reach the front page of Reddit[3] was submitted by Redditor Searchlights with the caption ""I know it's hard to manage your finances / I can't keep track of all my money either" (shown below, left). Several hours later, another image macro by Searchlights reached the front page with the caption "I know what it's like to be unemployed / I haven't had to work in years" (shown below, right).[4]


The same day, compilations of Relatable Romney examples were posted on the viral content site BuzzFeed[5] and the mixed martial arts website Sherdog.[6] On July 21st, the single topic blog "RelatableRomney"[9] was launched. On the following day, the Internet humor site Guyism[7] published a post titled "Meme You Should Know: Relatable Romney", which featured a slideshow of notable examples from the series. The meme has continued to spread on Tumblr[8] under the tag "#relatable romney."
Notable Examples






Search Interest
External References
Recent Videos
There are no videos currently available.