PROTIP: Press 'i' to view the image gallery, 'v' to view the video gallery, or 'r' to view a random entry.
This submission is currently being researched & evaluated!
You can help confirm this entry by contributing facts, media, and other evidence of notability and mutation.
About
Expression Meme, also known as "Emotion Chart" on DeviantArt and "Expression Practice" on Pixiv, is series of illustrated charts in which a fictional character's facial expressions are altered to convey a wide range of emotions on a template grid.
Origin
The earliest known instance of the meme was titled "25 Essential Expressions Challenge" and submitted to DeviantART[2] by user napalmnacey[1] on May 17th, 2007 . The image featured a blank template containing boxes for 25 different facial expressions (shown below) and captions for corresponding emotions.
Precursors
Animators have historically used model sheets[14] to standardize a character's appearance, poses, expressions and gestures. Some of the earliest model sheets were made by Walt Disney and Warner Bros. animators, who created templates for fictional characters like Donald Duck and Daisy Duck (shown below).
In the summer of 1998, University of Florida student Eric Wu launched the Eric Conveys and Emotion project, which featured a website[15] in which Wu would post photos of himself acting out various emotions (shown below).
Spread
On the Japanese online artist community Pixiv, blank templates for facial expressions are often referred to as "Expression Practice" (Japanese: 表情練習, HyōJō Renshū),[3] with its earliest instance featuring 12 panels submitted by Pixiv[5] user Hide (秀)[4] in response to another post on December 5th, 2008. Months later, an English-translated version was submitted to DeviantART[6] by user NotSoFluent on July 1st, 2009 (shown below).
Hide's illustration went onto generate more than 250 illustrated responses on Pixiv[7] within the first month, 1,200 within a year and 3,400 by December of 2012. Additional templates have since been shared on Pixiv, many of which have been translated into English on DeviantArt (shown below). As of December 2012, there are over 8,700 search results for the query "expression meme" on DeviantArt.[8]

Other Blank Templates for Expression Meme
Notable Examples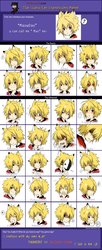 Notable Derivatives
Other templates using a similar format have since been created, which feature blank boxes to populate with illustrations to fit a variation on a theme. One template featured Princess Zelda from the Nintendo video game series The Legend of Zelda and became the six-pane reaction exploitable Zelda's Response To…" on the image board 4chan in January of 2012.
Style Meme (画風イメレス, Gahu Imeresu; lit. Drawing Style Image Response)[9]
Painting Meme (塗り方を練習してみよう!, Nurikata wo Renshuu shite Miyou!; lit. Let's Practice Painting!)[10]
Hairstyles Meme (素晴らしき嫁の髪型, Subarashiki Yome no Kamigata; lit. Hairstyles of my Wonderful Wife)[11]
10 Ways of Flirting Meme (イチャイチャ10, Icha Icha Ten; lit. Flirting 10)[12]
Blushing Faces meme (照れ顔いろいろイメレス9!, Teregao Iroiro Imeresu 9!)[13]
Search Interest
External References
Facebook Comments