About
Star Trek is an American science fiction franchise created in 1966 by Gene Roddenberry. The franchise began with a television show that aired on NBC from 1966 until its cancellation in 1969. From there, it gained a massive cult following, ballooning into a larger pop culture phenomenon, through a variety of outlets including four other live action TV series, an animated series, video games, books, and eleven feature films, with a twelfth in production.
History
Star Trek: The Original Series
The original Star Trek series, now commonly referred to as Star Trek: The Original Series, takes place in the 23rd century. It follows the adventures of the USS Enterprise, a starship of the United Federation of Planets, on a mission "to explore strange new worlds; to seek out new life and new civilizations; to boldly go where no man has gone before." Many episodes were allegorical, touching on issues of sexuality, politics, religion and war. Initially, the series did not fare well with ratings and NBC had planned to cancel it during the second season. Two fans from California, Bjo Trimble and her husband John, organized a grass roots letter writing campaign[32] that saved the show for one more season. After the original series went into syndication, the series gained a much larger fan base, leading to the show returning as an animated series[33] in 1973. This first run is also known for launching the careers of actors William Shatner[34], who played Captain Kirk, Leonard Nimoy[35], who portrayed Spock and George Takei[36], who played Hikaru Sulu.
Spin-offs: The Next Generation and Beyond
There have been 5 spin-off television shows and 11 movies based on the Star Trek series, with a 12th slated for release in May 2013.[37] Though the first of these was Star Trek: The Animated Series (shown below, left) which aired 1973-1974, the most well-known spin-off was Star Trek: The Next Generation (shown below, right), which aired from 1987 to 1994. The Next Generation gained such popularity that it is held on par with The Original Series; its characters are widely known, especially Captain Picard, who was portrayed by Patrick Stewart.
The Next Generation, along with the subsequent spin-offs Star Trek: Deep Space Nine (aired 1993-1999) and Star Trek: Voyager (aired 1995-2001), take place in the 24th century, and continue to develop the Star Trek universe that began in the first series. The final TV spin-off, Star Trek: Enterprise, took a different approach to the previous spin-offs, and was set in the 22nd century, roughly 100 years before The Original Series. It focused on the early history of human space exploration, and ended with the formation of the Federation. The Star Trek film series, with the exceptions of the 2009 film Star Trek and its upcoming sequel, featured the casts of The Original Series (Nos. 1-6) and The Next Generation (Nos. 7-10), and took place in the same timeframe as the TV series. The 2009 and 2013 movies utilize the characters from The Original Series with a new cast in an alternate timeline created by time travel.[38]
Picard Spin-off
On August 4th, 2018, Patrick Stewart, who portrayed Captain Jean-Luc Picard on Star Trek: The Next Generation and the film Star Trek Generations, as well as various other Star Trek films, announced that he would be reviving the character in a new series. He tweeted, [57] "It is an unexpected but delightful surprise to find myself excited and invigorated to be returning to Jean-Luc Picard and to explore new dimensions within him." Within the tweet, he also included a longer statement about the character. The post (shown below) received more than 42,000 retweets and 158,000 likes in two days.

That day, the official Star Trek: Discovery twitter account released a video of Executive Producer Alex Kurtzman and Sir Patrick Stewart discussing the character. The video (shown below) received more than 2,400 retweets and 7,800 likes in two days.
Executive Producer Alex Kurtzman and SirPatStew</a> surprised fans today at <a href="https://twitter.com/hashtag/STLV?src=hash&amp;ref_src=twsrc%5Etfw">#STLV</a> with news that he will be returning to the iconic role of Jean-Luc Picard for a new Star Trek series coming to <a href="https://twitter.com/cbsallaccess?ref_src=twsrc%5Etfw">cbsallaccess. pic.twitter.com/8F0EPnQMXn

— Star Trek: Discovery (@startrekcbs) August 4, 2018
Fandom
Trekkies
Star Trek fans were given the nickname "Trekkies"[39] in 1967 after a science fiction magazine editor spotted fans of the show wearing pointed ears to a science fiction convention, emulating members of the Vulcan, Romulan and Mintakan species. The term was embraced by fanzines, which boasted more than 10,000 readers in 1968.[40] In 1969, the first official gathering for Star Trek fans was held at the Newark Public Library in Maryland.[41] After the show gained a larger fanbase due to its syndication, a much larger Star Trek convention was held in New York City in 1972. More than 300 people came the first year, expanding to more than 7000 in 1973.[42] Trekkies are often cited as one of the earliest examples of a fandom.

Trekkie Dating Sites
In April 2004, the dating site company Passions Network launched Trek Passions[20] (shown below, left), the first online dating site specifically tailored for fans of the science fiction series. This free site allows users to add themselves to a group for those who consider themselves in Pon Farr[21], a Vulcan state in which they will die if they do not mate with someone or participate in a ritual battle known as kal-if-fee.[22] The site was included in lists of niche dating sites on Mashable[25] and Lemondrop[26] in 2009. A second site, Star Trek Dating[23] was launched in 2010. Their Facebook page[24] has just over 1000 likes as of October 2012.


In June 2012, a British Star Trek dating site[27] launched, reportedly seeing more than 2 million interactions per day. That October, Trekkie Dating[28] (shown above, right) launched and was featured on Geekologie[29], Forever Geek[30] and The Daily Dot.[31] The Daily Dot reported that Trekkie Dating does not allow members to select Klingon as a spoken language or choose which fictional race from the show with which they would identify.
Captain Picard Day
Captain Picard Day is an annual day of festivity observed by schoolchildren aboard the USS Enterprise-D in honor of the ship's captain and one of the main protagonists, Captain Jean-Luc Picard, on Stardate 47457.1 in the Star Trek universe. The fictional holiday was first introduced in Star Trek: The Next Generation's "The Pegasus"[55] (Episode 7, Season 12), originally aired on January 10th, 1994. In the episode, Captain Picard reluctantly attends an array of special events dedicated to his name, including an arts & craft contest at a school where children create various sculptures and drawings bearing his resemblance.
On the Internet, Star Trek fans began celebrating Captain Picard Day on June 16th, 2007, due to the fact that the date corresponds to Stardate 47457.1 on Earth calendar (June 16th, 2370), according to Memory-Alpha Wikia.[54] However, casual celebrations of Captain Picard Day by Star Trek fans may have been observed since as early as June 2004, according to Google Trends.[56]



Fanfictions
Outside of its licensed canon productions and spin-off stories, Star Trek is well-known for its expanded universe that consists of a large volume of non-canonical novels, comic books and videogames. The series is also credited with pioneering the literary genre of fan fiction, beginning with the first issue of Star Trek fanzine Spockanalia[49] published in 1967. This fanzine was an anthology of stories, poems, articles, art and letters written by the fans when the series was still in its first season on NBC. Though originally meant as a one-time publication, it ended up publishing five issues from 1967 to 1970 due to the popular demands. Early Star Trek fan works are also credited for creating the Mary Sue character archetype and coining the term "slash"[4], used when a homosexual romantic pairing is featured in the work.


Throughout the late 1960s and early 1970s, more Star Trek fan fictions continued to emerge through fanzines, largely driven by contributions from female authors who accounted for 90% of the fan-fiction community by 1973.[48] The volume of Star Trek fictions saw a drastic increase in the late 1990s and 2000s with the emergence of online communities dedicated to fan fiction, like fanfiction.net, as well as those dedicated to Star Trek. inclduing Star Trek Fan Fiction[51] and Orion Press.[52] Additionally, offline publication projects like Star Trek: Strange New Worlds[53], which ran annually from 1998 to 2007, and zines consistently shared new stories. As of October 2012, Many stories are archived on the Star Trek Expanded Universe wiki[44] and Fanfiction.net.[45]


In addition to proses and stories, reference materials like instructions have been published by fan artists and writers since 1973, with Franz Joseph's blueprints "Booklet of General Plans – USS Constitution-class for the USS Enterprise". [19]



A Trekkie's Tale (1973)
As a result of gender imbalance within fan-fiction community, many of early Star Trek fanfictions contained heavy elements of romance and erotica that often led to interactions and relationships that were deemed out-of-character. Additionally, many writers would self-project an original character that would appear to be an ideal version of themselves. These deviations from the canon was later observed in Paula Smith's 1973 fan-fiction satire "A Trekkie's Tale,"[50] in which a young female crew member named Mary Sue gets romantically involved with every canon character, possibly as a result of the author's wish fulfillment. Smith's notion has been since largely embraced by the fan-fiction community and the name "Mary Sue" evolved into a generic term for any fan fiction character that would fit under this archetype.

Kirk/Spock Slash Fiction
The Star Trek fandom also saw many instances of slash fictions centered around a broromantic or sexual relationship between James T. Kirk and Spock (commonly abbreviated as Kirk/Spock or K/S). This pairing was first introduced in a 1974 story titled "A Fragment Out of Time"[47], which was the first fan fiction story to use a slash to denote the homosexual nature of the relationship as a way to alert readers that it was not a friendship pairing.

Crossovers
There are also many Star Trek crossover fictions involving various characters and plot-lines from other media franchises, including Harry Potter (Its Hour Come Round at Last, Harry Potter and the Return of James T. Kirk, Harry Potter and the Fountain of Possibilities), Dragon Ball (Dragon Ball Z vs. Star Trek: The Beginning of Infinity, Dragon Ball Z vs. Star Trek: The Way of Infinity), High School Musical (A Flight to Remember) and even a four-story crossover series (Team Chipmunk: The Next Generation vs. Star Trek: Omega Force). Many of these stories were penned by William Raynor[46], an active participant in online Star Trek fandom.



Related Memes
Dammit Jim, I'm a Doctor, Not a X!
"Dammit Jim, I'm a Doctor, Not a X!" is a catchphrase template and Star Trek running gag originating in The Original Series. It was frequently spoken by Dr. McCoy when Captain Kirk asked him to perform un-doctorlike tasks. The phrase was picked up on by trekkies, to the extent that it was included in the spin-off TV series. Online, it is frequently used to rebuke strange requests.

Spock is Not Impressed
Spock is Not Impressed is a photoshop meme started by the single topic blog of the same name. It features The Original Series character Spock, portrayed by Leonard Nimoy, with a look of disapproval on his face. He is frequently used to denote the poster's lack of amazement or respect of the situation at hand.

Vulcan Salute / Live Long and Prosper
The Vulcan Salute, formed by raising the hand, palm forward with the fingers parted between the middle and ring finger with the thumb extended, is a hand gesture originating from The Original Series episode "Amok Time," which first aired on September 15th, 1967. Forming the salute serves as an instant recognition of one's devotion to Star Trek. It is usually accompanied by the phrase "Live Long and Prosper." The gesture, along with the slogan, are among the most familiar elements of Star Trek in mainstream culture.[5]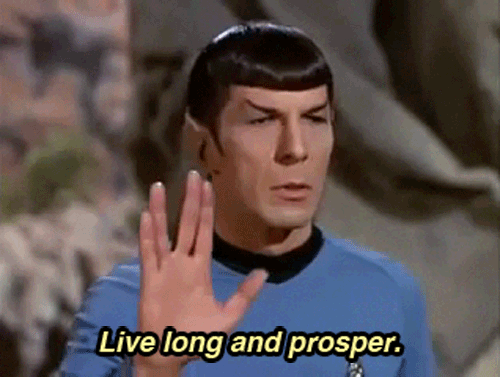 KHAN!
KHAN! is a YTMND fad, originating in 2004. The phrase was exclaimed by Admiral (former Captain) Kirk in the film Star Trek II: The Wrath of Khan, after Khan Noonien Singh (portrayed by Ricardo Montalban) taunts him. Kirk's screaming face appeared across more than 200 YTMND sites between 2004 and 2005.

Jean-Luc Picard
Jean-Luc Picard, played by Patrick Stewart (shown below, left), was the captain of the USS Enterprise in The Next Generation and four of the feature films. In the early days of the internet, debates between Trekkies about whether he or Kirk was the better captain were frequent. More recently, he has been featured in many image macros, and most notably has spawned the Facepalm and the Annoyed Picard (shown below, right) memes.


Facepalm
Facepalm is a slang term used to describe the act of resting one's face in one's hands, a gesture commonly associated with exasperation. One of the earliest examples of a facepalm in pop culture was captured in a still image of Captain Picard during the The Next Generation season 3 episode "Déjà Q," which originally aired on February 5th, 1980. It remains one of the most widespread reaction images across the internet.

The Next Generation Parodies
Parody videos of The Next Generation have appeared on YouTube since as early as 2006. One of the earliest examples a Picard YouTube Poop Music Video featuring a song by DarkMateria. More than 1100 recut clips of The Next Generation have been uploaded to YouTube as of October 2012.[43]
It's a Fake!
It's a Fake! is a catchphrase first said during the Deep Space Nine episode "In the Pale Moonlight" by a Romulan senator. He proclaims that a data rod presented to him by Captain Sisko has been forged. It initially gained notoriety on Usenet, where it was used in a response to Star Trek related posts, but later went on be included in YTMND sites, Something Awful photoshop contets and video mashups.

Need Moar Lens Flare
Need Moar Lens Flare is a common response to the perceived overuse of the lens flare effect in modern sci-fi cinema, specifically found in the 2009 film Star Trek. After the release of the film, the amount of lens flare used was ridiculed, and it quickly became a Photoshop meme, commonly used to facetiously "liven up" otherwise dull scenes.

Search Interest
Search interest has remained relatively consistent, showing a large peak in 2009, around the release of the most recent film, Star Trek.
References